Phew! Victoria Beckham's Signature Fashion Pose Has Been Officially Kardashian Approved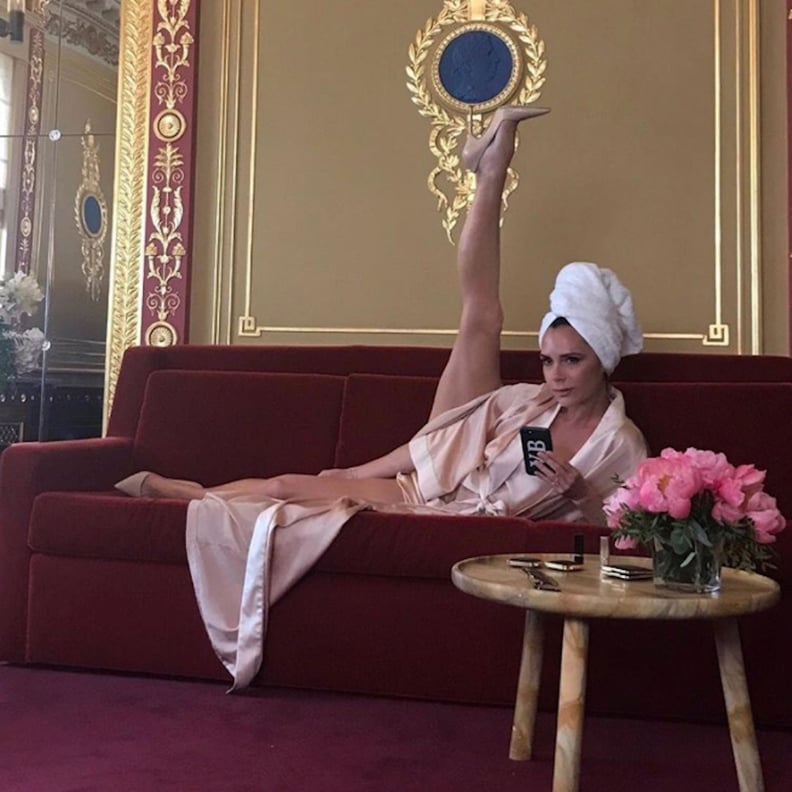 Who could predict, really, a hilarious Instagram interaction between Victoria Beckham and Kourtney Kardashian? Not us. But after Kourtney attended the Paris Saint-German's Champion League football game with her boyfriend, Younes Bendjima, she clearly felt like she was having a VB moment. There was nothing left to do but emulate Victoria's signature pose, a lounge shot of herself in a jumpsuit or culottes with one leg raised in the air.
Victoria routinely posts these photos on a couch (once inviting Eva Longoria into the snap), and Kourtney followed suit. But while Victoria prefers to model fancy outfits, Kourtney wore a sporty track suit and heeled booties. Victoria noted her outfit and raised her a champagne silk robe with stilettos. Only time will tell if and how Kourtney might respond in this leggy duel. Until then, have a look at all the times Victoria really made the position her own.
Kourtney Gave Victoria's Signature Leg Pose a Go
Victoria Sent Kourtney This Hilarious Response
Victoria's Been Striking This Pose Since 2015
She Performed the Stance in a Culotte Jumpsuit in 2016
And With Eva Longoria at the Cannes Film Festival in May 2016