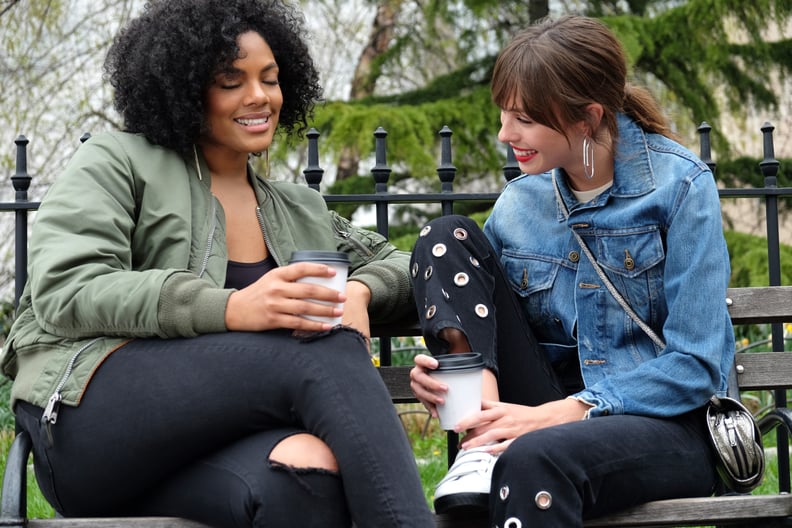 POPSUGAR Photography | Paul Kabata
POPSUGAR Photography | Paul Kabata
Product Credits: (model on left) Zara Jacket, Levis Jeans, AUrate Long Bar Earrings, (model on right) Vince Jean Jacket, Jennifer Fisher Earrings, Brockenbow Jeans, Jerome Dreyfuss Bag, Tretorn Shoes
This post has been updated with new information.
Over the past few years, more and more brands have woken up to the fact that women come in all shapes and sizes. Not a year has gone by that hasn't been coined "the year of plus-size" by one publication or another. We've seen models like Ashley Graham and Robyn Lawley booking major campaigns (including the Sports Illustrated Swimsuit Edition cover), and dozens of brands that previously only catered to slim women have launched plus or curve ranges; amongst them ASOS, Boohoo, and White House Black Market.
But to many, all of this positive action still feels like nothing more than a token nod in the right direction: a couple of models over a size 6 featured in big campaigns, a few celebrity fashion ranges that don't stop at size "large", perhaps a few nice things said about the tiny handful of actresses on the red carpet wearing something other than a sample size. But we are a long way from this industry ever truly embracing the breadth of shapes, sizes, and ethnicities of modern women. Bryce Dallas Howard still buys her award show dresses off the rack because designers have little choice in her size. Leslie Jones struggled to find anyone to dress her for the Ghostbusters premiere. When plus size blogger Callie Thorpe was featured in a Miss Vogue swimwear gallery, the backlash from some people online was horrifying.
As ever, the fashion industry itself is still far behind the world of influencers and bloggers. While the Victoria's Secret runway show was still sorely lacking in any form of body diversity, plus-size blogs are thriving, particularly in the US and the UK, where bloggers are collaborating on fashion lines, appearing on TV, and modeling for global brands. From Gabi Gregg to Georgina Horne, women have successfully turned their curves into careers. The Instagram hashtag #effyourbeautystandards has taken off to the point where the woman behind it, Tess Holliday, was signed to a major modeling agency despite being neither the height nor weight of your "average" plus-size model.
Because, as many of us have now realized, most plus-size models are not really plus-size. At least not in the way you'd imagine. Fashion has always thrived on aspiration, and just as runway models tend to be right on the lowest end of the "straight" size spectrum, plus-size models actually straddle the middle ground — the sizes that lurk at the back of the rail at high fashion stores but also mark the start of many plus-size ranges — 12, 14, possibly 16. This has started an unending argument about what "plus-size" truly is (and even a call to #droptheplus) as we question whether the models used really represent the women buying plus-size clothing (The short answer is no. Just like runway models don't represent people who buy a size 6 or 8).
Amongst those to come under fire was ASOS, whose Curve range started at a US size 14 when it launched (it now begins at a US 12). The brand has made an effort to use larger models following negative feedback from consumers, but when it launched, Bree Warren was a Curve model. Her model card lists her as having a 29-inch waist, which makes her closer to a size 8-10 than the 14 that the range started at.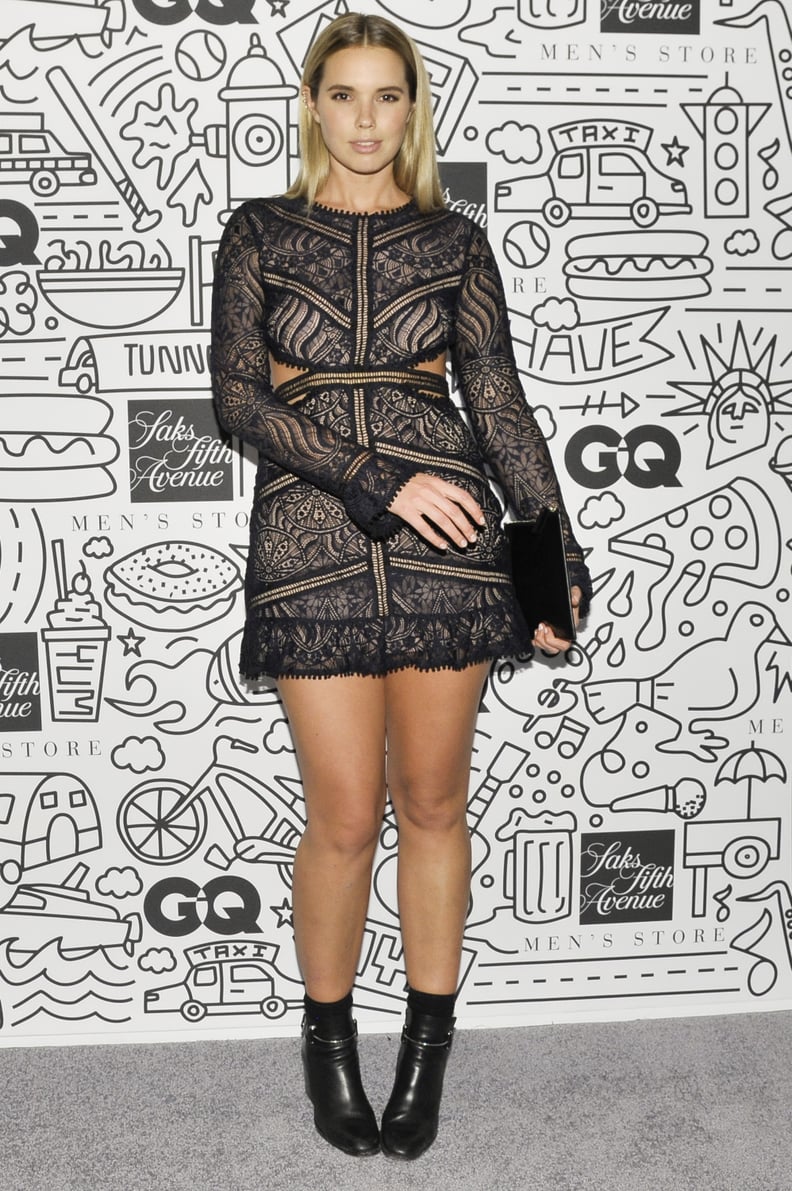 Bree is stunning and excellent at her job (I immediately want to buy every "breekini" she models on her Instagram) but she's hardly representative of the 14-plus woman who were shopping for ASOS Curve when it launched.
Straddling two sides of the industry, women like Bree have been described as everything from mid-sized, to "in-betweeners". In model agency terms, they may count as "plus" or "curve", but that's not really the whole story.
In 2014, model Myla Dalbesio was signed for a big Calvin Klein campaign. Despite the fact Calvin Klein did not identify her as plus-size, the shock headlines quickly started anyway. A huge fashion brand was using a plus-size model for the first time! The truth? Dalbesio was a US size 10 with similar measurements to Bree Warren. She's also a statuesque 5'11". In the campaign she looks amazing and we should have just celebrated the fact a woman with a body slightly closer to that of many consumers was being represented in fashion. But because of the label, things went the other way entirely, as people complained she wasn't plus-size enough.
What Dalbesio told Yahoo Style about the whole furore around her size sums up exactly how I feel every time I post a photo of myself online or try on a dress in H&M. I wear a UK size 14 (US size 10). Right now, my BMI is a little above healthy. I've been called "fat" and "chubby" more times than I care to mention. I would look ridiculous in the kind of outfits I see many fashion bloggers sporting. But I don't really fit into the plus size community either. I have had my body shape described as everything from "normal" to "Adele-sized" (all comparisons to Adele are gratefully accepted). When you straddle two very different sides of an industry, finding your place is difficult. As Dalbesio said back in 2014:
"I can never figure out where I fit in, and I'm always making someone mad. I'm not skinny-skinny, but I'm not fat and fabulous either. I'm a size 10 (US). There's been a whole public outcry about me not being as big as people think I should be. They say, 'What do you have to complain about? You have a great body.' But if you're a size 6 or 10, that doesn't mean you don't need to see yourself represented too."
The truth is, brands see using these in-between models as a "safe" way to dip their toes into unfamiliar waters. Rather than jumping from a size 2 to a size 18, they'll call on someone like Iskra Lawrence, who is a size 10 with the kind of curves you only see once in a lifetime. There has long been controversy over the so-called "glorification" of plus-size, with arguments that we have gone from one extreme to another. But is this really true, given that the majority of popular "plus-size models" are barely even a size 12? The plus-size industry is a huge one that will continue to grow, and perhaps by removing the labels on models who do not fairly represent their consumers, the plus-size industry will have the opportunity to diversify even more.
In an ideal world, in-between models should not be seen as token "real girls" alongside their size-0 colleagues. It just shouldn't even be mentioned. The average female dress size varies depending on the study, but most agree it's somewhere around 14 to 16 in the USA. In the UK, it's around a US 12. Naysayers have often complained that rather than using models who are either size 0 or size 18 with nothing in between, we should be showing a breadth of sizes. So where better to start than the middle? Despite apparently being "average" in size, women like me are not really the focus of anyone's attention in the industry!
What I remind myself is that in truth we are the luckiest of the lot, even if we don't feel like it sometimes. Those of us who're a size 10 - 14 can technically shop at more retailers than anyone of any other size. We can buy standard and plus-size clothes. Obviously, the disappointment comes when you then realise that neither are designed with us in mind. I get just as many funny looks from shop assistants when I walk into a plus-size retailer as I do when I ask if something in a bigger size at Urban Outfitters. But I have the option, something many other women are not lucky enough to have.
So it really comes down to being creative, and using that choice to build the perfect wardrobe. In-betweeners become experts at picking and choosing items from various retailers, learning what works and what doesn't from each range. As we often have larger busts and curvier hips and butts to consider, we rarely find one size fits all, and we have to shop around. We don't have many people in the public eye to look to for inspiration, because so often with fame comes pressure to lose weight and put out an fitness DVD. We look for inspiration online, as our blogosphere is growing too. More brands are adjusting their in-store displays to reference our body types. Hell, even Victoria Beckham now makes dresses in our size!
The future is ours, because we know the real truth. Years of not knowing quite where we fit has taught us that "normal" and "average" don't really exist, and while every body is different, all of them are brilliant. And as we continue to see more of them represented in fashion, it's our time to to shine. Note: Unless otherwise stated, all dress sizes referenced are US sizes.