Paid Content For
Lane Bryant
3 Fashion Bloggers Prove Fashion Is For Every Body
Paid Content For
Lane Bryant
There's no easier way to put together an outfit appropriate for Fall than to look to the season's It girls for inspiration. We've all done it.
This year, we found three need-to-know bloggers who are not only helping us figure out what to wear with our Chloé crossbody bags or stark white Stan Smiths, but they're part of a larger conversation about body positivity and inclusivity. Fashion is fun, but they also believe that it should be a space for everyone.
Here, they show off some of their best Fall looks and share their thoughts about the retail (and, specifically, plus-size) market.
01
Chante of Everything Curvy and Chic
The duster coat is on everyone's mind this season. Here, Chante of Everything Curvy and Chic wears it over a knee-length dress and cinched belt.

Here's what she has to say about body image:
"Recently, there has been a huge focus on body image in mainstream media. There has been the ongoing debate about 'plus-size' and whether or not shops/designers should sell and market the same straight sizes clothes in plus-sizes as well. As a plus-size girl myself I would love to see myself (size and color) represented more in the media and in stores."
02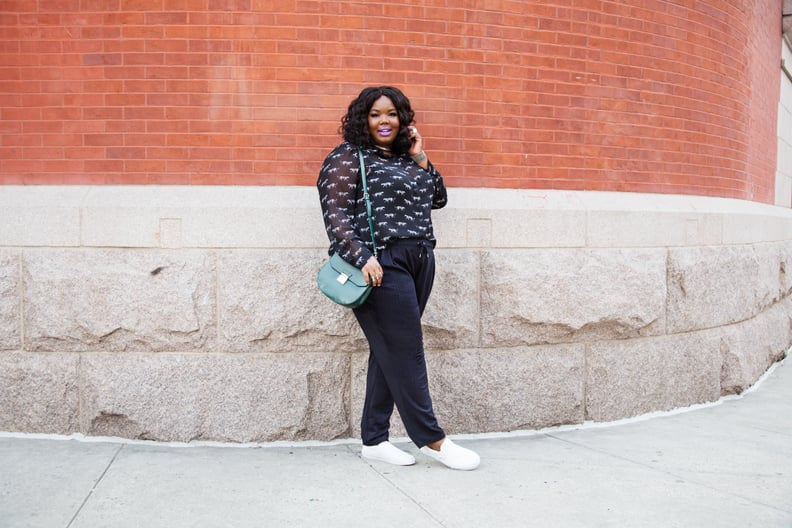 Chante looks amazing in her black trousers and embellished sheer sweater. Sneakers are still having a moment, but she was able to elevate them by wearing them with a strong lip and great bag.
"If I'm not being ashamed of my body and embracing what I have, then I feel I should see more of it in media."
03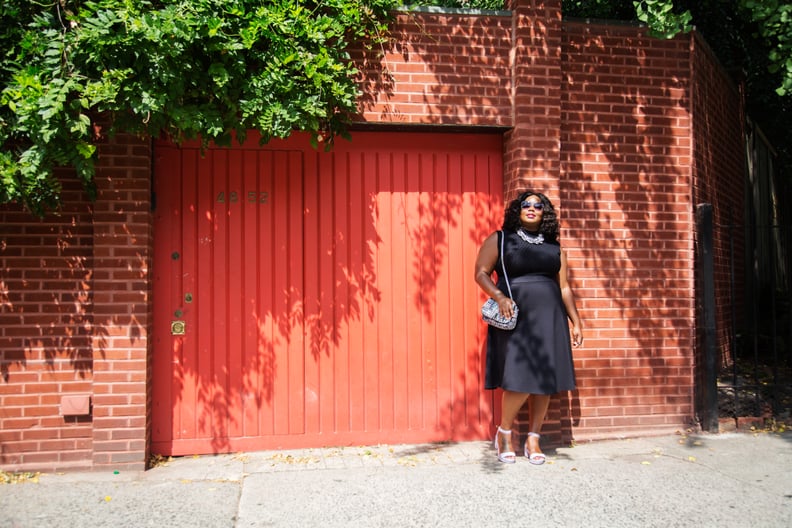 Chante's look here is perfect for a day meeting friends for lunch or even heading to work. Her statement necklace is the big stunner in this outfit, and she's done a great job of keeping everything else minimal as to not compete with her jewelry.
"At the end of the day I am plus-size and I do matter."
04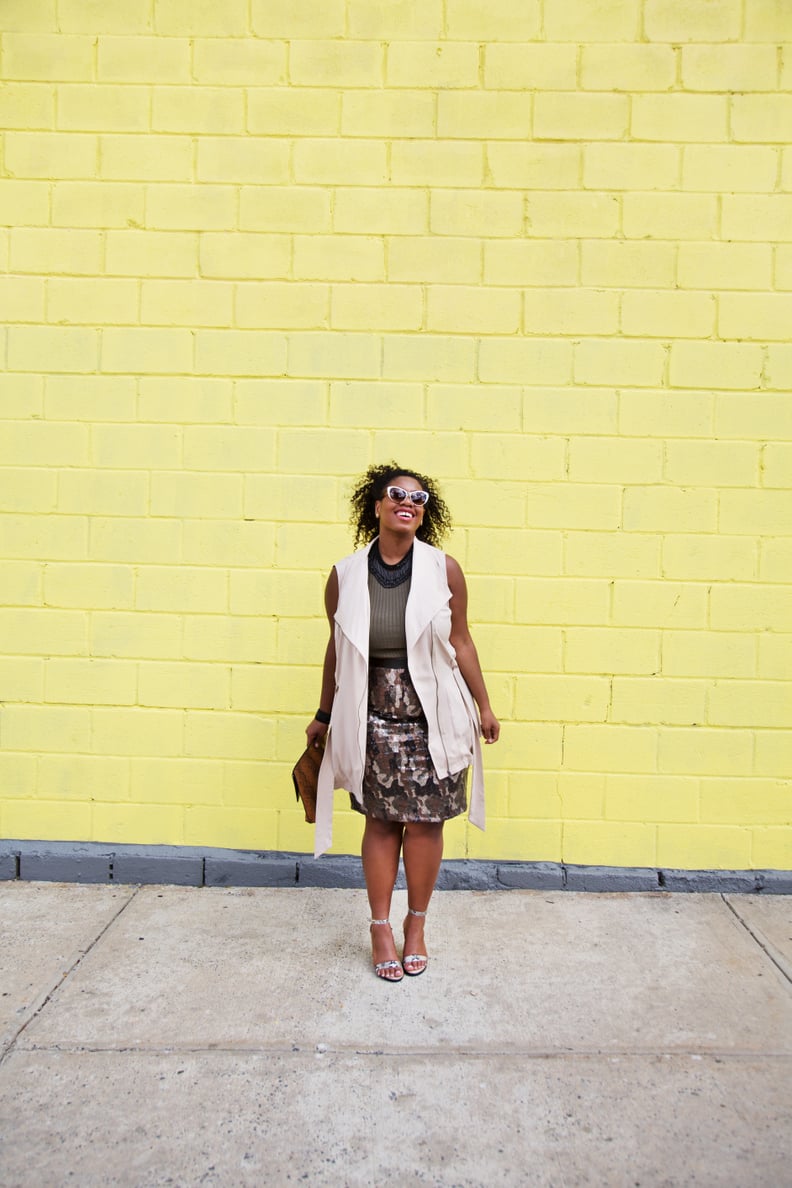 Kelly Augustine of Kelly Augustine
Kelly Augustine is here to make a statement. This polished look is given a modern twist with an on-trend khaki sleeveless vest.
Here's what she has to say about where the fashion industry is in terms of inclusivity:
"In case you haven't heard, there's a body positivity storm brewing within the fashion industry right now. In the September issue of Vogue, the most influential of the year, lays the #PlusIsEqual campaign. Right there, deadsmack in the middle, stand six glorious curvy silhouettes that leaves you guessing…'who is responsible for this??'"
05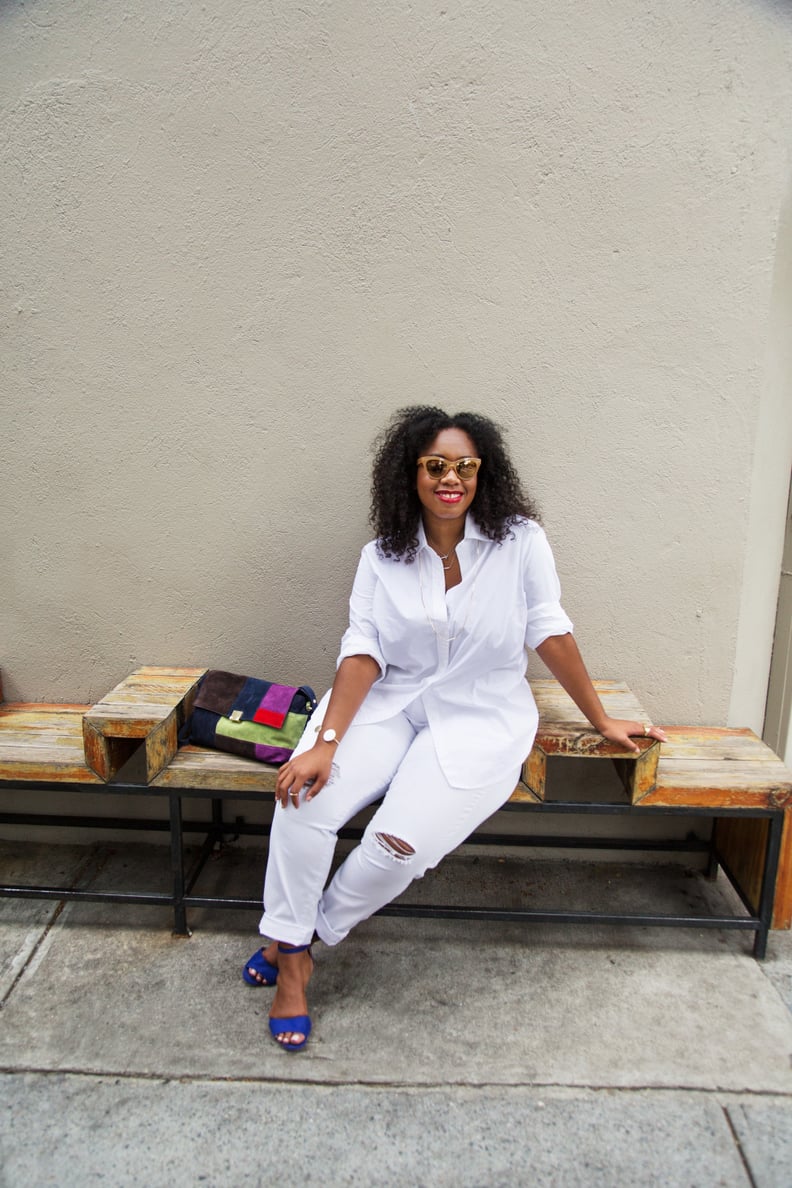 Kelly nailed her monochromatic look here, wearing distressed white denim, a classic button-down, and blue heels to give the look a dose of color.


"I was tasked with the challenge of collaborating with a stylist to put together three looks inspired by my fashion sense. If you know me, you know I love to prove that you can be fully clothed and still be sexy while curvy, so I loved the idea!"
06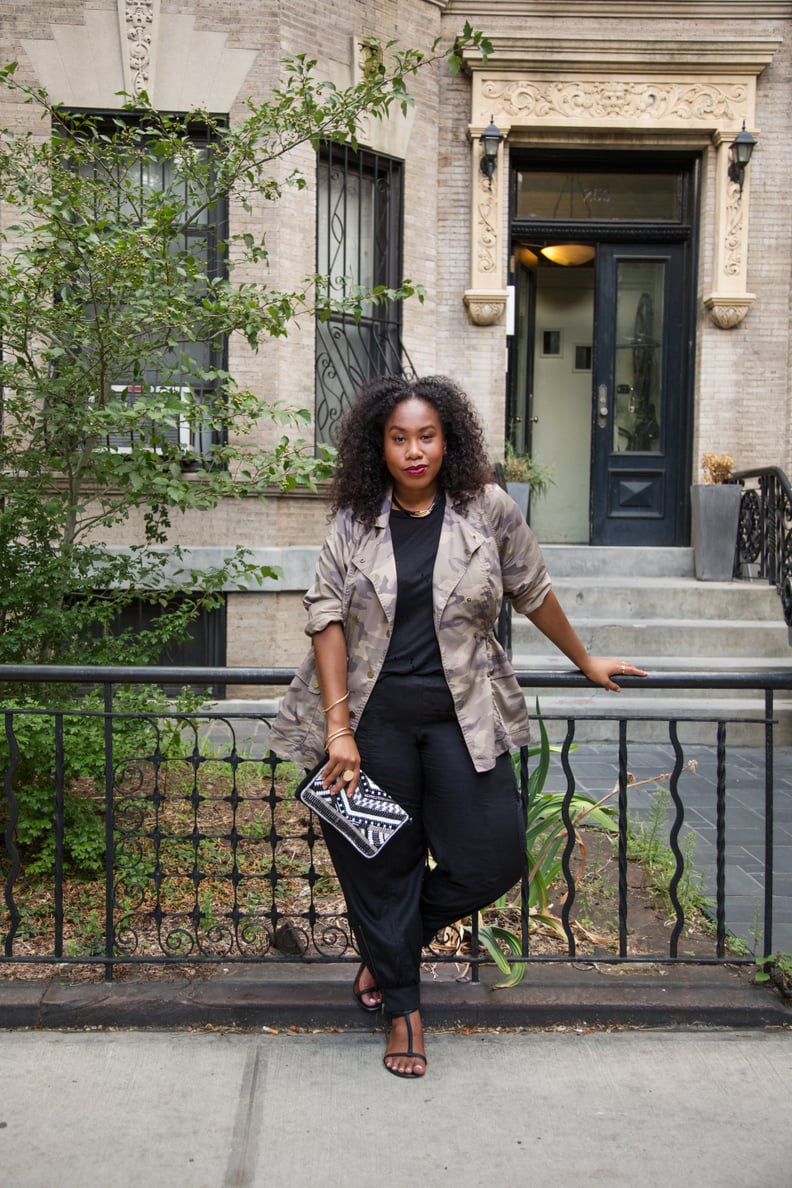 This blogger knows the power of a good camouflage jacket. Here, it's completely winning in this outfit, and she styled it smartly by keeping everything else low-key.
"Being a born and bred New Yorker, I love to pull inspiration from both the neighborhoods and the people within them. To me, NYC fashion has a timeless feel, so I love to incorporate trends into my wardrobe that have a classic feel."
07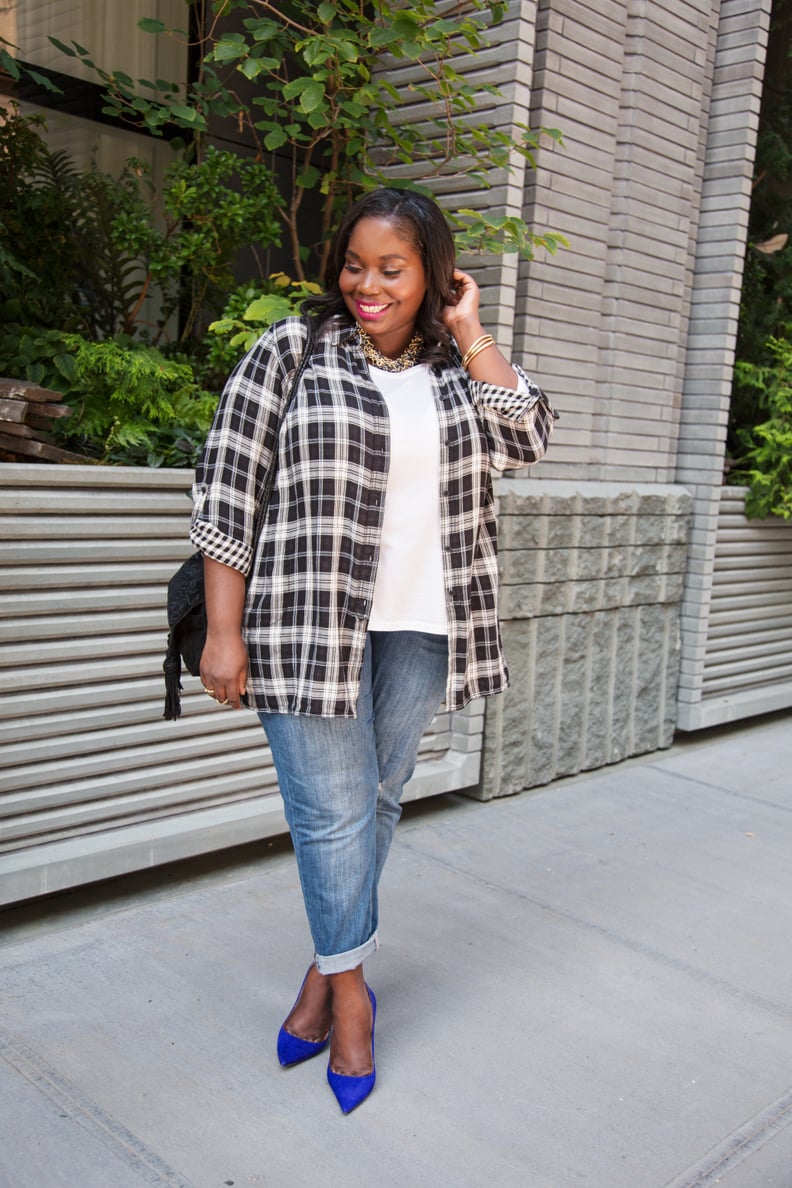 Alissa Wilson of Stylish Curves
Alissa of Stylish Curves is not ashamed of her body, and here, she proudly shows off her styling prowess and confidence in this perfect Fall look.
Here's what this fearless blogger has to say about normalcy:
"People are always trying to give us tips on how to look thinner, as if all plus-size women are ashamed of their bodies. In all honesty, I feel that there is a new breed of plus-size women who aren't afraid or ashamed to be plus-size."
08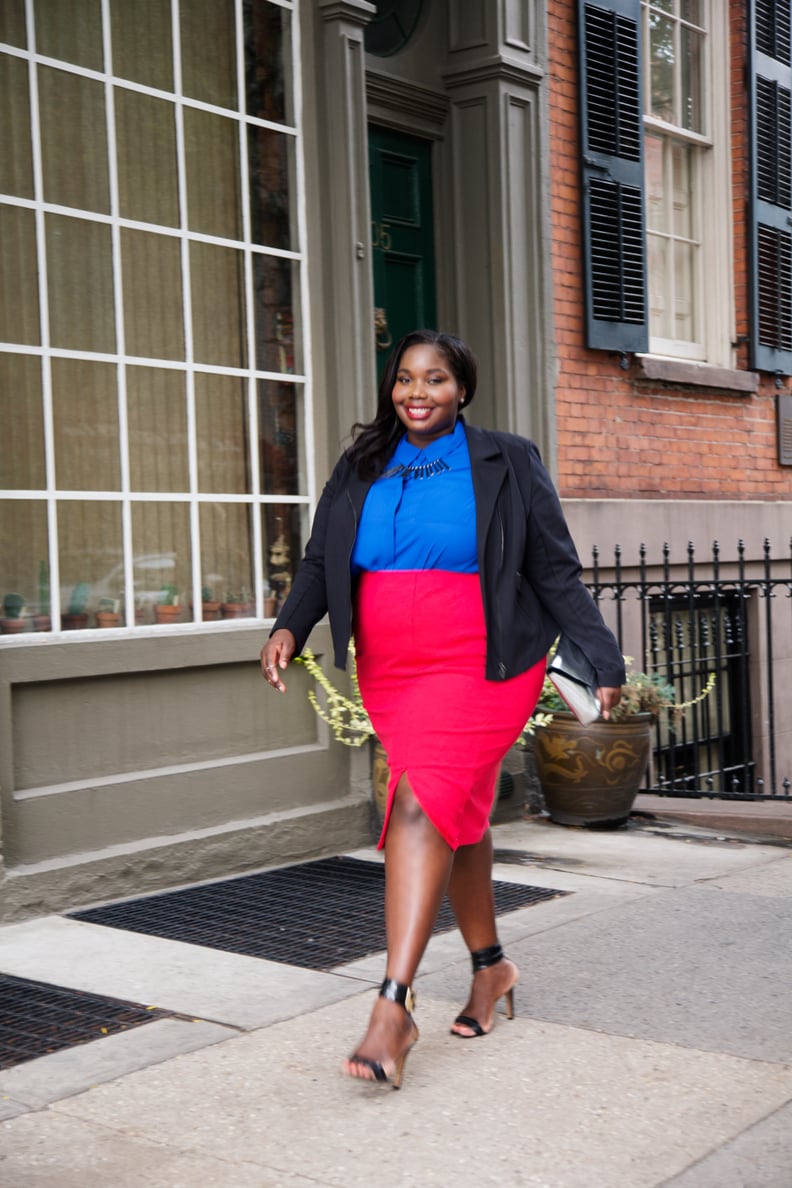 This high-waisted pencil skirt and cobalt blouse are a perfect combo. The tulip-style slit adds a modern touch while still keeping the look appropriate for work.
"This new breed of plus-size women wear whatever they want without any apologies."
09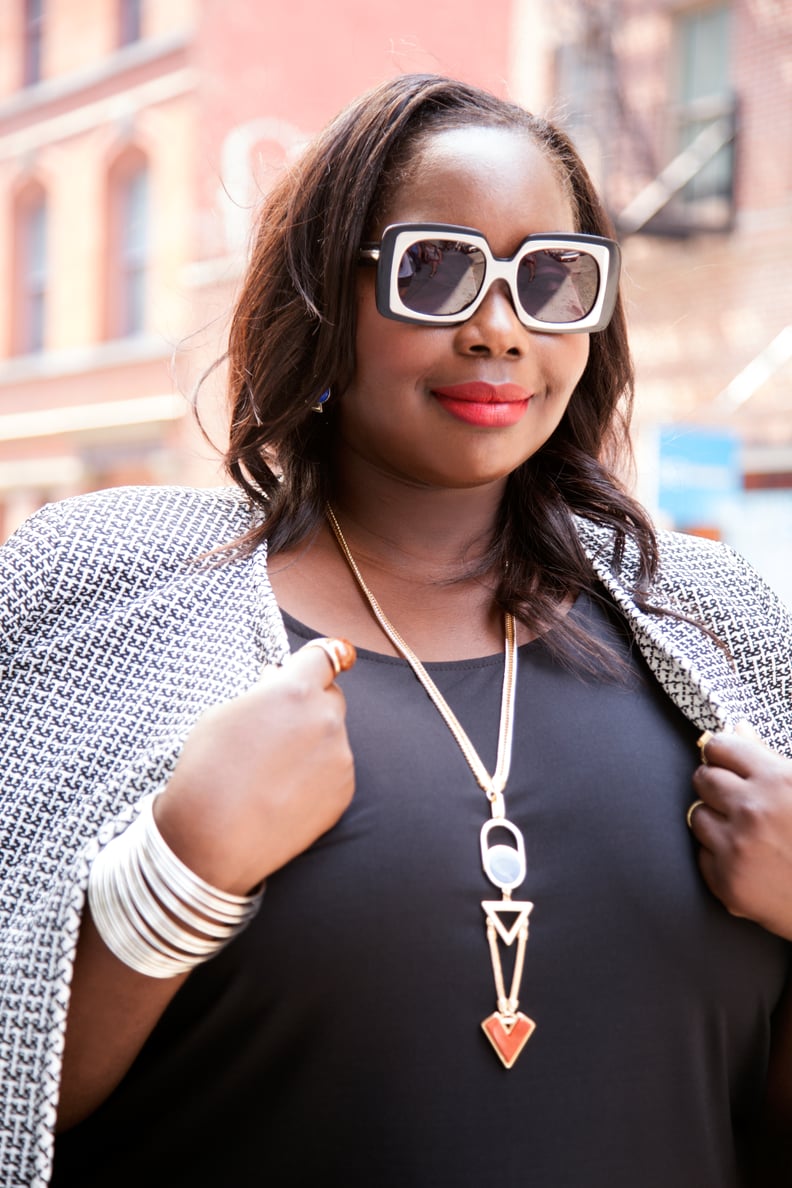 Don't forget about accessories. This jacket draped over the shoulders is another Fall staple, and her drop necklace looks great set against a black t-shirt.
"We wear crop tops, skinny jeans, miniskirts, short shorts, and everything in between."