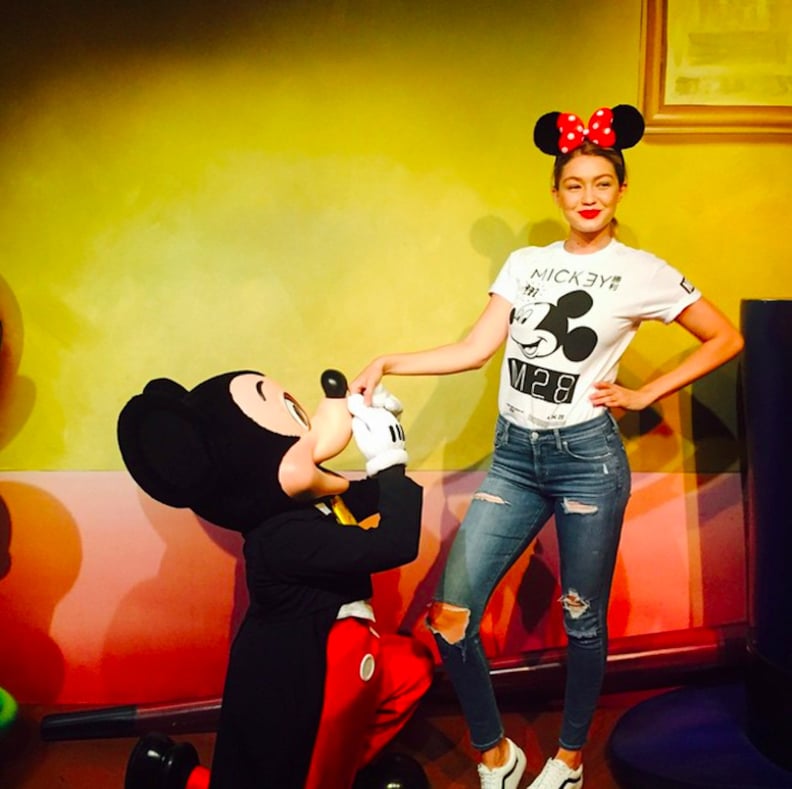 As POPSUGAR editors, we independently select and write about stuff we love and think you'll like too. If you buy a product we have recommended, we may receive affiliate commission, which in turn supports our work.
As a self-proclaimed Disney obsessive, I plan my park outfits strategically. We're talking a Lion King graphic tee for Animal Kingdom and Princess Ariel crown on the day I plan to visit the grotto in Fantasyland. Lame? I don't think so. Because when I actually hit Main Street, I promise you I look less like a crazy chick in a costume and more like a fan who's also fashion girl. Because listen, I style my Disney gear with cute cutoffs or bright-red Daisy Dukes and a pair of on-trend sneakers.
It seems like the celebs I follow on Instagram are all on board with the same set of rules. Whether they're on the West Coast at the OG theme park in Anaheim or park hopping it in Orlando, Gigi Hadid, Lily Aldridge, Kourtney Kardashian, and more keep their looks fresh and topped with a pair of Mickey ears. That's just how I like it. Scroll to get inspired, then shop a few essentials.
Michelle Dockery coordinated her Minnie ears with a little leopard.
Ears are cool, but baseball caps are fair game when they're Goofy and Donald themed.
Laura Carmichael swung her leather jacket over her shoulders, but she and Michelle remembered to tie hoodies around their waists.
When fanny packing it, do it with a touch of Chanel à la Kourtney Kardashian.
Reese Witherspoon knows her stylish accessories, including sunglasses and hoops, belong on Main Street.
When Kendall Jenner, Ariana Grande, and Hailey Baldwin took over, they coordinated their ears appropriately.
Ariana Grande matched the pearls on her bow with a sweeping of face glitter.
But she remembered her Disney x Coach purse, too.
Jessica Alba chose a pair of ears with a sequined bow to make a splash.
Ruby and Lily Aldridge dominated the park in their jeans and live-in tees.
Ruby styled her footwear with some funky socks.
Lily Aldridge keeps her choker intact for a day trip.
Taylor Swift and Lily Aldridge kept it simple and sophisticated in black tops, Taylor opting for her signature red lip.
Gigi Hadid coordinated her black and white vans with a tucked-in tee.
Bella Hadid opted for platform sneakers and a bandana, and both girls topped off their looks with spirited hats.
Gigi Hadid remembered the one key rule: when the rest of your outfit's simple, you do you in the craziest accessory you can find.