Who — we mean, really, WHO?! — would not want to dress Ashley Graham for the Met Gala? Not only is she a lovely person, hilarious, and easy to work with (Trust me, I hung out with Ashley at my own office), but she is also beautiful and has noteworthy taste.
In 2017, she showed up to the ball in one of our favorite looks of the night: a red curve-hugging H&M dress, covered with floral appliqué. She knew exactly what to do with her hair (slicked back to show off the elements of the dress), and she wore her outfit with confidence. But Ashley was held back from the event in 2016 — though she had already become a prominent figure in the industry — simply because no one would dress her.
She revealed this to NY Magazine in a profile that appears in the August 2017 issue, but it's not the only quote that stuck with us when we read the feature. Ahead, you'll find Ashley's replacement term for "plus-size," how she feels about being famous for the number in her jeans, and why she thinks she's one of the only models in a minority group to skyrocket to fame.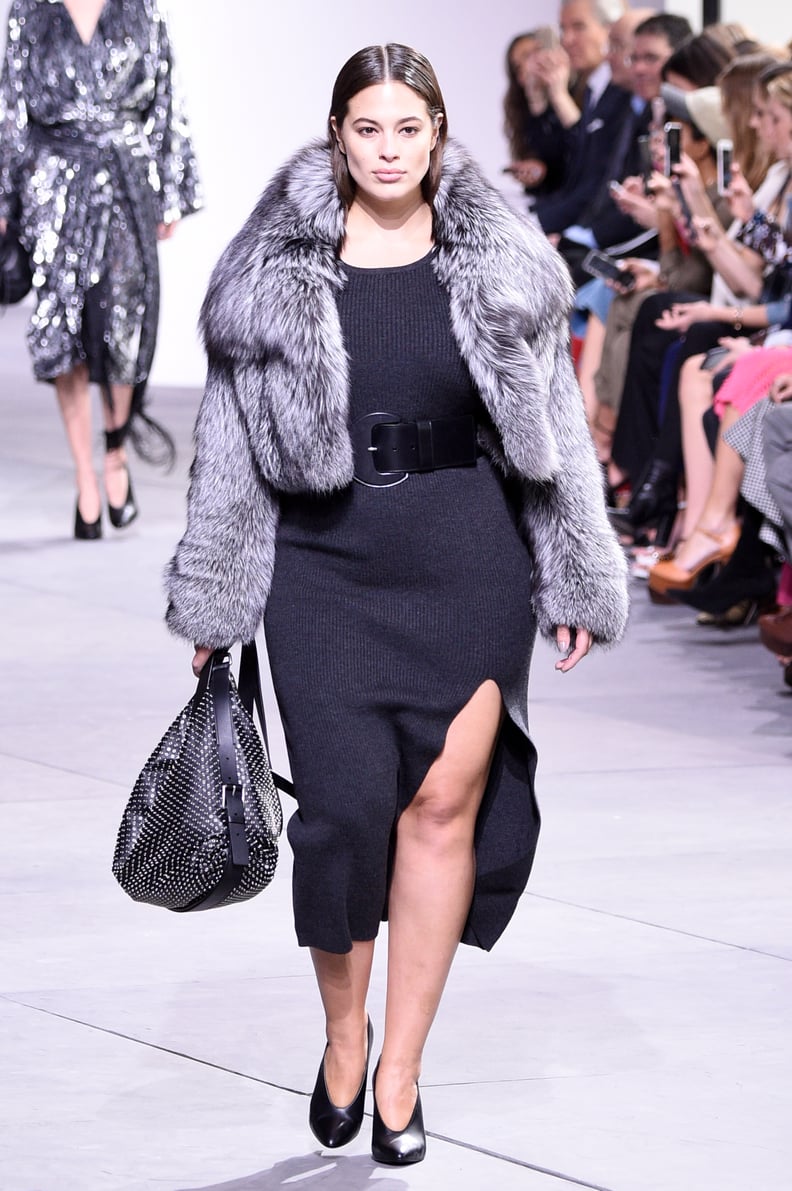 Ashley's Replacement For the Term "Plus-Size"
"[Ashley thinks] there's an inherent implication of a dividing line between the 'normal'-bodied and the 'other.' 'It's like, Plus what? That's something I've always been told: 'You're not good enough because you're plus-size.' I'm not here to ban the word from the dictionary,' [she said]. Plenty of women own and love it. She prefers curvy or curve (used in a sentence: A record 26 curve models walked in New York Fashion Week last season, including Graham in Michael Kors's show)."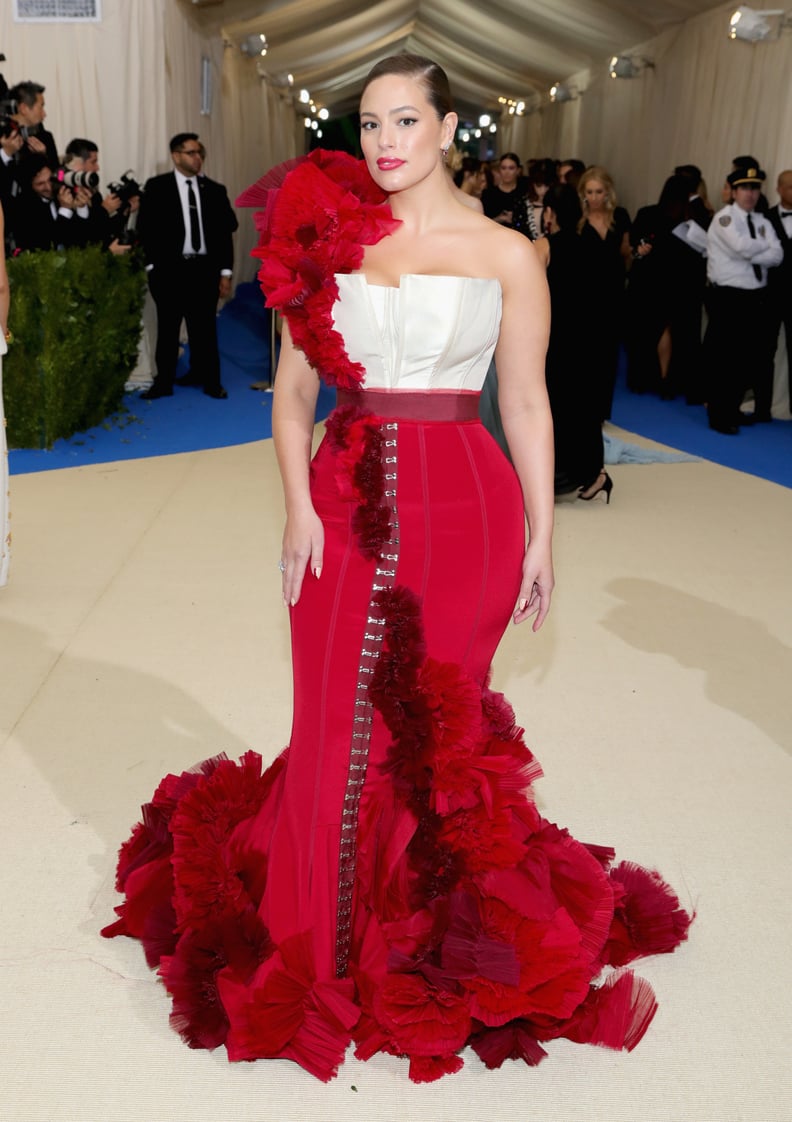 Why Ashley Skipped the 2016 Met Gala
"Graham actually had been 'on hold' (a prelude to an invitation) for [the 2016 Met Gala] but ended up staying home. 'I couldn't get a designer to dress me. You can't just show up in jeans and a t-shirt,' [Ashley said]. She insists it's just because she didn't have the right designer relationships and there hadn't been enough time to get a custom gown (at the time she was convinced it was because her husband made the faux pas of hugging Anna Wintour not long before the gala), but likely a factor was that Graham is well out of sample-size range. To dress her requires extra work — she can't wear something lying around the showroom — and an exercise in imagination that not every designer wants to go on."
Ashley also revealed that her stylist still has to tweak a lot of the clothes that are fitted for her shape: "Graham tells me she now borrows everything she wears to fancy events, with the designers fully aware that her stylist will aggressively tear off sleeves, lower bust lines, and add slits to better suit her body." Why Ashley Thinks Being Famous For Her Size "Sucks"
"On the subway (she lives in brownstone Brooklyn), she's often inundated with women coming up to her. 'They see me and go, 'If I had a girl when I was in high school talk the way you talk about your body, my life would be different.' People look at my size now and know that's what makes me famous. That kind of sucks, too, because it's like, 'Damn, my size is what makes me famous? This is the thing: I know I'm paving the way for the next generation of girls, and they're not going to have to do this. That's what I hope. I'll take the brunt work and just handle it, and then you guys can just sail right on through' [Ashley said]."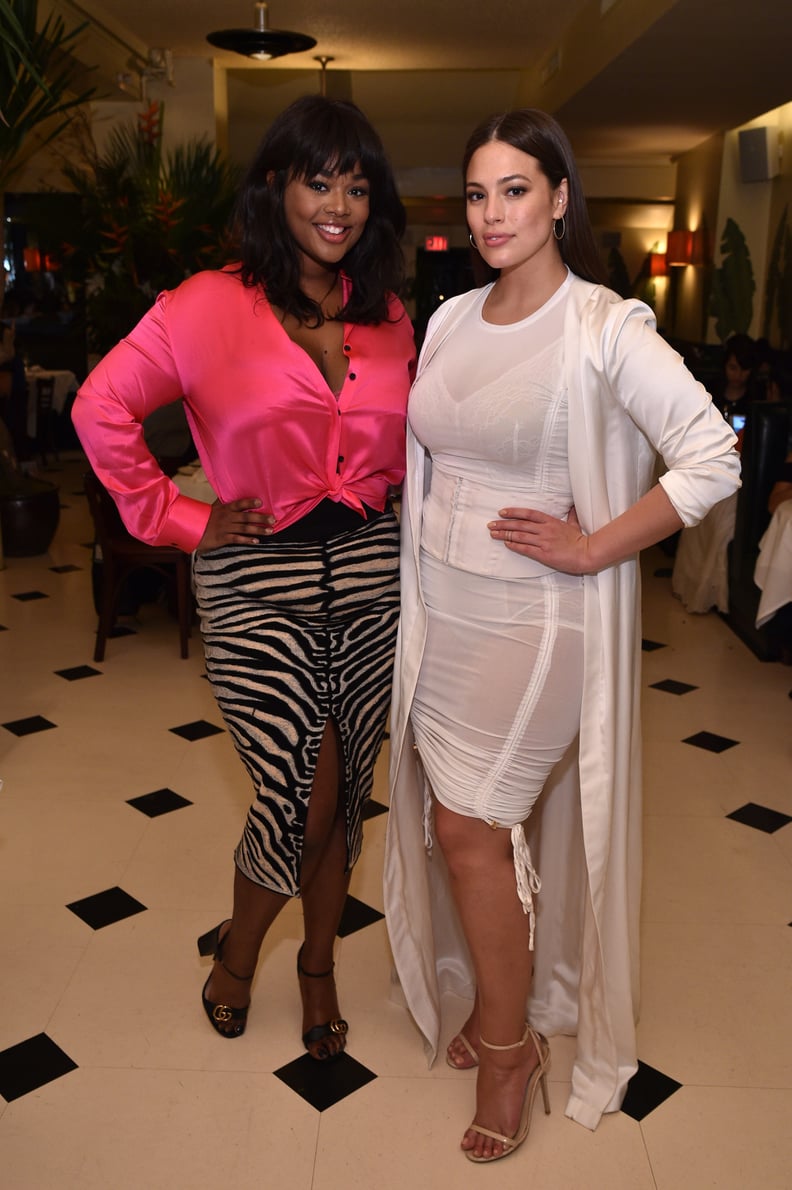 Ashley Attributes Her Quick Fame to White Privilege
"She's also acutely aware of the inequity of her being the only such model who's becoming a bona-fide mainstream star. As she and her husband of seven years, Justin Ervin, have discussed, the body type that's being celebrated as special on her is actually a beauty norm for many women of color. (Ervin, a cinematographer and documentary filmmaker whom she met at church, is black.) And there's something wrong when women-of-color model friends of hers like Marquita Pring and Precious Lee aren't getting the same opportunities. 'I know I'm on this pedestal because of white privilege. To not see black or Latina women as famous in my industry is crazy! I have to talk about it. I want to give those women kudos because they are the ones who paved the way for me' [Ashley said]."