No-Equipment Hotel Room Workouts
3 No-Equipment Ways to Exercise When You Travel
If you're like me, luggage space is at a premium when you travel; after all, you need an outfit for every possible situation! But lack of space in your suitcase for a pair of running shoes isn't a good excuse to skip on a workout while you travel. Whether you've forgotten to pack your gear or don't have any space to add your fitness travel essentials, here are three workouts you can do using only what you've got in your hotel room!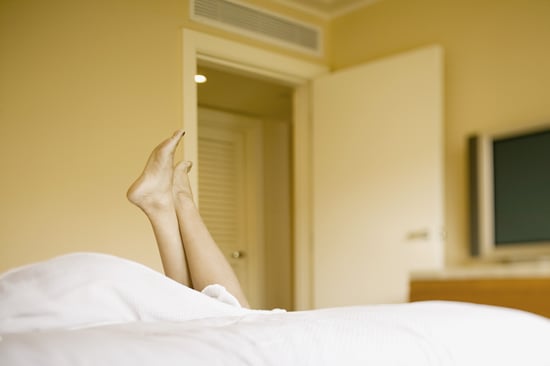 Glide it: SLT Yoga trainer and Under Armour model Natalie Uhling loves using hand towels or washcloths in place of gliders (one for each foot) to do this effective move almost anywhere when she doesn't have that much time to exercise. "On any slick surface, do sets of 20 knee into your tricep [to work] your obliques and your glutes," she recommends. If your hotel room is carpeted, use the floor in the bathroom or room foyer to do this move.
Video workout: If you have a laptop, follow along to our workouts that use props you already have in your room. Try this hotel room video workout, or grab those towels again and do this total-body towel workout from Madonna's trainer.
Pilates: A mat workout like Pilates helps you tone your entire body in a small space. Natalie recommends doing sets of the Pilates classic move Hundreds whenever you get a chance; you can do these anywhere on your hotel room floor.