No-Sugar Pumpkin Bread Recipe
This Healthy Pumpkin Bread Makes the Perfect Breakfast
You'll love this quick and easy whole wheat pumpkin bread made with low-fat buttermilk for moisture and dried fruit and honey. Best of all, there's no sugar added.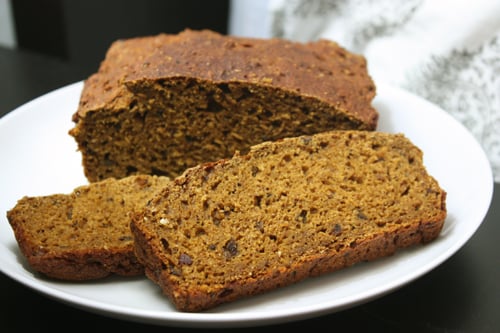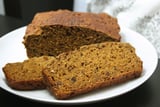 Ingredients
2 heaping tbsp raisins (25 g)
3 prunes, chopped (25 g)
2 dates, pitted and chopped (25 g)
4 Cal figs, chopped (65 g)
1 cup pumpkin puree
1 tsp vanilla extract
1 tbsp honey
1/2 cup low-fat buttermilk
1 egg
1-1/2 cups whole wheat flour
1/2 tsp salt
1 tsp cinnamon
1 tsp pumpkin spice
1/8 tsp fresh ground nutmeg
1-1/4 tsp baking soda
cooking spray
Directions
Preheat oven to 350 degrees F. Coat the inside of a loaf pan with cooking spray.
Add the raisins, and the chopped prunes, dates, and figs to your food processor, along with the pumpkin, vanilla extract, honey, buttermilk, and egg and blend until smooth. Pour into a medium size bowl.
In a separate bowl, mix together the wheat flour, salt, cinnamon, pumpkin spice, nutmeg, and baking soda.
Pour the dry ingredients into the wet, and fold together. Mix only until it is incorporated, so that you don't over mix.
Transfer the mixture to your bread pan and bake for 1 hour, or until a toothpick comes out clean from the middle of the loaf.
Cool on a baking rack and store covered (in the frig).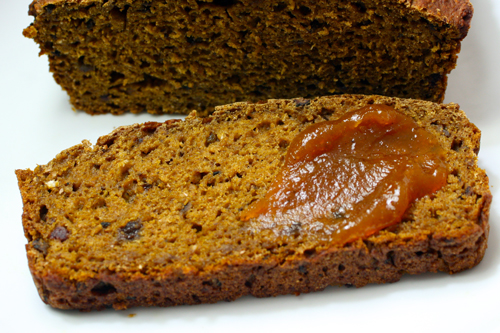 Great for breakfast or an afternoon snack served with yogurt, or toasted and spread with peanut or pumpkin butter, of course!
Information
Category

Breads, Breakfast/Brunch

Cuisine

North American