10 Healthy Eating Tips to Avoid the Freshman 15
10 Eating Tips For Avoiding the Freshman 15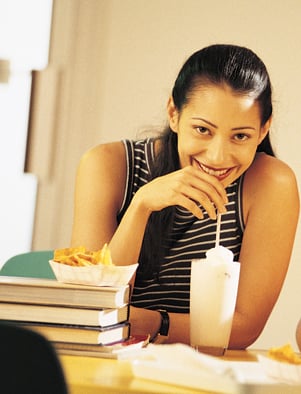 Going away to school can be dangerous on the waistline. The dorm dining hall is like a giant, all-you-can-eat buffet. And let's be real, the food choices at most campuses are not healthy. On top of that, many students don't have access to a kitchen, and will ultimately eat all of their meals out. It's no wonder most of us gain some weight when going off to college, though the infamous "freshman 15" is really more like 10 pounds. And don't be fooled — weight gain isn't reserved to first-year students only. The eating habits you develop during your first year away can stay with you through college and beyond.
Whether you're eating in a dining hall or cooking for yourself in your first apartment, a few simple strategies can help you avoid that first-year college weight gain. Here are my tips for eating healthy while you're away at school.
Don't skip meals, especially breakfast. Starting with a filling breakfast helps steady your metabolism throughout the day. Here are five ideas for quick but healthy starts.
Drink lots of water. At the dining hall, during lectures, throughout cram sessions, whenever! Skip the soda and carry a water bottle that you can refill throughout the day to prevent constipation and bloating.
Include at least three food groups in every meal. When choosing from the endless dining hall bounty, make an effort to get plenty of fresh fruits and veggies, lean protein, and calcium — not just pizza and chicken fingers. And the more color on your plate, the better.
For the rest of my top 10 healthy eating tips, read more.
What are your tips for incoming freshmen looking to avoid the traditional weight gain?