100-Pound Weight-Loss Story
How One Woman Took Control of Her Anxiety and Lost 100 Pounds in the Process
Jessica Skarzynski spends her free time running races and motivating other women to "make waves" as a Mermaid Club ambassador, but a decade ago she couldn't even run a mile. Once she vowed to take control of her health issues, however, Jessica found a new hobby in running — and dropped over 100 pounds in the process. Read her amazing weight-loss transformation below, and check out more of our Before & After success stories here!
Jessica: Before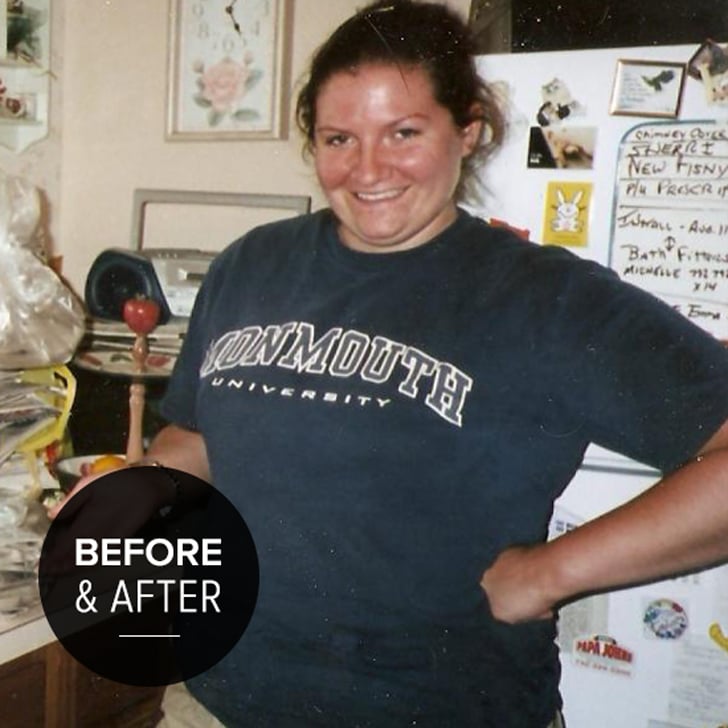 POPSUGAR Fitness: What made you decide to start?
Jessica Skarzynski: I've struggled with anxiety, depression, and my weight since I was young. By 2004, I was on antianxiety medication that packed on the pounds and I weighed more than 270 pounds. Then, that July (right before my 21st birthday), my mother was diagnosed with breast cancer. It turned out alright: after treatment and surgery the following year, she was cancer-free — and still is to this day! But that was the shock I needed to take better care of myself.
PS: What's your favorite way to work out?
JS: I've done everything from kickboxing to hot yoga, but running is my "happy place," so to speak! It's when I can shut out everything else that's going on and just focus on what's going on inside my head and make room for positivity.
Jessica: Before
PS: What's your weekly exercise schedule?
JS: Right now, I'm training for the United Airlines NYC Half Marathon as well as the Asbury Park Runapalooza Half Marathon this Spring, so I'm sticking to a five-day-a-week workout plan. Sundays are my long runs of increasing distance (up to 11 miles), and Monday is a rest day where I focus on stretching and recovering. Tuesday is a four-mile run and strength training, where I focus more on building up my legs, especially since I tore my ACL at mile 12 of a half marathon back in 2012 and had to take off almost 6 months after reconstructive surgery! Wednesday I do 40 minutes of cross training on the bike, elliptical, or in the pool — swimming is turning into my new favorite thing! Thursday is another four-mile run where I push the pace and throw in some sprints and interval training. Friday is another rest day, and Saturday I do some yoga, walk, and stretch, to prep for my long run again on Sunday.
PS: How do you keep workouts exciting?
JS: Music, new gear, and switching it up! When I'm in the thick of a workout and find my energy flagging, I've got a special playlist of "pump-up music" that I'll play to reenergize myself. I'll also treat myself to a new tank or fun headband to get excited about working out when I'm in a rut. When all else fails, I'll switch gears entirely and try a new class at the gym — like just last week when I tried Zumba for the first time in more than five years and loved it!
Jessica: After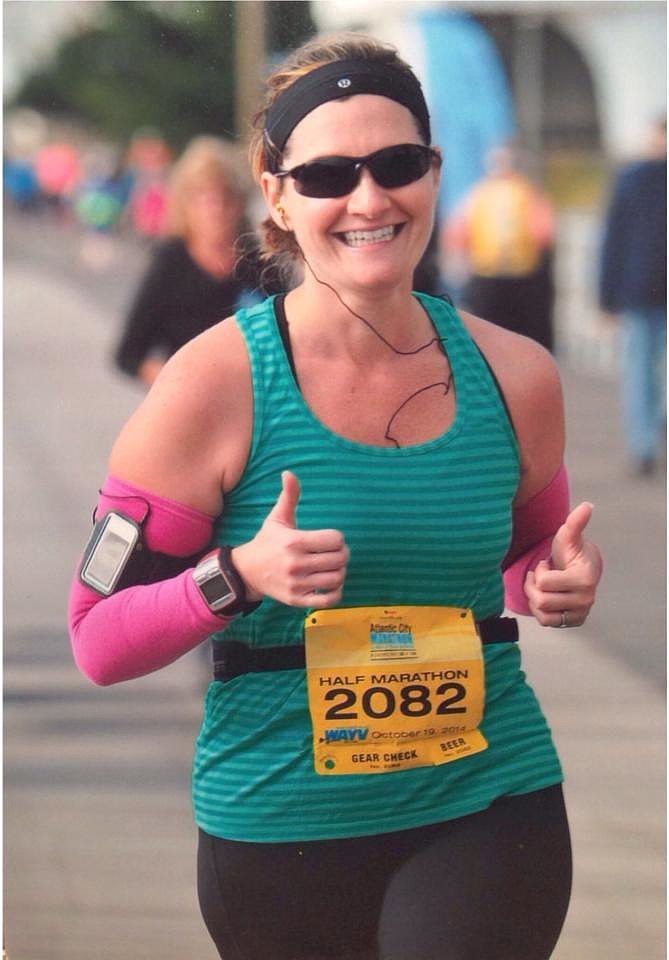 PS: How much weight have you lost?
JS: From 2004 to 2009, I lost more than 100 pounds! And aside from the post-ACL-surgery 10-pound gain and loss, I've maintained that loss since 2009.
PS: What was the first big difference, other than the number on the scale, that really made you feel proud and excited?
JS: I gained the majority of my weight in college as I was discovering who I really was. So while I was enjoying my new freedom and figuring out what I wanted to do with my life, I always felt physically restrained because I was so much bigger than other 21-year-olds. But once I started to lose the weight, my self-esteem increased, my mood improved, and the only way I can describe it is that I finally felt like I fit my body. And best of all, my anxiety subsided enough to allow me to go off the medication within that first year. That alone was motivation enough to keep going!
Jessica: After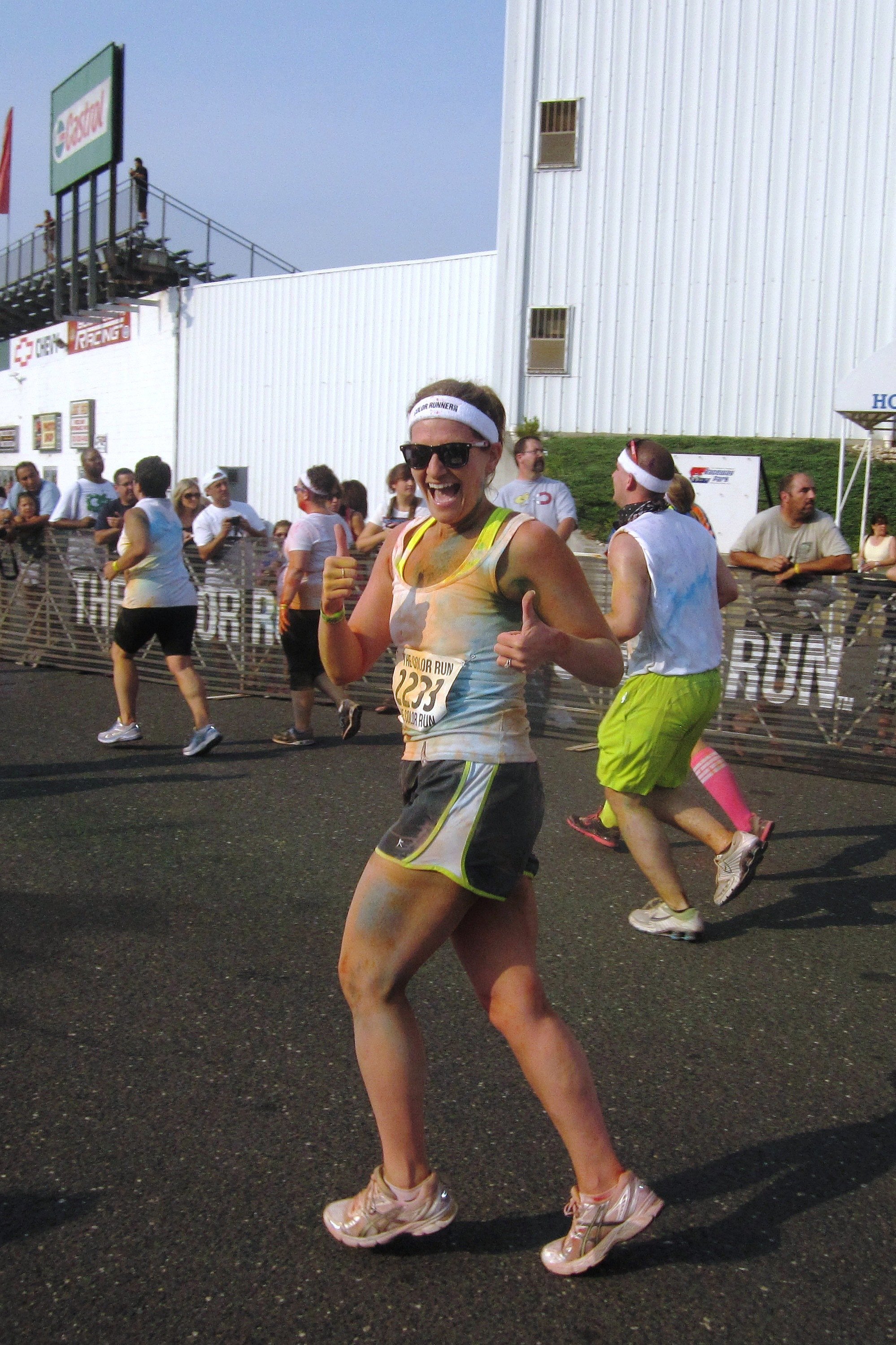 PS: How do you track your weight loss?
JS: I tend to not weigh myself very often, because I'm the type of person that gets obsessed with the number on the scale — which is a bad thing to be! Especially when I'm training (and eating!) more, that number changes so often that it would drive me insane. Instead, I go by how my clothes fit and how I feel. If I overindulge, say around the holidays, I notice an immediate difference in my energy levels and don't like that. So I tend to keep myself in check by listening to my body and following those signals.
PS: What's a typical day of meals and snacks?
JS: Breakfast is usually a cup of Kashi protein cereal with a little chocolate almond milk, but I also love green smoothies; they're an easy way to get all the veggies in at once! I'll add kale and spinach to the blender, with some protein powder, a little splash of almond milk, and some frozen fruit, and voilà: breakfast to go. Lunch is the usual stuff: a sandwich or salad, but I try to stay away from refined sugars, white bread, bagels, and things like that. I'll always have a little snack between lunch and dinner, too: usually a Quest Bar, now that I've discovered the S'mores-flavored one! Dinner is a protein like chicken or turkey burgers (without the bun) with salsa, and for starches I'll have whole-wheat pasta, quinoa, or sweet potatoes. I've also recently discovered roasted veggies and can't stop making them. Broccoli, kale, brussels sprouts — you name it, I'll toss it in salt and pepper and olive oil and roast it!
One thing they probably won't say in the diet books: I don't skip dessert! I always have a little something like a Hershey's kiss or a sugar-free pudding cup. Because once I feel like I'm "dieting" and depriving myself, I totally crash and go the opposite way into binge territory. Other things I like to snack on for protein during the day to keep me full and help stop me from snacking like crazy are salt-and-vinegar-flavored almonds (almost like boardwalk fries!) and almond butter (a big spoonful, straight from the jar).
PS: What's the range of calories you eat per day?
JS: I tend to eat around 1,700-1,900 calories a day, depending on if I'm training.
Jessica: After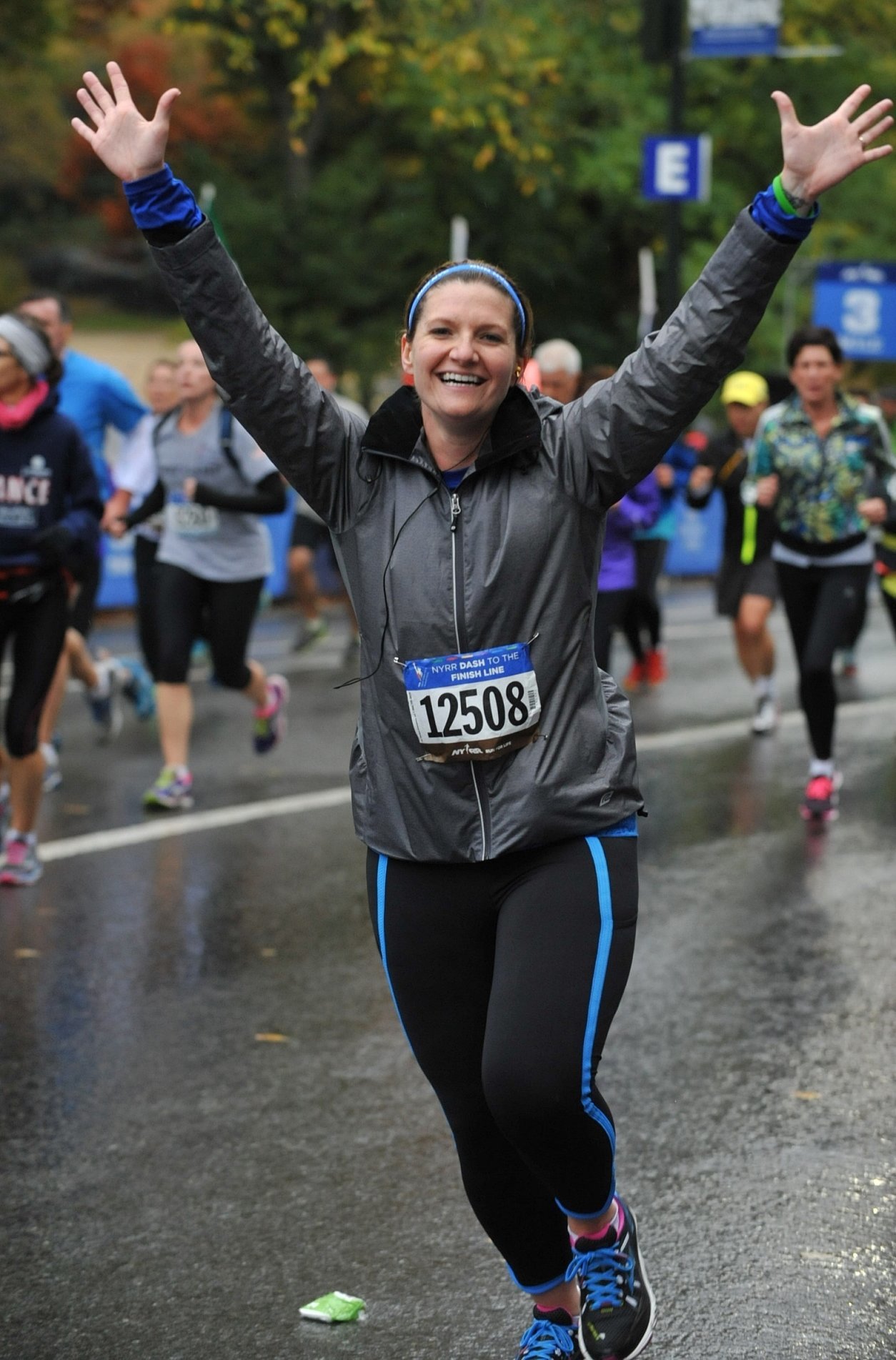 PS: What are the healthy staples that are always in your fridge?
JS: I love snacks that are filled with protein to keep me full, like mini Baby Bell cheeses and chocolate almond milk. I also rely on Greek yogurt and frozen fruit too!
PS: How do you strategize for meals out?
JS: When we go out to eat, I generally try to follow the same guidelines I do in everyday eating and order dishes that rely heavily on veggies and protein. But when I feel like splurging, I only have one rule: to make it worth it, I'll only order something that I don't know how make at home. That way I'm treating myself to something new and different — and potentially discovering something that I can then learn how to make a healthy version of!
PS: What advice do you have for anyone starting out on a weight-loss journey?
JS: Above all else: don't compare yourself to others! It's easy to fall into negative thinking and quit when you're surrounded by other folks who seem to be doing "better" than you, whether you're at the gym watching the superfit chick crush the StairMaster next to you, or you're at a race and everyone else seems to be passing you. At the end of the day, the only competition you should be concerned about is between you today [and] the you from yesterday! I am by no means perfect, and I'm not a health professional either. I used to be the girl who claimed "I don't run unless I'm being chased," and I literally trapped myself in my own body with anxiety and weight gain. But 10 years and 100-plus pounds later, I really am living proof: if I can do it, you absolutely can do it too!
Do you have an inspiring Before & After story to share? Message us on Facebook, and give us a few details of your journey. We might even profile you on the site, like Jessica!