100-Pound Weight-Loss Transformation | Maryn Teed
Maryn Dropped 105 Pounds in 1 Year — and It All Started With This Water-Drinking Hack
Maryn Teed completely transformed her body in the span of one year — dropping from 315 pounds to 210 — and it all started with a photo. Back in July 2016, Maryn went to a family barbecue feeling confident about herself, but that all changed when she got home and saw the photos she was tagged in on social media. "I just cried and cried; I was so disgusted by myself," she told POPSUGAR, referring to how she looked in the snapshots. "I knew the next day when I woke up, I needed to do something about it." On Aug. 1, 2016, her fitness journey officially began.
So what was the first step of Maryn's yearlong transformation? She began by simply "choosing the right foods to help fuel [her] body" and cutting back on portion sizes. With the help of the MyFitnessPal app, she tracked her calorie intake, going from a 2,000-calorie-per-day diet to consuming 1,500 calories or less. "I cut out mainly pastas and stuff I could do without, like butter on things," she explained. "I'd cut out cheese when I knew I didn't need it." Soon enough, her body genuinely craved healthier foods and she stopped longing for the unhealthy foods she once regularly consumed. "I eventually got to where I was eating so well that the bad foods lost their hold on me," she told us. "I didn't want them. Trust me — you eventually get there, and they make you feel awful."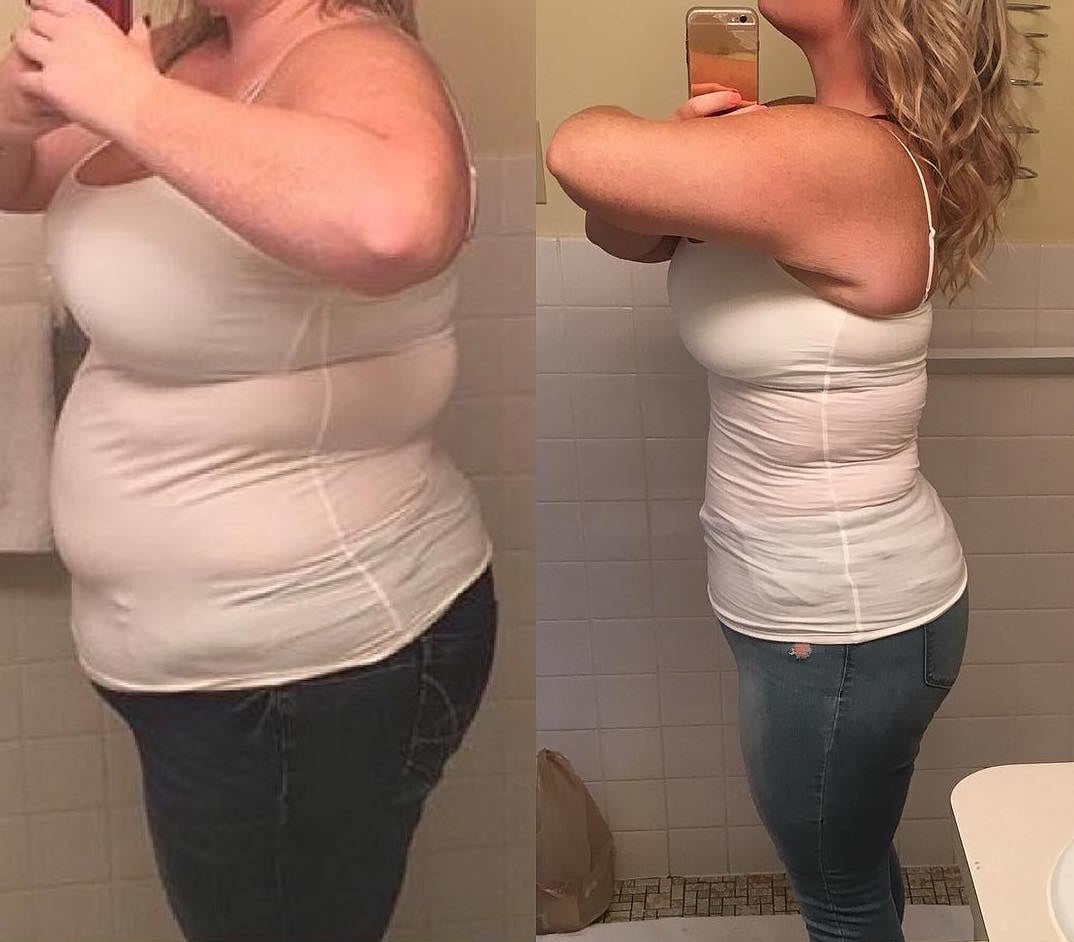 "I'd drink half my body weight in water every day. So when I weighed 300 pounds, I'd drink 150 fluid ounces of water a day."
While cutting back on calories, Maryn simultaneously upped her daily water intake — by a lot. We all know consuming plenty of water is a pillar of healthy living and a catalyst for weight loss, and Maryn shared an easy tactic that any avid water-drinkers should live by. "I'd drink half my body weight in water every day. So when I weighed 300 pounds, I'd drink 150 fluid ounces of water a day." That may sound like overboard (and cause for one four too many trips to the bathroom), but Maryn explained how she sticks to this goal. "I'd fill specific water bottles and keep them in my fridge or on me, and I would just make sure that before I'd go to bed that I would have finished all of them off. I actually used my Dunkin' Donuts iced coffee cups and would just fill them up and drink two with every main meal." I'll be the first to admit to often being too lazy to refill my water bottle at work, so having prefilled bottles ready to go at the start of the day seems like the way to go.
Besides these diet changes, Maryn also incorporated more exercise into her routine. She started by doing the 21-Day Fix workouts at home, and two months later, she found her current trainer, who has his own gym. "I fell in love with working out again," Maryn told us. She currently works out with her personal trainer three to four times a week, and also goes to a local gym five to six times per week. "I do my own workouts based on what my trainer has me do with him, and I try and add major cardio," she said. She mostly concentrates on high-intensity cardio workouts and heavy lifting, doing everything from flipping tires and mountain climbers to using dumbbells and riding the stationary bike or elliptical.
No workout is complete without some post-workout protein, which Maryn swears by. "It makes the biggest difference, at least for me! I can feel it legitimately fueling my body, helping me recover after the workout I had," she said. Her personal go-to is premade protein shakes like Premier Protein and Muscle Milk, and she also keeps snacks like granola bars and mixed nuts in her car for an added protein boost on the way home from the gym.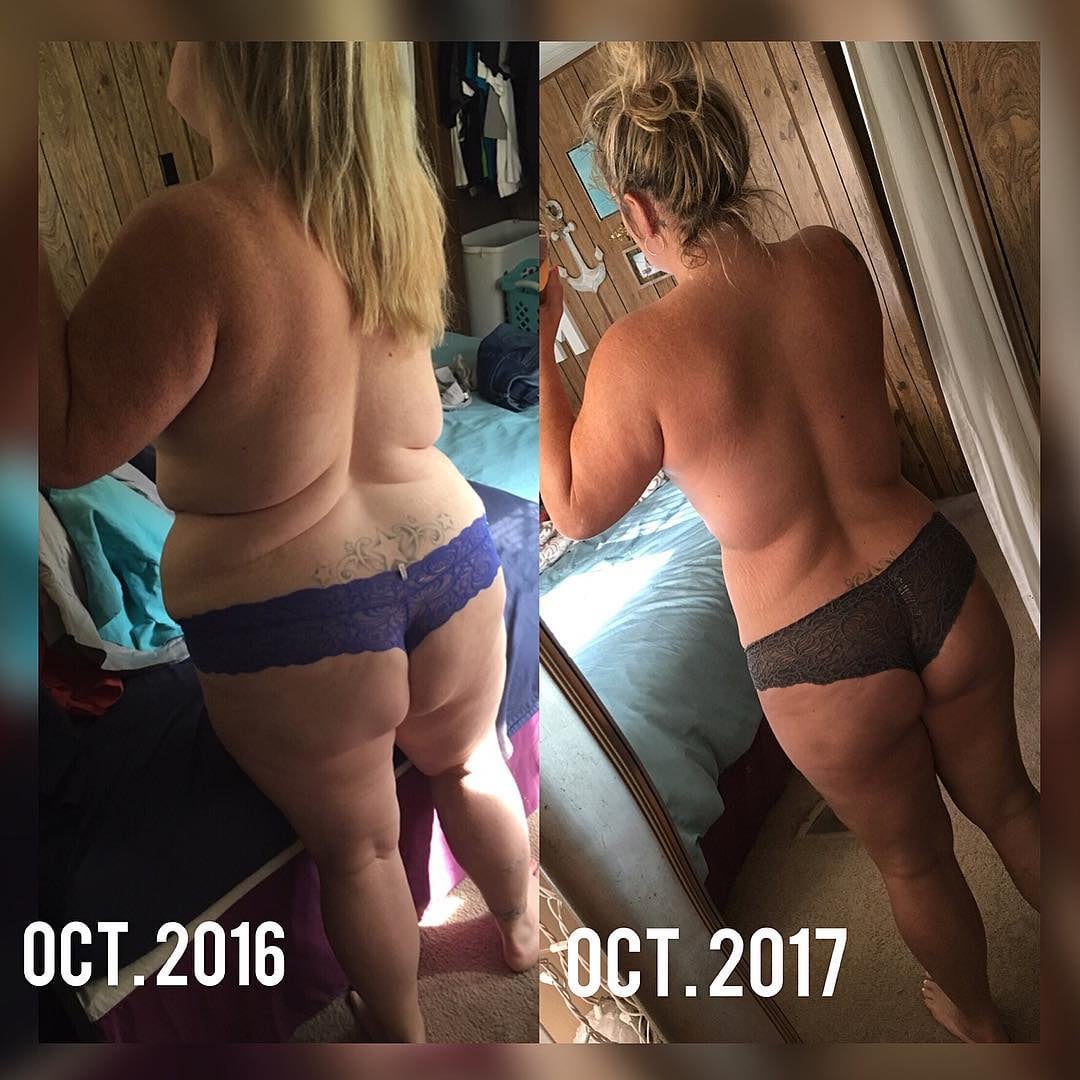 Now 105 pounds lighter than when she first started her journey, Maryn explained what motivates her to keep up the impressive hustle. "Honestly, I'm so scared to be the person I used to be. I was such an unhappy person in so many aspects of my life that I am petrified to go back," she said. "My grandma always says, 'If you're going to do anything, do it the best you can, or why even bother?' I look up to that woman so much, and I never want to let her down."
"Any progress is positive. It's not about how fast you do it; you just need to do it."
She also had plenty of advice for any fitness newbies who may feel intimidated by their lofty weight-loss goals. "Any progress is positive. It's not about how fast you do it; you just need to do it," she said. "Just move every day. Be active. Park farther away from a store so you have to walk. Take the stairs when you can. Remember how you feel at your lowest, and just know that you won't feel that way as you go on this journey. Remember you're human — you'll slip up, but just keep moving forward!" Ain't that the truth! We suggest writing Maryn's words of wisdom on a sticky note for days when you're in need of a motivational boost.