A Teacher's Journey to Losing 111 Pounds in a Year: "I Gained a Lot of Confidence"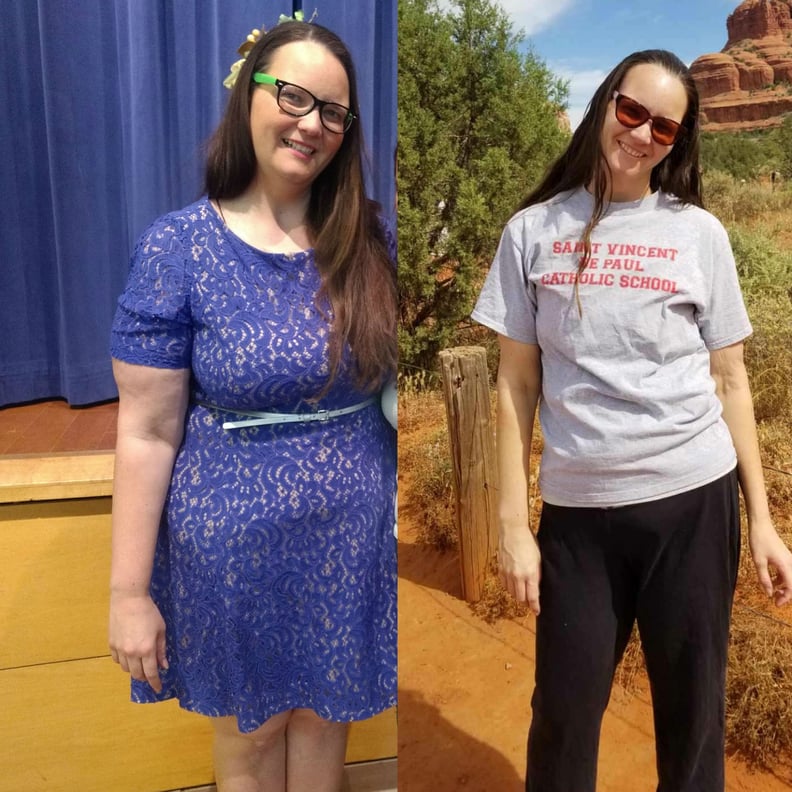 Marial Fecke-Stoud
Marial Fecke-Stoud
Marial Fecke-Stoud, a 32-year-old fifth-grade teacher from Arizona, doesn't have kids. A year ago, though, she decided that she wanted to get in shape and change her eating habits for the sake of the kids she'll have in the future. Equally as important, if not more importantly, she wished to do it for herself. "I was thinking, 'OK, I might have kids some day. So, let's start now. Let's make it as easy as possible now,'" Marial told POPSUGAR. "And part of it, too, was I was just plain tired of being overweight. I was tired of shopping in the plus-size section; I was tired of not doing all the things I wanted to be able to do with my friends and my family because I was restricted by my size."
Marial's initial goal in August of 2018 was to lose 100 pounds in one year, which she met by May 2019. Since then, she's lost an additional 11 pounds. Before her weight-loss journey, Marial clocked in at 280 pounds. Now at 169, she's focused on maintaining her results and continuing with the lifestyle she's embraced. Two of the key factors for her weight loss have been the calorie-tracking app Lose It! and weekly exercise. Ahead, we've highlighted Marial's fitness and nutrition routine, as well as her takeaways and tips for success. (If you work in a school, she has specific advice for you. Hint: Stay away from the candy in the teachers' lounge!)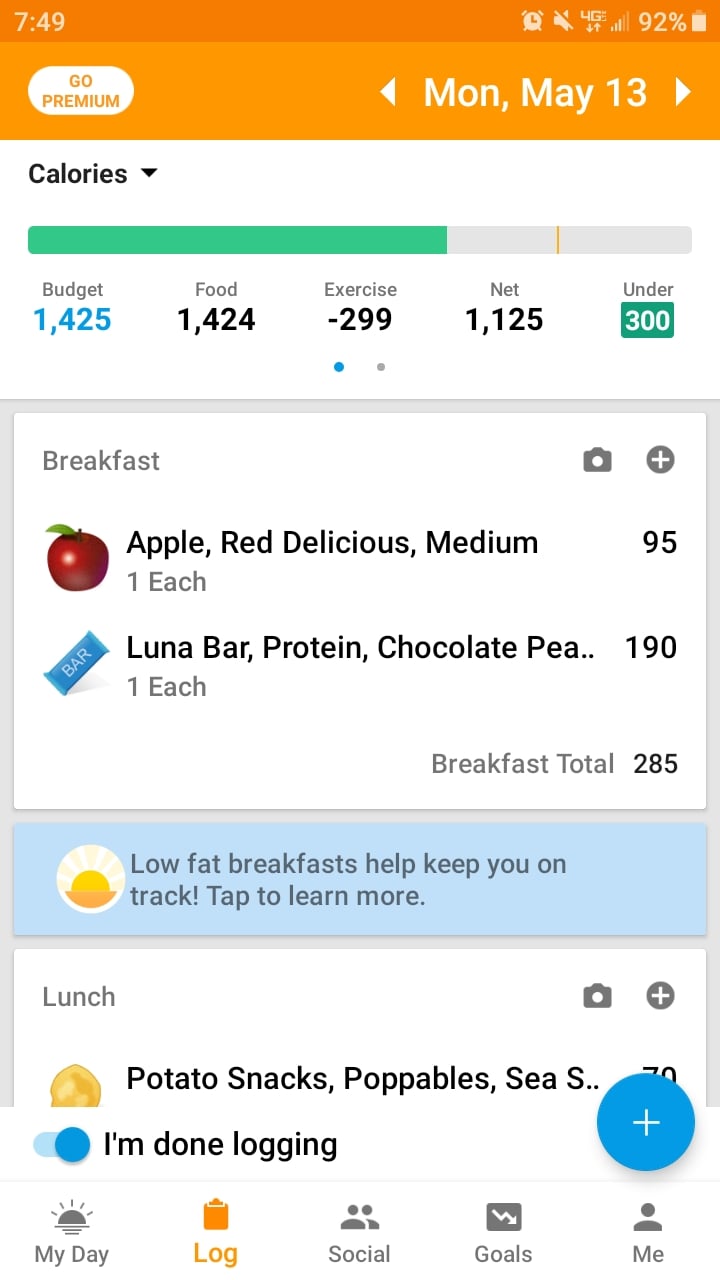 Marial's Nutrition, Portion Control, and Daily Meals
Looking back, Marial said that before she started her weight-loss journey, she always used to struggle with portion control. With the Lose It! app, she's able to track her calories and record what she eats for each meal. "It just made me cognitive of how much I was actually eating," she noted. (Fun fact: You can look up if anyone else has uploaded calories for food at a restaurant you're dining at and even use the app to scan the barcode of something you're eating to get the nutritional info. Marial also subtracts the calories burned during workouts.)
She started out with a goal of eating 2,000 calories per day, but as she lost more weight, the daily calorie limit decreased as well. By the time she met her target of 100-pound weight loss she said she was eating about 1,450 calories daily. A typical day of meals looks like the following:
Breakfast (200 to 300 calories): On weekdays, a Kind breakfast bar and an apple. On days she's not teaching, eggs with spinach and onion along with some fruit.
Lunch (400 to 500 calories): A Clif bar, orange, and pretzels or popped potato chips.
Dinner (500 to 600 calories): Protein like tofu, tempeh, Beyond Burgers (she's vegetarian!), or eggs. Okra or spaghetti squash. Fruit like nectarines or strawberries.
Snacks: Carbs like pretzels, popcorn, popped potato chips, or rice puffs.
Marial will still make room for treats like ice cream in her calorie count every now and then. And, now that she's at her goal weight, her daily calories are back to around 2,000. She continues to use the Lose It! app for portion control and tracking.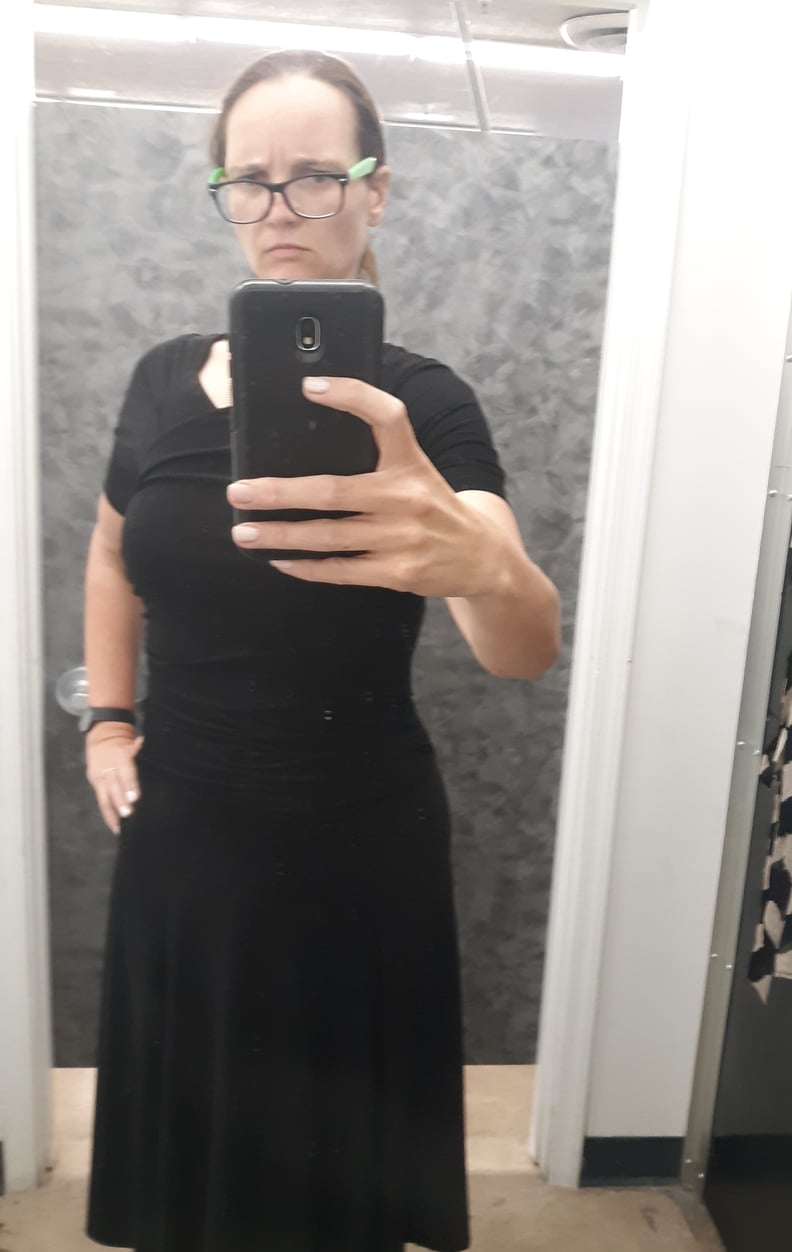 What Marial's Workouts Look Like
Marial used to work out on a semi-regular basis, but at the beginning of her weight-loss journey, she exercised for 45 minutes three days per week. At her most intense, which she said was the Winter of 2018 and 2019, she was doing hourly session at the gym six days a week. She was also training to get into 5K shape, so she'd run for two or three miles on top of strength training. Now, Marial continues to go at least three times weekly. She splits her weightlifting by body part: legs one day; chest, triceps, and shoulders another day; then biceps and back. Abs she'll work on more frequently.
Marial even makes some of her friends come to the gym with her, calling them her "accountability partners," which keeps her on track. "On the days that were particularly hard, I just went back to that accountability partner," Marial told POPSUGAR. "It was like, 'No, you got to do this. You said you were going to do this.'"
In April, Marial surpassed her goal of running 10-minute miles and completed a 5K. "I got other people motivated, too," she said. "I was selling other people on it and saying, 'Hey, if I can do this, you're going to do it.' So getting other people motivated helped me stay motivated as well."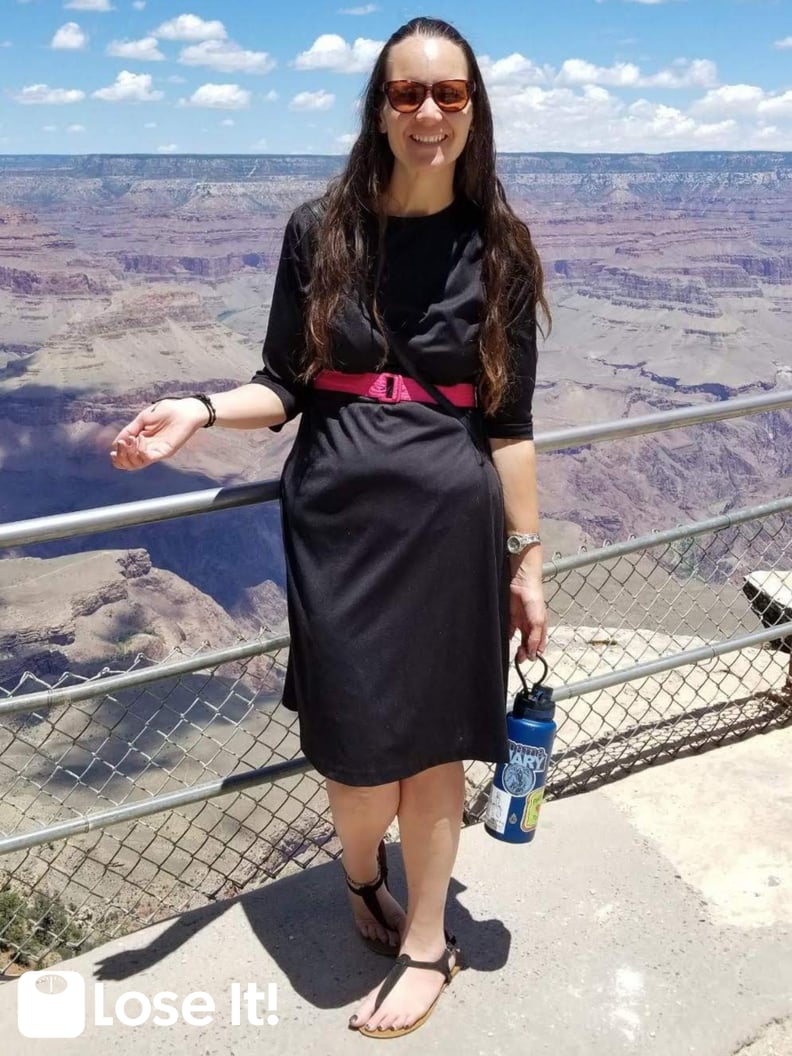 Marial's Advice For Teachers (and Everyone Else)
Marial has a few tips for teachers especially who are looking to lose weight or eat healthy:
Stay out of the teachers' lounge. It's tempting to go snack on whatever is in there; teachers bring a lot of different treats. Instead, make sure you keep healthier foods handy.
Tell your students that if they do want to bring in food for you, they should bring in snacks you'll feel good about eating. For example, Marial loves strawberries, so she tells her students to gift her those instead of cookies.
Don't feel obligated to eat whatever your students give you. If you do get food that you don't want or "shouldn't" eat, give it to your friends or donate it to a food pantry.
Build your meal plan into your day. Students have reliable breaks, which can allow you to space out your meals.
If you have a calorie-tracking app, input your packed lunch at the beginning of the day to encourage yourself to stick to eating what you've brought.
Prepackaged snacks are your friends and can help manage your portion sizes.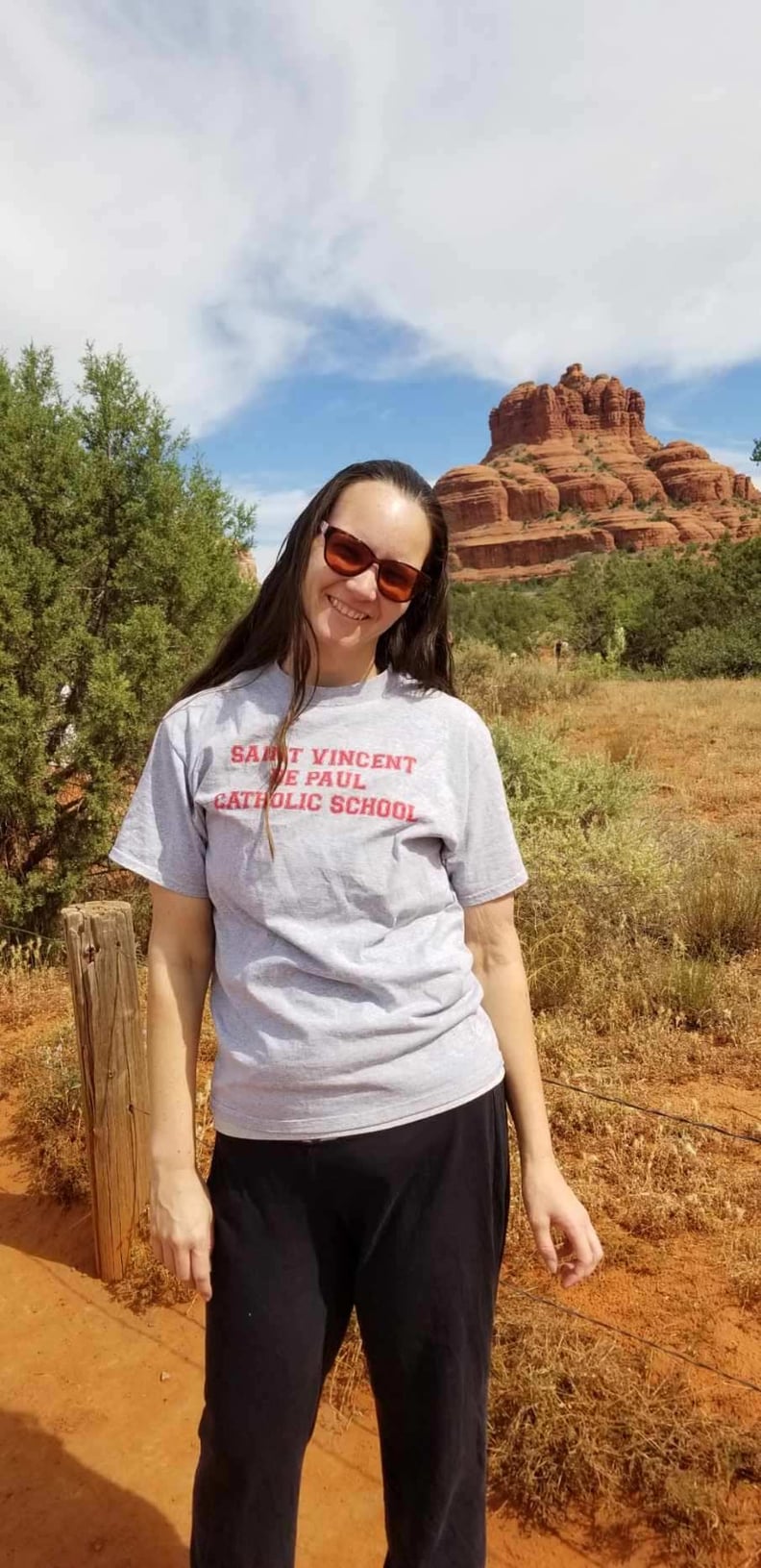 Marial's Nonscale Victories
Running the 5K and doing 10-minute miles were nonscale victories for Marial, and big ones at that. She'd run a 5K before but did 15-minute miles. She said she had to do a double take of her time, she was that shocked. "I gained a lot of confidence throughout the process, too, just in how I look and how I feel and what I'm able to do now," she reflected. For instance, she and her siblings hiked a mountain she'd only been able to hike one other time. In the past, before her weight loss, she hadn't been able to physically do the hike at all. This was a major win for her.
Marial has another 5K coming up in October and wants to beat her personal best. She also wants to run a 10K next March. And, from here on out, she's set on maintaining her 111-pound weight loss. Learning how to integrate better, portion-controlled eating habits with regular exercise was really important to her, so sticking with that lifestyle is her focus.
"Everyone wants to hear that it was something besides eating less and moving more, but that's all it was," Marial said of her journey. It also took a lot of self-discipline and motivation. "Staying motivated was a huge part of it, especially in the discouraging moments when I felt like I wasn't losing weight," she shared. Marial has met — and surpassed! — her weight-loss goal of 100 pounds in one year. It's an achievement for herself and also for the kids she wants in the future: "One day, when I do have a family, I can keep up with them."