113-Pound Weight-Loss Story
Before and After: How One Busy Mom Lost 100 Pounds
If you haven't checked out our Before and After weight-loss series yet, you really need to take a look. We've been inspired by all the women who've shared their stories on how and why they decided to lose weight. Next up: Crystal Beyer, who was juggling health issues, a full-time job, and being a mom to two young children when she decided to lose weight. Now, she's dropped over 100 pounds. Find out how she found the time to exercise and make healthy meals at home below!
Crystal: Before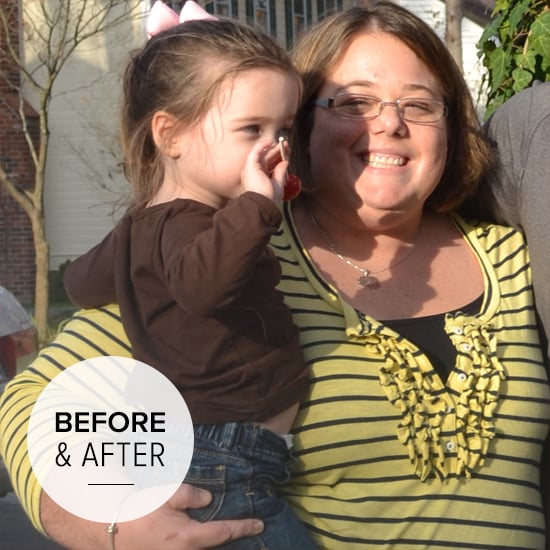 POPSUGAR Fitness: What made you decide to start?
Crystal Beyer: I have always been overweight and incredibly unhappy. I had twins prematurely due to my weight, I was put on a CPAP for sleep apnea due to my weight, I couldn't keep up with my kids! I finally hit a breaking point, found a new doctor and spoke with her about what I could do to lose weight. I have Polycystic Ovarian Syndrome, which generally makes weight-loss difficult. I also have/had insulin resistance as well. My doctor told me to limit my carb intake and get active and promised I'd see results! I was a major carb addict, so that was the hardest part for me, but the doctor was right!!
PS: What's your favorite way to work out?
CB: Running! I have never been an active person, so to say that I have a favorite workout is crazy! I bought a super-used treadmill from a friend for $50 and started walking on it, and as walking got easier I started running for small amounts and that increased to more running. I now run all the time! If I am short on time my most favorite thing to do are the 10-minute fitness workouts on fitsugar.com. I think I've done every one of them at least a few times!
Crystal: Before
PS: What's your weekly exercise schedule?
CB: With 4-year-old twins and a full-time job, I work out whenever I can get it in! I try to run three to four days a week for at least three miles. The other two or three days I do strength training with free weights and resistance bands. I typically find the time after I have put my kids to bed.
PS: How do you keep workouts exciting?
CB: If I am running on the treadmill, I always have a super fun playlist that I change out often! I also have my iPad on the treadmill and watch different shows on Netflix with the subtitles on. It definitely makes time go by fast! I am motivated to work out by the way that I feel after, so thinking about the change I am making helps me work harder and stay excited about working out.
Keep reading to learn more about Crystal's weight-loss journey.
PS: How much weight have you lost?
CB: I have lost 113.5 pounds.
Crystal: After
PS: What was the first big difference, other than the number on the scale, that really made you feel proud and excited?
CB: The amount of people who tell me I look like my mom now. I never did before because I was so overweight! I also have noticed the complete change of shape of my face from round to oval!
PS: How do you track your weight loss?
CB: I use an app on my phone called MyFitnessPal to keep track of my weight loss. I weigh daily but try not to focus on the number at all! I notice on weeks where I do more strength training the number doesn't move at all but I can feel it in my clothes big time, so focusing on the number was something I had to stop doing!
PS: What's a typical day of meals and snacks?
CB: Breakfast: One coffee, cereal (typically Raisin Bran Crunch) with berries or a banana, and my vitamins! Lunch: Greek yogurt with homemade granola, whatever fruit is in season (my favorites are any berries and peaches) and a Laughing Cow Babybel light cheese (yum!). Snack: Apple or almonds. Dinner: Any kind of lean meat and veggies! We eat a lot of chicken/pork at home. It's typically nothing too fancy or extravagant.
PS: What's the range of calories you eat per day?
CB: 1200-1300 calories a day.
PS: What are the healthy staples that are always in your fridge?
CB: Yogurt, fruit, low-fat cheese, lots of veggies!
PS: How do you strategize for meals out?
CB: I don't really have any "strategies," I just try to find things on the menu that work! I still love a good burger, but I ask for them to do it without the bun and then I get a sweet potato or veggies with it. I also completely believe that if I say "I can't have" something, that It will make me "cheat," so If I want to have something I typically don't eat anymore, I will have it! I just make sure I work out a little harder the next few days. The key to this for me was realizing that I'm not on a diet and that I will have to eat like this for the rest of my life.