20-Minute Healthy Dinners
5 Healthy and Delicious 20-Minute Suppers
Even when you're short on time, takeout isn't the only option. In less than 20 minutes from prep to plate, you can easily enjoy one of these healthy dinners.
Penne Alla "Not-ka"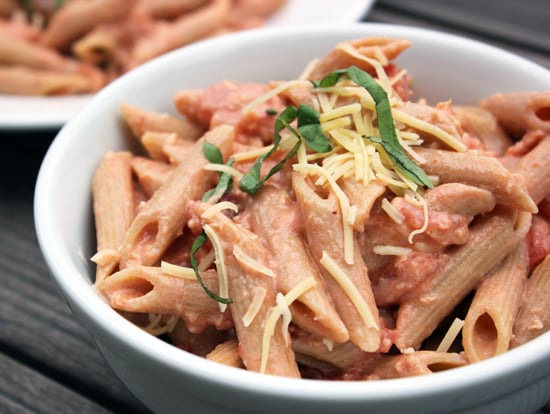 Traditional penne alla vodka recipes lay the cream and saturated fat on heavy. This lightened-up penne alla "not-ka" might take the booze out of the equation and cut down on cook time dramatically, but the flavor and texture is just as delicious as the original.
Quick Chicken Soup

Swap out your standard can of sodium-laden condensed soup for fresh, homemade, dilly chicken noodle from POPSUGAR Food. As long as you have some precooked chicken breast in your fridge, you can have a big pot of soup ready to go in less than 20 minutes. Just be sure to use low-sodium chicken stock for this easy supper.
Baked Coconut Shrimp

Bulk up a plate of baked coconut shrimp by serving it over a big bed of lettuce. No need to search for a dressing to complement the recipe; simply toss your greens in some of the creamy Greek yogurt dipping sauce.
Keep reading for two more healthy dinner ideas.
Panko-Crusted Fish Over Kale

Served over a crisp kale salad, this crispy panko-crusted fish dinner takes less than 20 minutes from prep to plate. One serving offers more than 36 grams of protein, making it a fast dinner you can enjoy after a tough strength-training session at the gym.
Superfood Salad

For a salad that satisfies, look to this Asian-inspired kale and quinoa superfood salad for inspiration. This fiber- and protein-packed recipe is perfect for a quick dinner, and it's just as delicious for a brown-bag lunch the next day. Just make sure to leave some of the salad undressed so you can toss it once you're ready to enjoy the next day.