2012 Olympic Triathlon Facts
10 Must-Know Facts to Fuel Your Olympic Triathlon Fever
You don't have to be a triathlete to appreciate the grueling effort and stamina it takes to complete an Olympic triathlon. This three-sport competition requires competitors to be well-rounded athletes in swimming, cycling, and running since overall time is considered, not the time for individual sections of the race. Before catching the first competition this weekend, you'll want to brush up on these Olympic triathlon facts.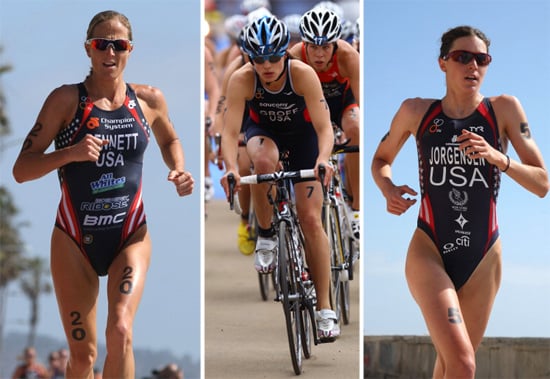 Only 110 athletes will compete — 55 men and 55 women — and each country can have up to six athletes race — three men and three women.
Five athletes will be representing the US in the triathlon: Laura Bennett (37), Sarah Groff (30), Gwen Jorgensen (26), Manuel Huerta (28), and Hunter Kemper (36).
There are no heats, only one race, and the first one to cross the finish line is the winner. Six medals will be awarded; three each for the men and women.
The course is a 1,500 m swim, a 43 km bike ride (seven laps of a 6.137 km course), and a 10 km run (four laps of a 2.5 km course), in that order.
The swim will take place in open water in the Serpentine, the cycle portion in Central London, and the athletes will finish by running in Hyde Park.
Competitors can be penalized for things such as blocking another athlete, not completing the transition between portions of the race (keeping their goggles on while running), or cycling in the transition zone. These penalties must be served either in the transition area or in a penalty box during the run.
The first Olympic triathlon was in Sydney in 2000, won by Canada and Switzerland. New Zealand and Austria triumphed in 2004, and Germany and Australia were the winners in 2008. Let's hope the US can bring home gold in 2012.
So far the record time for men made in 2000 by Canadian Simon Whitfield is 1:48:24.02. Australian Emma Snowsill holds the record for the women with her time of 1:58:27.66, made in 2008.
Susan Rene Bartholomew-Williams is the first and only US triathlete to bring home an Olympic medal (bronze) in this event. In the 2004 Summer Olympics in Athens, she had a time of 2:05:08.92.
The women's triathlon begins at 9 a.m. (local time) on Saturday, Aug. 4, and you can catch the men's triathlon on Tuesday, Aug. 7, at 11:30 a.m. There won't be a live broadcast, but there will be live coverage available on Twitter through @triathlonlive and ITUonline.
Feeling inspired? Here's a mini triathlon workout you can do inside your gym.