Between five boroughs, a cool 26.2 miles, and finishers in the tens of thousands, there were bound to be inspiring moments from the 50th TCS New York City Marathon, especially following last year's in-person cancellation [1]. Ahead, we've rounded up some of those heartwarming and encouraging highlights for you to relive now that the confetti has settled and the ever-amusing, trusty runners' signs have done their job.
You'll see celebrations from pros and amateurs alike — because they were all winners in their own right — and even two marriage proposals! Though they sweat through a city that never sleeps, we hope these athletes got down time and shut-eye after a highly-awaited return of the Big Apple's marathon [2]. Keep reading to take a look at ten moments we'll make sure to remember.
Peres Jepchirchir Wins the Pro Women's Division at the 2021 New York City Marathon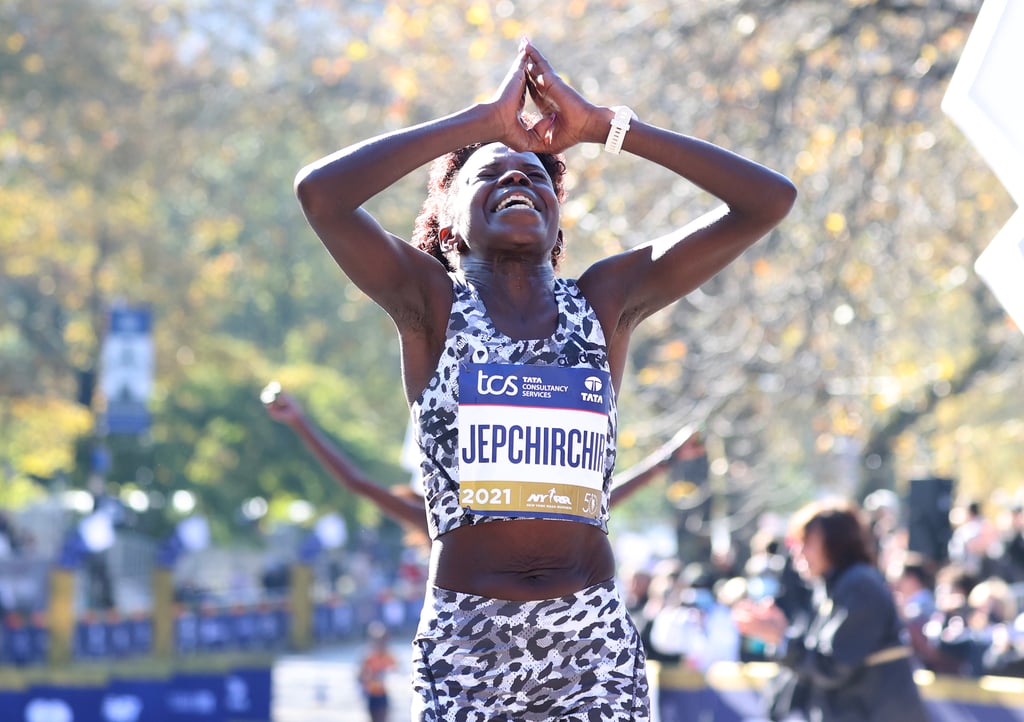 Jepchirchir of Kenya finished the marathon in 2:22:39, and she became the first woman to win a major marathon the fall after taking home an Olympic gold medal [4], ESPNW reports. "My preparation was short, but I tried my best [5] . . ." she said, per The New York Times — and her best won her a title!
Madison de Rozario Wins the Women's Wheelchair Division at the 2021 New York City Marathon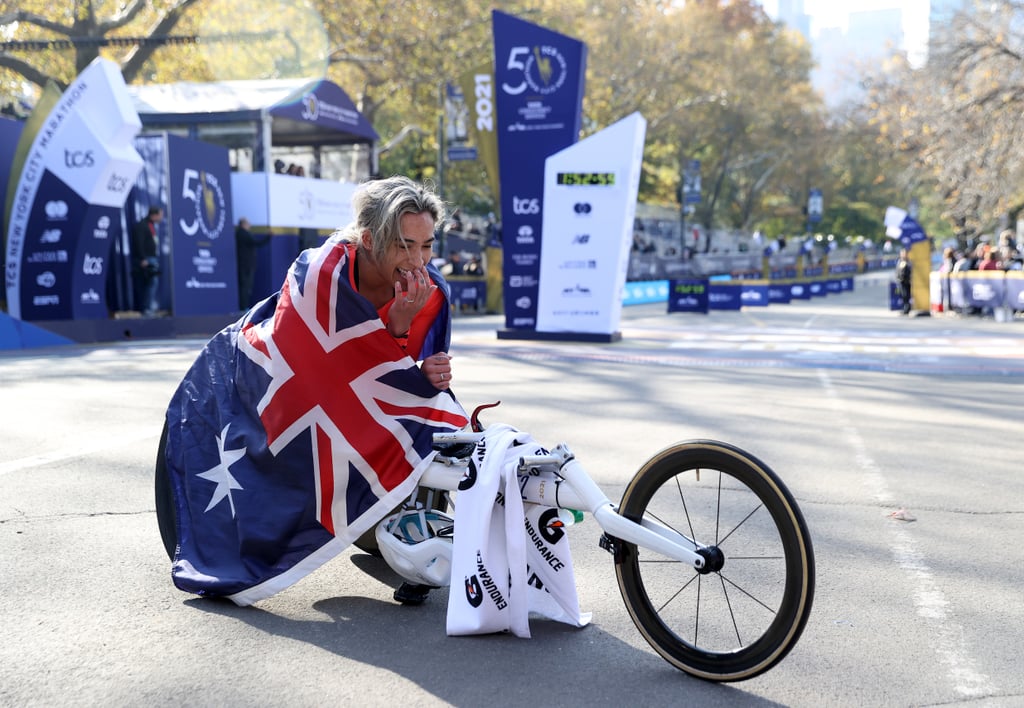 De Rozario became the first Australian to win the women's wheelchair division of the New York City Marathon [6], and she finished in 1:51:01. She claimed T54 marathon gold at the Paralympics, making her the first woman athlete to win the Paralympic marathon and the New York City Marathon in the same year [7] since 2008, according to World Para Athletics.
Molly Seidel Breaks the American New York City Marathon Course Record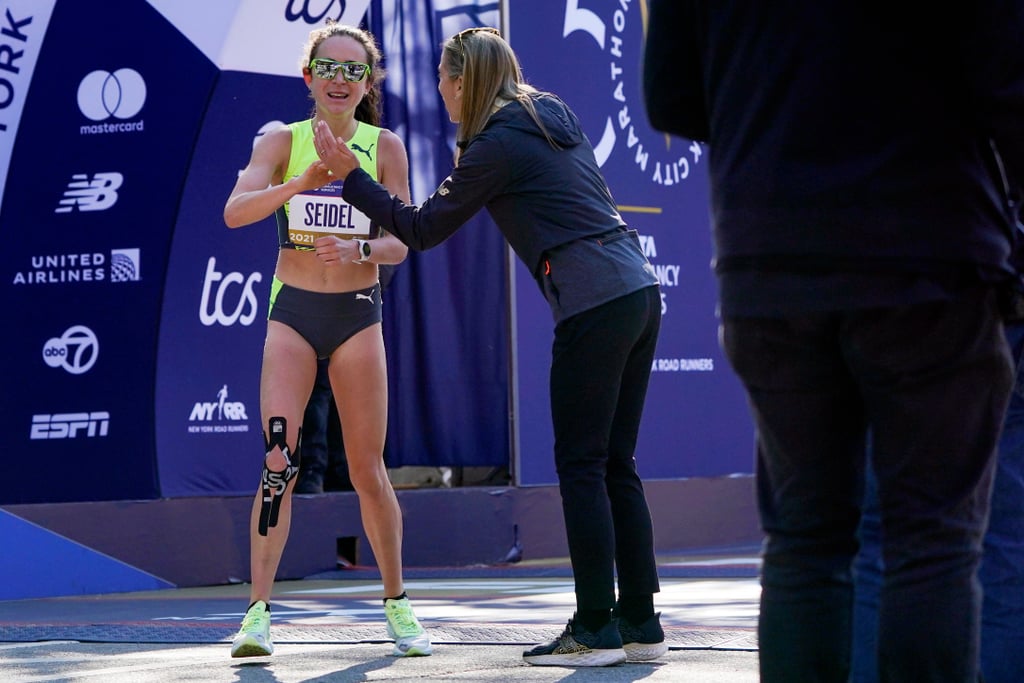 Coming off of a bronze-medal marathon finish at the Tokyo Olympics [8], Seidel broke the women's American course record in what was her New York City Marathon debut. She took fourth place in 2:24:42 and did so with two broken ribs [9].
"I didn't know until I crossed the line [10] that that was what had happened," Seidel said, per New York Road Runners. "I'm just so incredibly honored. There are so many good women who have run on this course. I think it's really a testament to the women in this race that I was able to hang on to that group."
Albert Korir Wins the 2021 New York City Marathon Pro Men's Division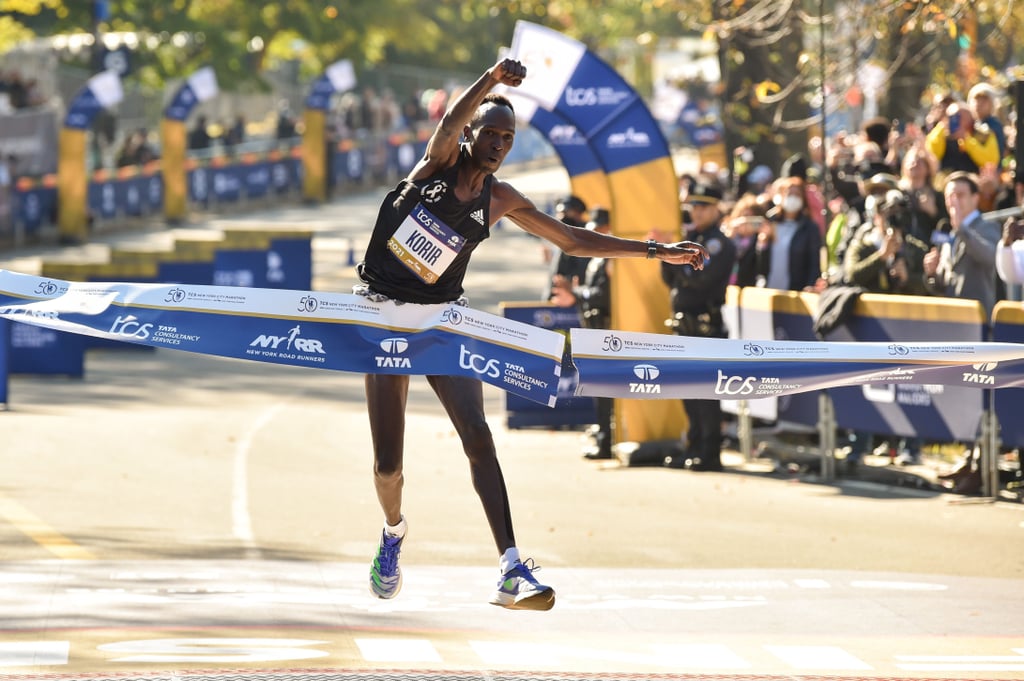 In a time of 2:08:22, Korir, from Kenya, took home the pro men's title at the 2021 New York City Marathon. It's been two years since he came in second at the same major marathon. "I didn't imagine that I would win today," Korir said, according to New York Road Runners. "This journey began three months ago, when I knew that I would be running . . ." He added that his victory was a result of his hard work.
Shalane Flanagan and Abby Wambach at the 2021 New York City Marathon Finish Line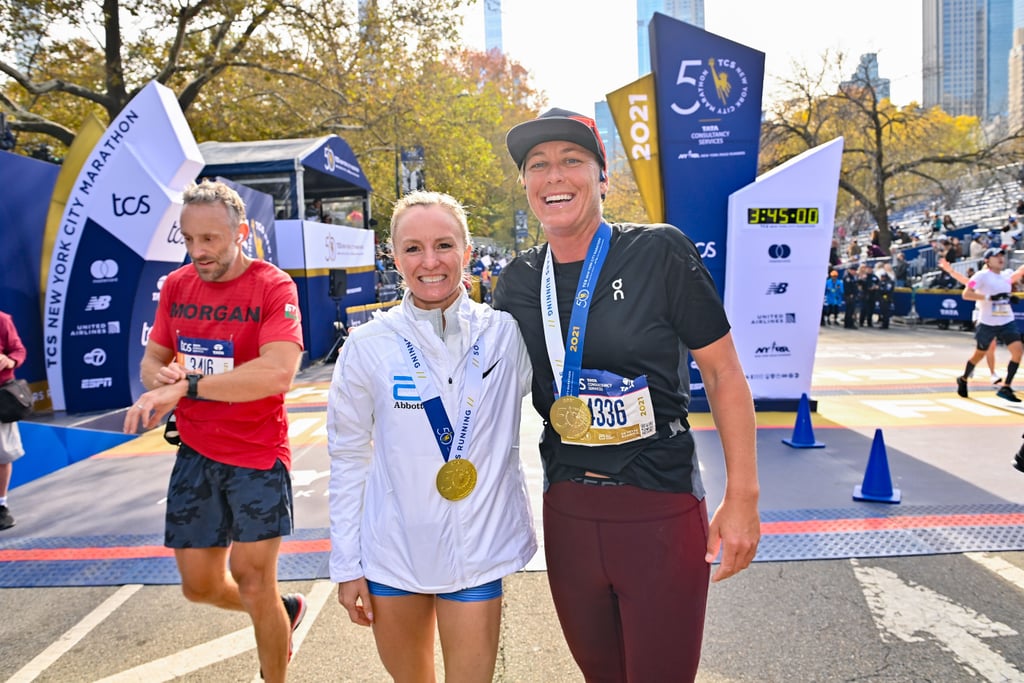 Flanagan planned to run in all six major marathons this fall [11] — and when the Tokyo race was canceled, she completed a marathon on her own to make up for it [12], The New York Times reports. She accomplished her goal by finishing the New York City edition in a time of 2:33:32, the 12th-fastest women's time that day.
Flanagan wrote on Instagram after the fact: "For 26.2 miles, every hair on my arms stood up [13]. I had chills with every step. Not because I was cold . . . but because of the deafening and overwhelming love and cheering from everyone on the sidelines. My legs may have kept me moving forward, but the city made me fly."
Flanagan caught up with retired professional soccer player and two-time Olympic gold medalist [14] Wambach at the finish line. Wambach completed the 26.2 miles in 3:44:25, and Flanagan proceeded to give her the medal [15]. Wambach tagged Flanagan on Instagram, writing, "it was a dream seeing you first [16] as I crossed the finish!!! You are amazing."
Marcel Hug Wins His 4th New York City Marathon Men's Wheelchair Title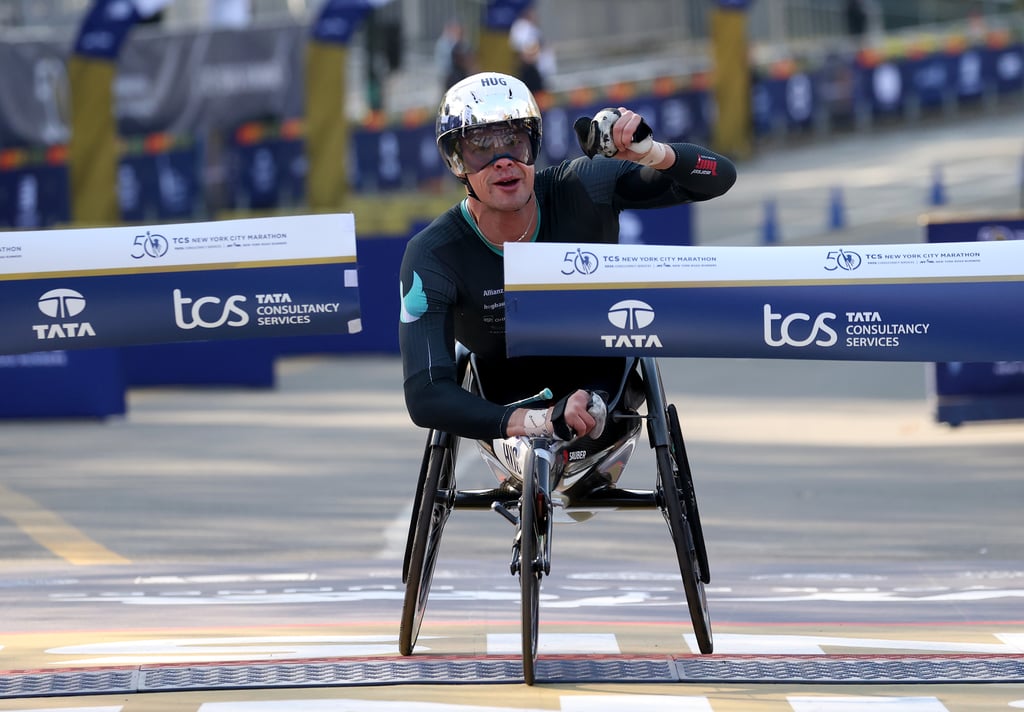 Hug, from Switzerland, won the men's wheelchair division of the 2021 New York City Marathon in 1:31:24; it was his fourth title from the NYC major race. At this summer's Paralympics, he earned four gold medals [17]. "It's really crazy [to win] [18]. It's been such a tough fall with the Paralympics and then all these marathons," he said post-race, according to Athletics Weekly.
A Proposal Between Miles 17 and 18!
Kristopher Glocksien ran 17 miles with an engagement ring on his pinky. Between miles 17 and 18, he stopped when he saw his cheering section and got down on one knee in front of girlfriend Wendy Macias. The two live in Glendale, AZ, and have been dating for four years. We're sharing this video with permission from his sister, Kristin Malone, via her sister-in-law Alanna Malone. Congrats to these two!
Another Proposal at the 2021 New York City Marathon Finish Line!
This sweet video, shared on the New York City Marathon official Twitter account, shows a proposal between two runners at the finish line. "I saw them running together [19]! What a training secret that had to be for him. Congratulations," one person wrote. Agreed!
Cancer Survivor Kimberly Mabee Crosses the 2021 New York City Marathon Finish Line
"What an AMAZING & AWESOME day!!!!" Mabee wrote on Twitter after the fact [20]. The mom-of-two ran for Fred's Team [21] to raise money for breast cancer research at Memorial Sloan Kettering, and she told POPSUGAR that she was diagnosed with invasive lobular carcinoma breast cancer in October of 2019. Since then, she's had a double mastectomy in addition to three other surgeries and one more coming this month. She also went through chemotherapy.
While Nov. 7 was Mabee's first New York City Marathon, it was her second marathon to date. "This was always a bucket list of mine and after beating cancer, I needed to do it!!!" she said.
Peloton Instructor Robin Arzón Runs Her 27th Total Marathon
Arzón [22] wrote on Instagram that she has a newfound appreciation for her mind and body [23] since giving birth earlier this year. The Peloton instructor added, "this was probably the strongest race mentally I've ever done. There were so many special moments but seeing my girl at mile 23 was by far the best. Women can do anything and I'm so proud to set the standard for her. If you're questioning whether it's too late for you — it's not!"
Arzón continued, "For those of you chasing your own finish line (literally or figuratively), how will you bet on yourself in the coming weeks, months, year from now? Name it and claim it."