26-Minute Treadmill Interval Workout
This Celeb-Approved Treadmill Workout Burns Major Calories
Ready to burn more calories in 26 minutes than you would in an hour? Take a cue from Self and 2 Broke Girls star Beth Behrs with this killer interval treadmill workout.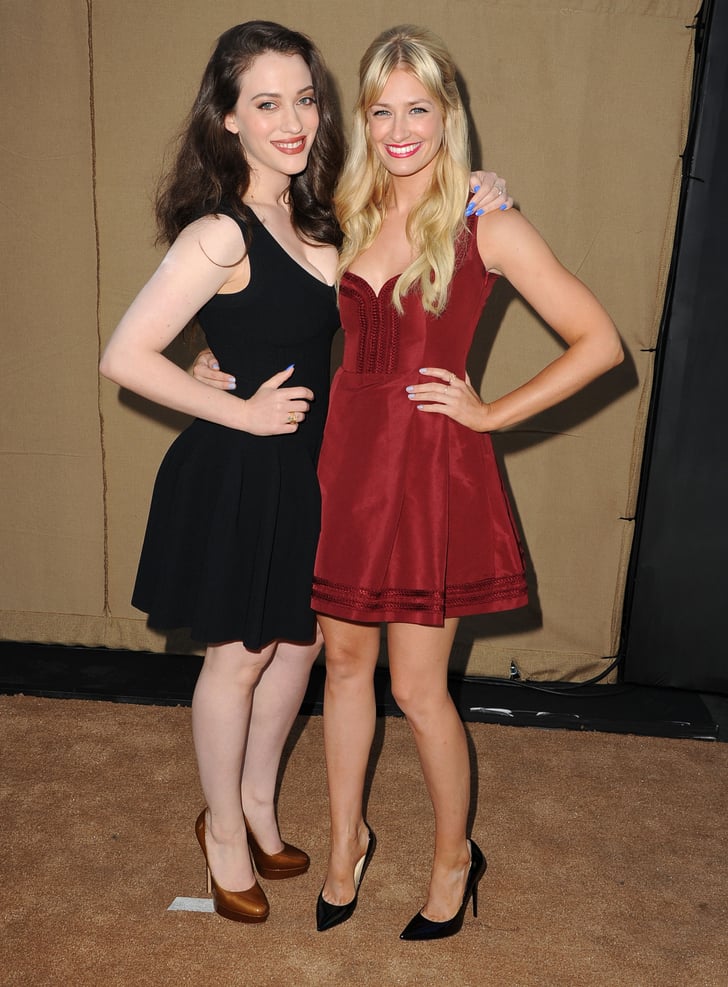 This workout is major, you guys: it only takes 26 minutes from hitting "on" to "off" on your treadmill. Beth Behrs — you know, the gorgeous blonde on 2 Broke Girls — is devoted to new L.A. studio FitMix, where she does calorie-incinerating intervals in the super-popular Tread+Endurance Pilates class. (In the mashup class, you do moves on a customized Pilates reformer post treadmill bout). Beth, pictured here with her co-star Kat Dennings (and, oh yeah, those legs that go on for days) says the workout is the reason she "has a totally new body."
No reason you can't get one too. Try Beth's plan, below, for your next indoor run. (Oh, and PS? This quickie routine blasts more cals than an hour of straight jogging on the machine. Right on, intervals.)
Get a printable version here.
Time
Speed (MPH)
Incline
0:00-4:00
Start with a comfy jog somewhere between
4.5 and 6.5 mph. Every 45 seconds, add .5
to the speed until you've built to a strong run.
0%
4:00-4:30
5.5 (beginner, or B); 6.0 (intermediate, or I);
6.5 (advanced, or A)
0%
4:30-5:00
5.5 (B); 6.0 (I); 6.5 (A)
6%
5:00-5:30
7.5 (B); 8.0 (I); 8.5 (A)
6%
5:30-6:00
7.5 (B); 8.0 (I); 8.5 (A)
0%
6:00-6:30
Recovery walk
0%
6:30-7:00
Recovery jog
0%
7:00-7:30
6.0 (B); 6.5 (I); 7.0 (A)
0%
7:30-8:00
6.0 (B); 6.5 (I); 7.0 (A)
4%
8:00-8:30
8.0 (B); 8.5 (I); 9.0 (A)
4%
8:30-9:00
8.0 (B); 8.5 (I); 9.0 (A)
0%
9:00-9:30
Recovery walk
0%
9:30-10:00
Recovery jog
0%
10:00-10:30
6.0 (B); 6.5 (I); 7.0 (A)
0%
10:30-11:00
6.0 (B); 6.5 (I); 7.0 (A)
2%
11:00-11:30
8.0 (B); 8.5 (I); 9.0 (A)
2%
11:30-12:00
8.0 (B); 8.5 (I); 9.0 (A)
0%
12:00-12:30
Recovery walk
0%
12:30-13:00
Recovery jog
0%
13:00-13:30
5.0 (B); 6.0 (I); 7.0 (A)
0%
13:30-14:30
5.0 (B); 6.0 (I); 7.0 (A)
8%
14:30-15:30
5.0 (B); 6.0 (I); 7.0 (A)
6%
15:30-16:30
5.0 (B); 6.0 (I); 7.0 (A)
4%
16:30-17:30
Recovery walk or jog
0%
17:30-18:00
4.5 (B); 5.5 (I); 6.5 (A)
0%
18:00-19:00
4.5 (B); 5.5 (I); 6.5 (A)
6%
19:00-20:00
4.5 (B); 5.5 (I); 6.5 (A)
8%
20:00-21:00
4.5 (B); 5.5 (I); 6.5 (A)
10%
21:00-22:00
Recovery walk or jog
0%
22:00-22:45
9 (B); 10 (I); all-out sprint (A)
0%
22:45-23:30
Recovery walk
0%
23:30-24:15
9.5 (B); 10.5 (I); all-out sprint (A)
0%
24:15-25:45
Recovery walk
0%
More from Self: