3 Reasons Step-Ups Are a Great Leg and Butt Exercise
3 Reasons to Love Step-Ups
If you're fickle with your gym routine, here's one move you should consider adding to most of your workouts: step-ups. The simple act of hauling your body up one step for 20 reps is great for your legs and your lungs. Here are my top three reasons to love this move.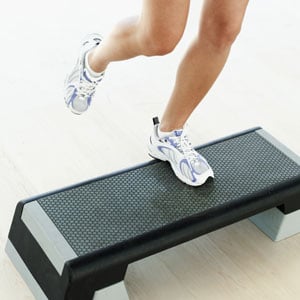 Cardio: There's a reason step aerobics were so popular in the '90s; stepping up and onto something gets your heart rate climbing. Step-ups will help you burn more calories during strength training sessions, so add step-ups between sets of ab and arm work to keep your heart rate high.
Booty lift: Step-ups work your backside. In fact, celeb trainer Valerie Waters believes high step-ups are the perfect cure for a "droopy butt." You can grab a chair and do a set of high step-ups at home. I think they will lift your mood as they are lifting your derriere.
Hill climbing: If you run or bike, you know hills can be tough, but strength training helps. Step-ups mimic the action of running and biking preparing your muscles to climb. Consider step-ups part of your cross training.
Not convinced? Here are three variations of step-ups to try and see for yourself.