30-Minute Circuit Workout From Equinox Trainer
Burn It Up: 30-Minute Circuit Workout From Equinox
Circuit training is one of my favorite ways to get my sweat on. You torch calories by getting your heart rate up while building muscle with strength training — a win-win workout. My Equinox trainer, Lauren, likes 'em too. Recently she put me through the paces of the following circuit workout, and I just had to share the fun. Get ready to sweat!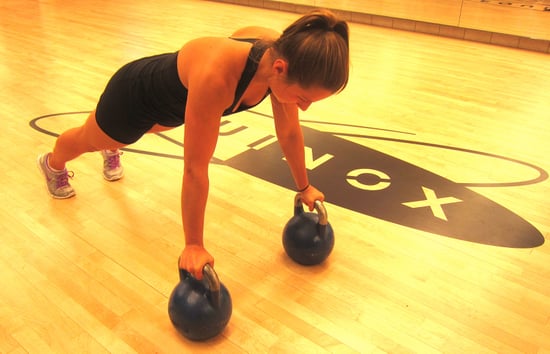 There are three circuits of four exercises each. Do 15 reps of each exercise, and keep rolling through the four exercises for 10 minutes. Between each circuit, rest (stretch and hydrate) for one to two minutes. To warm up, run on a treadmill for five minutes. This workout uses 12 kg. kettlebells and a variety of dumbbell weights. As always, work with a weight that is appropriate for your strength level.
Circuit One
Exercise
Reps
Equipment
Notes
Jump squat
15
Body weight move
Squat thrust deadlift
15
12 kg. kettlebells
Place hands on kettlebells to jump back into plank; come to standing lifting kettlebells.
Single-arm kettlebell swings
15
each arm
12 kg. kettlebell
Really pop your hips to get that kettlebell up!
Plank with reverse row
15
each arm
10-15 pound dumbbells


Keep reading! There are two more circuits after the break.
Circuit Two
Exercise
Reps
Equipment
Notes
Lunge with biceps curl
15 alternating
legs
15 pound
dumbbells
Mountain climbers
45 seconds
Body weight exercise
Bridge with exercise ball
15
Exercise ball
Place soles of feet on the top of exercise ball, then lift pelvis up and control it down.
Forearm plank on exercise ball
45 seconds
Exercise ball
Place forearms on top of exercise ball, and hold as still as possible.
Circuit Three
Exercise
Reps
Equipment
Notes
Romanian deadlifts
15
15-20 pound dumbbells
Keep knees soft and low back neutral — no rounding.
Pull-ups
15
Use machine
If you have no access to an assisted pull-up machine, substitute push-ups.
Overhead press

15

10-15 pound dumbbells
Think of this as an ab exercise to stabilize through your torso as you lift weight overhead.
Jump rope
60 seconds
jump rope
If you have no rope, jump in place and fake it.