Sophie Dropped 35 Pounds in Less Than 1 Year Following This Popular Fitness Program
Gaining weight happens for a lot of different reasons. Take Sophie Austin, who got comfortable in a new relationship and ended up gaining over 40 pounds in less than two years. Despite the fact that she was still going to the gym, something was not working.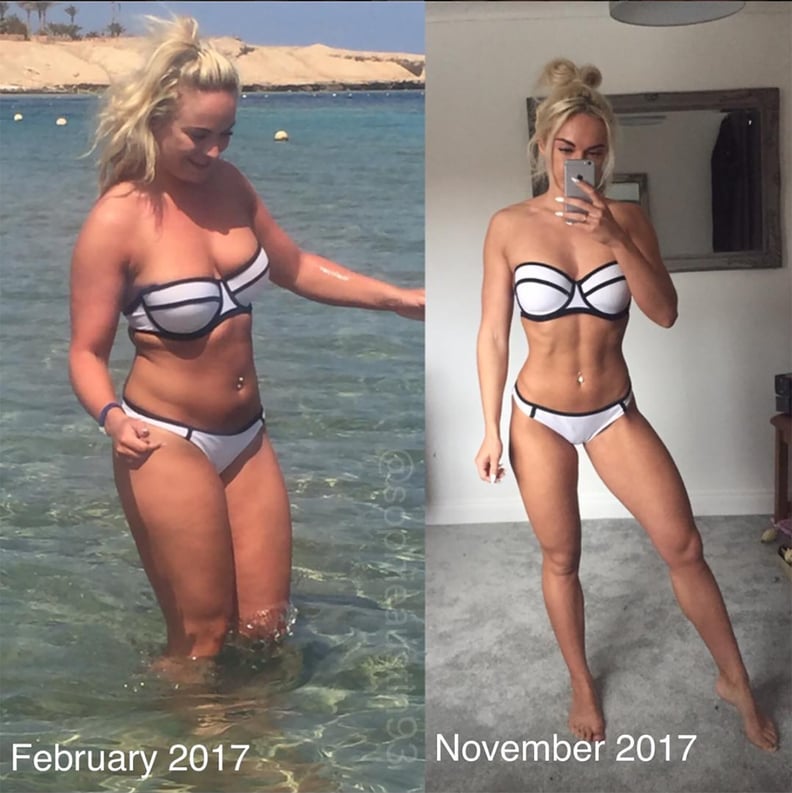 "In January 2017, I decided enough was enough and it was time to start training for me again, to stop just copying [my boyfriend] and to take control of my workouts and eating," she told POPSUGAR. Since she'd had success with the BBG program in the past, she started that up again. "I followed it strictly for 12 weeks and lost the majority of my weight. I was 12 stone 1 [169 pounds] when I started my journey and I'm now sitting at around 9 stone 9 [135 pounds]." Gone were the days of copying her boyfriend's strength-training-only workouts and matching his meals to a T.
Along with BBG, Sophie also followed a high-protein, low-carb diet. She was also "drinking so much water to keep herself hydrated." After losing her initial weight in April of this year, Sophie focused on building muscle. "I have increased carbs to every meal and enjoy a balanced lifestyle. I eat around six times a day, all balanced meals of carbs, proteins, and fat."
Here's a typical day of food for Sophie:
Breakfast: oatmeal with blueberries
11 a.m.: chicken, rice, and a vegetable
Noon: (before the gym) protein shake with an apple and a tablespoon of peanut butter
3 p.m.: (post-workout) steak, sweet potato, and another vegetable
Dinner: salmon with spinach and tomatoes, or a chicken salad; she tries to avoid carbs with dinner
Before bed: bowl of Coco Pops or Greek yogurt with cinnamon and a 38-calorie Cadbury's Fudge Hot Chocolate
As for her workouts, Sophie shares, "I now train different body parts each day. Monday is leg day, Tuesday back, Wednesday legs again, Thursday arms and shoulders, and Friday chest and bum. I like to add a couple of booty exercises each day, though, as I really want to build this area!"
For anyone else starting out on a fitness journey, Sophie has a little advice. "Nothing comes easy. You have to be committed and dedicated. If you stick to it and believe in yourself, you will see the results you want." She committed — and look at her results. If she can do it, so can you!