As POPSUGAR editors, we independently select and write about stuff we love and think you'll like too. If you buy a product we have recommended, we may receive affiliate commission, which in turn supports our work.
I'm a creature of habit. I like to drink the same 400-calorie smoothie every morning after my morning workout, wear the same three black pairs of leggings, listen to the same pump-up jams that I've listened to since high school (what's up, early-2000s pop/punk). And as a creature of habit, I tend to make the same handful of recipes over and over.
Sure, that's mostly because I'm a terrible cook and not that adventurous in the kitchen, but eating the same things over and over again can help you achieve your weight-loss goals. I have lost about 15 pounds since January, and I find that eating the same lunches repeatedly has kept me on track and takes the guesswork out of tracking my meals.
Since I usually order a takeout salad for lunch anyway, I thought it would be easier if I just made my own salad and brought it in. My 450-calorie salad is actually delicious and provides all three macronutrients (protein, carbs, and fat) to keep me feeling full and satisfied all afternoon. To make things even easier, I just bring all my ingredients to work and chop the veggies when I get there. I don't have time to slice up a bell pepper or a cucumber in the morning before work, but I do have time to throw all my ingredients in a plastic salad bowl with a lid and run out the door — I like the 2.5-quart bowl from this Sterilite 8 Piece Covered Bowl Set ($12). Check out my recipe below.
450-Calorie Weight-Loss Salad Recipe
Mixed greens (usually bagged Spring mix)
3 ounces of rotisserie chicken (no skin)
1/4 of a cucumber
1/4 of a red bell pepper
1/4 of an avocado
2 tablespoons Greek dressing
In my opinion, the dressing makes all the difference. That's why I love Primal Kitchen Greek Vinaigrette dressing ($21 for two bottles). It's made with avocado oil, so it's full of satiating, healthy fats. I also get more healthy fat from one-fourth of an avocado. For protein, I opt for a slice of rotisserie chicken; I buy a rotisserie chicken from the store on Sunday night and have it the whole week. I also love a variety of colorful veggies to add some healthy carbs.
If I have had a hard workout that morning and know I'll be hungrier, or if I want some crunch, I'll throw in a handful of crushed Parm Crisps ($37 for a 12-pack) or get in extra carbs by crumbling up some Simple Mills Almond Flour Fine Ground Sea Salt Crackers ($25 for six).
Although it's probably easier to keep a bottle of salad dressing in the work fridge, I don't trust my coworkers (kidding! sort of . . .) so I use the GladWare Mini Round containers ($7 for an eight-count). I can measure out two tablespoons and store it easily. I love these little reusable containers for not only salad dressings, but also stashing nuts, nut butters, and berries.
I've been tracking my calories using the Noom weight-loss app and love how the Noom food database is huge and includes all of my favorite foods, snacks, and salad dressings. It makes tracking so much easier. Using the Noom app, I calculated that my salad is 445 calories.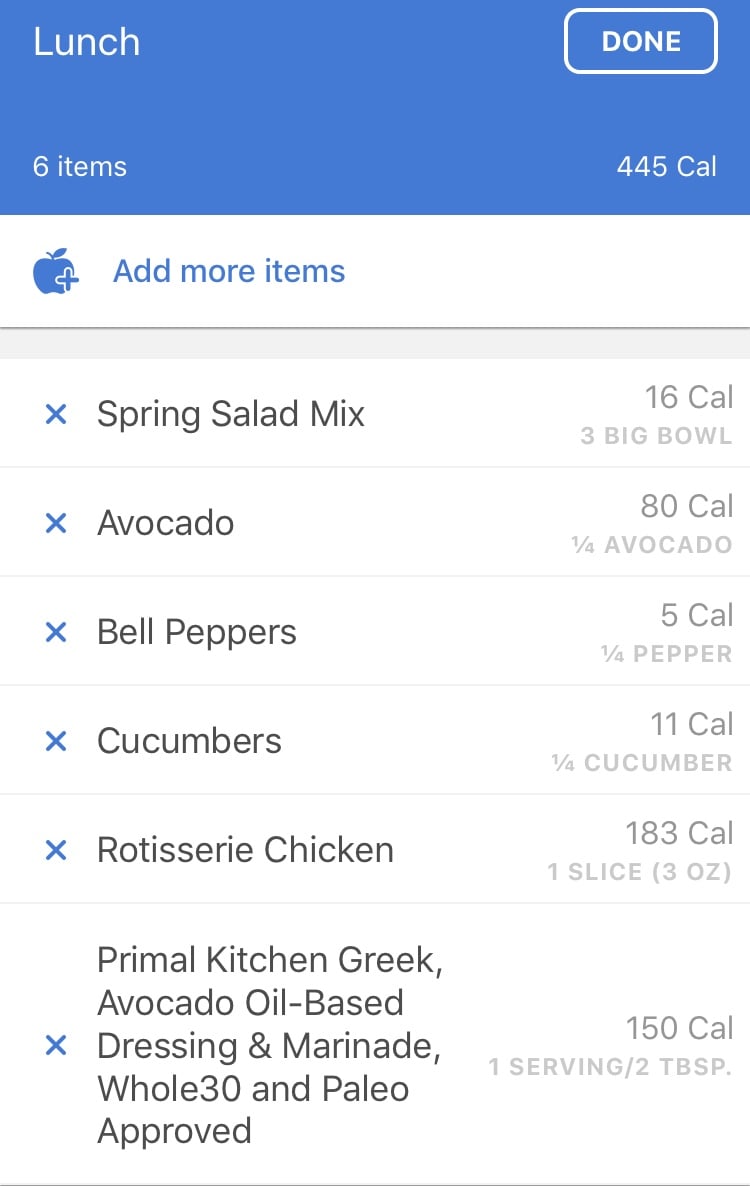 Sure, a salad isn't the sexiest lunch you can have. But this simple combo is quick to throw together, delicious, and leaves me feeling satisfied. I can't argue with 15 pounds down.