5 Reasons to Eat Easter Eggs
5 Things About Eggs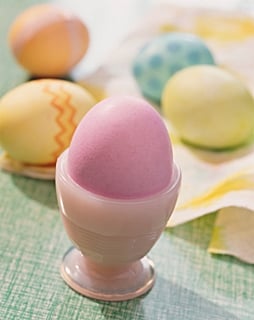 While it's a bit strange that a holiday associated with a bunny also includes eggs, it's one of the reasons I love Easter so much. Even if you don't have kids, dyeing eggs is a fun activity to do with friends — any excuse to be social is a good one! After the celebration is over I often see a lot of eggs going to waste, but instead of throwing them out why not keep them? Since hard boiled eggs stay good in the fridge for up to a week, enjoy them as an afternoon snack or use them in a salad or sandwich. Better yet, make a batch of these delicious (and better for you!) not so devilish eggs.
If you're still not convinced, here are five reasons to enjoy Easter eggs after Sunday:
The majority of an egg's nutrients are in its yolk. An egg yolk is full of B vitamins, iron, and vitamin D. And while it's true that most of an egg's fat and cholesterol are also in its yolk, the American Health Association says that eating one egg a day is OK: the cholesterol found in an egg's yolk is counterbalanced by all that good stuff.
One large egg has about 70 calories, making it a low-calorie, nutritious snack.
Eggs are high in the amino acid leucine, which helps muscles utilize the fuel glucose. This means it's a great source of protein that helps preserve muscle mass and provides power, strength, and energy. Make them your go-to pre-workout snack!
Eggs are rich in choline, a nutrient essential to healthy brain function including memory.
Just like carrots, eggs are good for the eyes. Eggs contain lutein, a type of carotenoid that helps fight macular degeneration, the leading cause of blindness.