5 Recipe Ideas For Spaghetti Squash
The Low-Carb Dinner You Should Eat Every Week
For a simple way to increase the amount of veggies in your diet, skip the pasta and use spaghetti squash instead. A one-cup serving of this unique squash has only 42 calories and 10 grams of carbs. For comparison, whole-wheat spaghetti has 176 calories and 37.7 grams of carbs — that's a huge difference! Not sure how to make this squash resemble pasta? It's easy!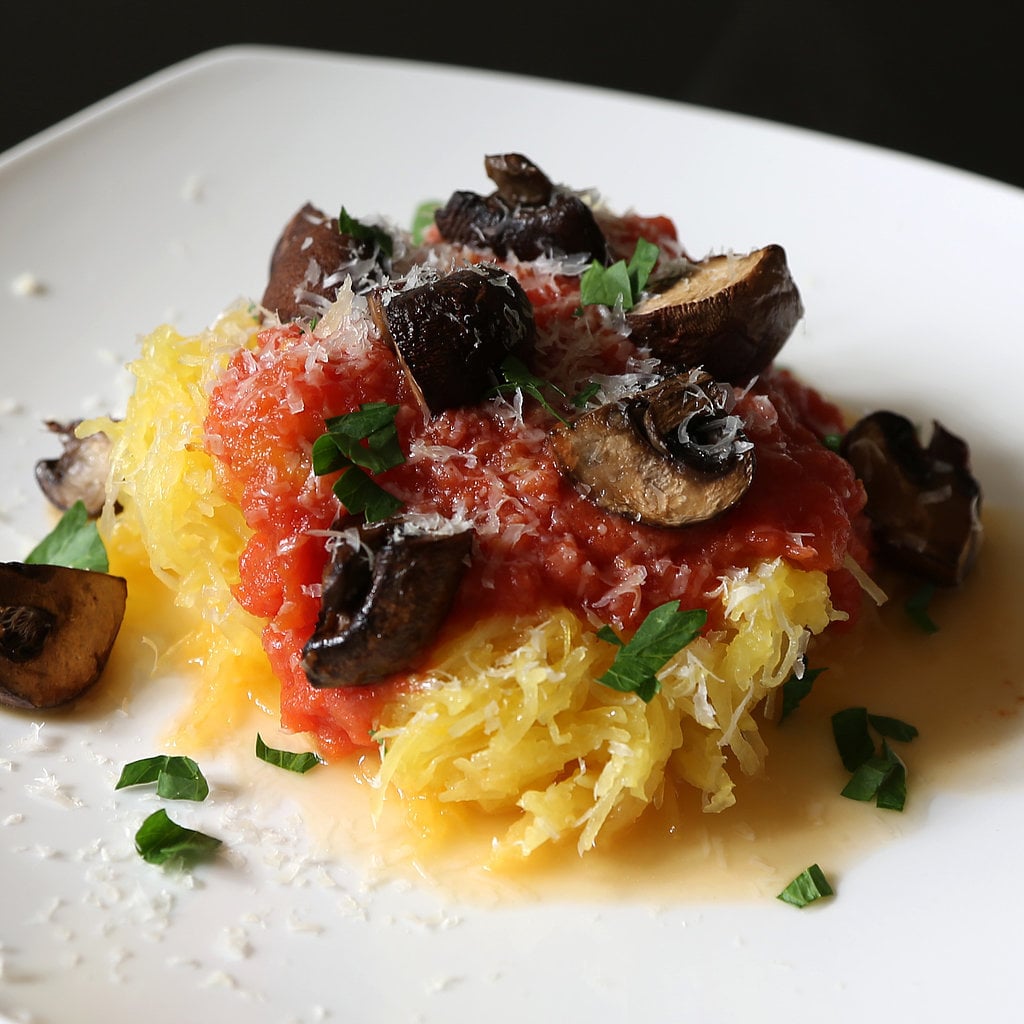 To cook up a spaghetti squash, cut it in half lengthwise, scoop out the seeds and bake it, flesh side down, at 350°F for 30 minutes or until you can pierce it with a knife with little resistance. Short on time? Throw the whole thing in a Crock Pot on low heat and it'll be ready in six hours. Using a fork, pull the strands away from the peel — it naturally looks like noodles. Then try one of these simple recipe ideas.
Sauté diced onions, mushrooms, tomatoes, one minced clove of garlic, and a handful of chopped fresh basil and top with your favorite sauce or just oil and herbs. Instant low-carb spaghetti! Or opt for a casserole like this cheesy veggie "pasta" bake. Not into red sauce? For another light pasta alternative, toss cooked spaghetti squash with roasted shrimp.
Bake the same way as above, but this time scoop out the flesh, place it in a bowl, and allow it to cool in the fridge. After 20 minutes, pour the squash flesh onto a cutting board and chop it up a little. Place it in a bowl, and mix in diced tomatoes, cucumbers, onions, lemon juice, olive oil, spices, feta, and olives to make a fun variation on Greek salad.
Bake, allow to cool, and then marinate spaghetti squash with lemon juice, balsamic vinegar, red wine vinegar, and rosemary. Put it on top of your garden salad for a little extra flavor and texture.
Chop up baked stringy flesh, and season it with cayenne pepper to be used in place of rice in tacos and burritos.
For a dessert idea, before placing it in the oven to bake cut-side up, sprinkle cinnamon, a little nutmeg, and a drizzle of honey. Top with chopped walnuts, and serve warm.
Image Source: POPSUGAR Photography / Anna Monette Roberts