5 Things You Didn't Know About Bob Harper
5 Things You Didn't Know About Bob Harper
I recently was able to join a couple of bloggers on a three-way phone chat with Bob Harper, one of the trainers on The Biggest Loser. While the interview's focus was on tips for meeting our fitness and weight loss goals for 2010, I found out a few things about Bob that I wanted to share with you all.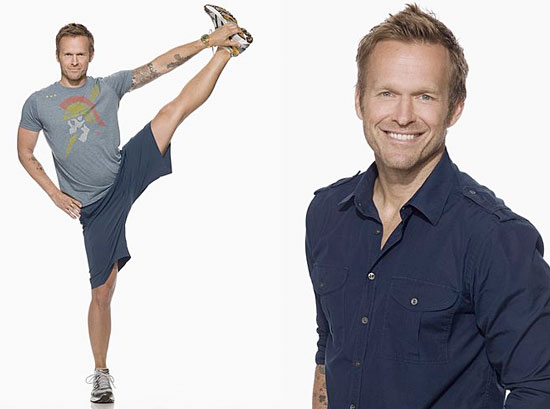 Before working on The Biggest Loser, Bob had never worked with obese clients. He explains that before the show aired, "I was working with Selma Blair and Ellen (DeGeneres) and you know, I was working with Gwyneth Paltrow. These are like thin, thin women . . . The day that I met my first team on season one, I really thought I had my work cut out for me because I was going to have to use everything that I learned and knew I was going to be put to the test because I had never worked with people of that size."
Bob's favorite form of cardio is running and he has run three marathons, but feels no need to run 26.2 miles again. When logging miles on a treadmill he tries to not listen to music, explaining, "I really think that I'm avoiding my reality [with music]. I want to be able to, like, feel my body, know my body, my alignment as opposed to just, like, kind of checking out." He added that he tries to find the meditative quality in running.
Learn what book Bob has on his bedside table when you
.
The first book Bob put on his Kindle was Eating Animals by Jonathan Safran Foer. He thinks Americans eat too much meat and need to get more imaginative when thinking about plant-based proteins. "There is more than soy," he insists, and suggests trying chia and hemp seeds ground into powders.
Bob no longer trains individual clients; he doesn't have the time between two seasons of The Biggest Loser a year, working with Dr. Oz, and writing a second book. He does, however, occasionally teach spin classes at Crunch in West Hollywood.
For Bob, exercise is the best stress relief ever. He admits that if he doesn't work out he can be a bear, but says, "I do work out way too hard sometimes, but it's something I love."
You can win a chance to work out with Bob by entering the 3PM Snackdown Challenge sponsored by Extra gum.
Photos courtesy of NBC