5 Ways to Celebrate Earth Day
5 Ways to Celebrate Earth Day Without Much Sacrifice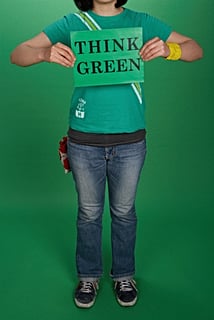 Earth Day is turning 40 this year, which is a great excuse to make your healthy lifestyle even healthier. And while I know most of you are already doing your part by recycling and wearing eco-friendly clothes, there's always more that we can do to green our fitness. Here are five healthy (and simple) ways to celebrate Earth Day this week.
Bike to work. Not only is riding a bike good for your health, it's great for the environment too. Pedaling everywhere helps you conserve the planet's resources and reduce the amount of pollutants going into the air. Compared to a car, it also takes way less energy and parts to manufacture and ship a bike to consumers. If biking just isn't an option for you, take public transportation or try carpooling instead.
Use less energy. Reducing how many things you turn on and switch off is a no-brainer, but use Earth Day as an excuse to really unplug. Reducing energy has its health benefits too: taking the stairs is a great way to burn calories, and turning off your computer or TV is a great way to de-stress and increase social interaction.
To find out how else I'll be celebrating Earth Day, read more.
Bring your lunch to work. Save your money and avoid wasteful to-go containers by packing your lunch in reusable BPA-free containers. I always eat healthier  when I bring my own lunch because I know exactly what went into it.
Exercise outdoors. I can't think of a greener way to exercise than to go for a run or a walk outside in the fresh air. It's free, doesn't rely on a power source, and can even be done barefoot.
Make it a meatless day. I am a big fan of having a weekly meat budget, but for Earth Day I am going strictly vegetarian since commercial meat production has a huge impact on the environment. Here's a fun fact: livestock flatulence and belching is to blame for a significant percentage of the world's greenhouse gas emissions. If you can't go vegetarian, stick to local and organic foods since they won't have traveled as far to reach you, and are clear of pesticides.
Think you can keep this momentum going past Earth Day and incorporate these tips into your everyday life?