50-Pound Weight Loss
Janelle Lost 50 Pounds From This Popular Diet — and Still Ate Snickers Ice Cream Bars
If you're a mother, you've struggled with anorexia, or you've ever obsessed over calories and the number on the scale, there will likely be one aspect of Janelle Flanagan's journey that you'll relate to. Read her inspiring story to learn how she finally found happiness in her body.
Janelle has spent half of her life hating her body and living as an unhealthy person. In her 20s, she even struggled with anorexia. In the photo above on the left, posted to her Instagram page, she was wearing children's-size shorts because she was so small due to her lack of eating.
Then, in her 30s, she became obsessed with food and alcohol. After having four children and constantly putting off taking care of herself, she reached 186 pounds. In April 2014, Janelle said, "I got so tired of thinking about it and promising myself that 'tomorrow' I was going to start. Every tomorrow I found an excuse."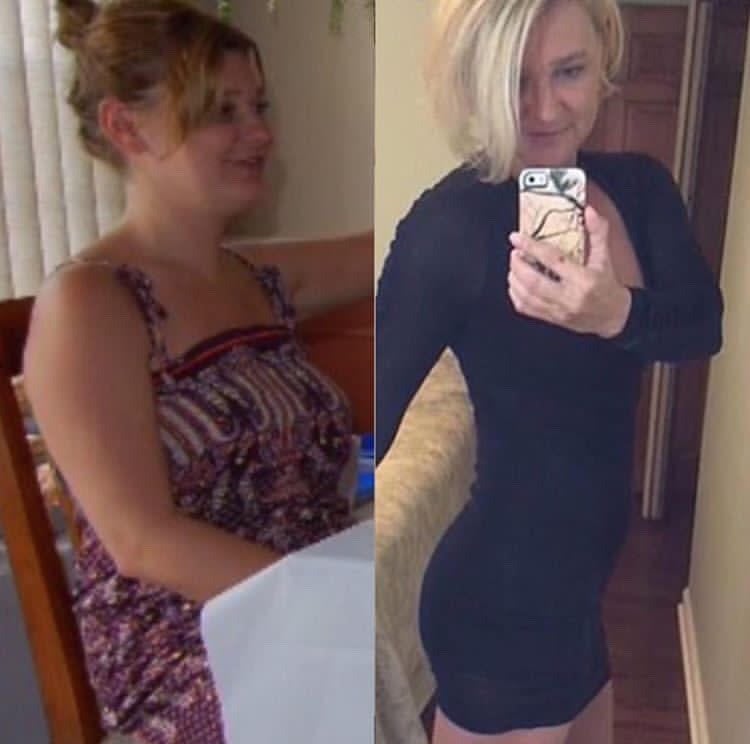 One night, her brain shot back and she realized she wasn't OK with letting another year go by and either being the same or, worse, being heavier. Janelle said, "I kept repeating that quote, 'The time passes whether or not you do anything.' I promised to be honest with myself, and that was the last time I said 'Tomorrow.' I started."
Janelle thought she could just exercise for three months and the weight would just fall off, but that didn't happen. That's when she reminded herself that it took a long time to put the weight on, and she had to remain realistic with her goals. It took Janelle 18 months to lose 50 pounds.
Her workouts consisted of HIIT (high-intensity interval training); she did 20- to 25-minute workouts four to five days a week. She did that for eight months, and then started incorporating weight training.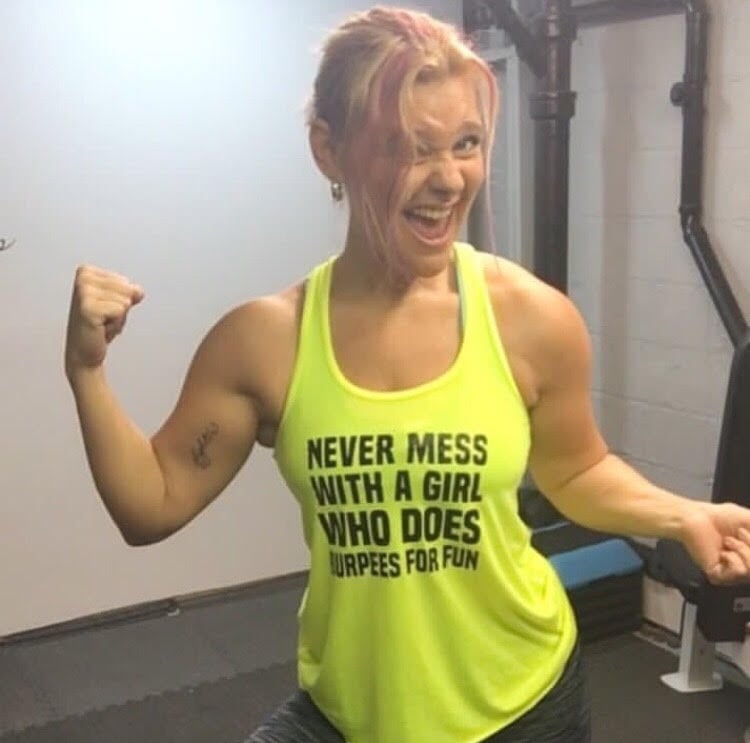 As for her diet, Janelle slowly started eating healthier. "I didn't like anything NOT fried, dipped in sour cream or smothered in cheese." It took a good month before her palette changed and she started craving healthy food.
Janelle follows the 80/20 lifestyle, eating healthy most of the time and allowing for indulgences every so often. She also follows the "if it fits your macros" (IIFYM) diet, since it's the most flexible way to count calories, have balance, and not feel deprived or feel like you failed by eating a cookie. This allowed her to eat the foods she loved and still lose weight. She eats about 1,800 to 2,000 calories a day.
Here's a typical day for Janelle:
Breakfast: one egg, four egg whites, two pieces of chicken breakfast sausage, one-quarter of an avocado, one slice of Dave's Power Bread
Snack: smoothie or protein shake
Lunch: leftover dinner from the night before ("I cook extra dinner every night and Tupperware it. [It] could be salsa chicken, sweet potato fries, black beans, etc.")
Snack: salad with a hard-boiled egg
Dinner: whole chicken (six to eight ounces), carrots, asparagus, and potato
Snack: cookie or a Snickers Ice Cream Bar
"My mind is now my friend. I am so confident in myself. I know that I can literally do anything I set my mind to."
Aside from dropping 50 pounds, Janelle says something powerful happened: "My mind is now my friend. I am so confident in myself. I know that I can literally do anything I set my mind to. I know my worth and that I am everything I thought I wasn't."
This journey has taught Janelle so much about who she is. "All the things that I said to myself were not true. I was strong enough; I was capable; I did have what it took. The only thing that held me back was myself."
Some days, staying motivated is a struggle, but Janelle knows how good she'll feel after a workout, and that's the push she needs. On days when she's really not feeling it, she gives it 10 minutes. Normally after 10 minutes, that feeling passes and she's pumped to keep going.
Janelle's one piece of advice is to "toss the scale." She's a fan of taking progress pictures because once you're past big weight loss, the scale isn't a great judge of your body composition. It can "put you on an emotional roller coaster." Another great tip? "Divorce your 'goal' weight. That number in your head may not be your body's number. I am 15 pounds heavier than my 'goal' weight." So don't let that number gauge your success.
Janelle also says to celebrate the progress you've made from yesterday of being better, stronger, and faster than you were. Look back at your old photos and honor the person you were.
"I changed one negative thought to a positive every day until it became normal to say nice things about my body."
You have to work on loving and celebrating yourself every day, multiple times a day. Janelle said she was tired of hating her body, and this was the most empowering thing she did: "I changed one negative thought to a positive every day until it became normal to say nice things about my body."
Remember that perfection is impossible. Janelle admits, "When I bend down, I have a bit of skin and cellulite there. I used to be so distraught over it until I did the work. I realized that 'hang' and that 'cellulite' was not gross; it is progress."
Image Source: Janelle Flanagan