5K Race Tips
Everything You Need to Know For Your First 5K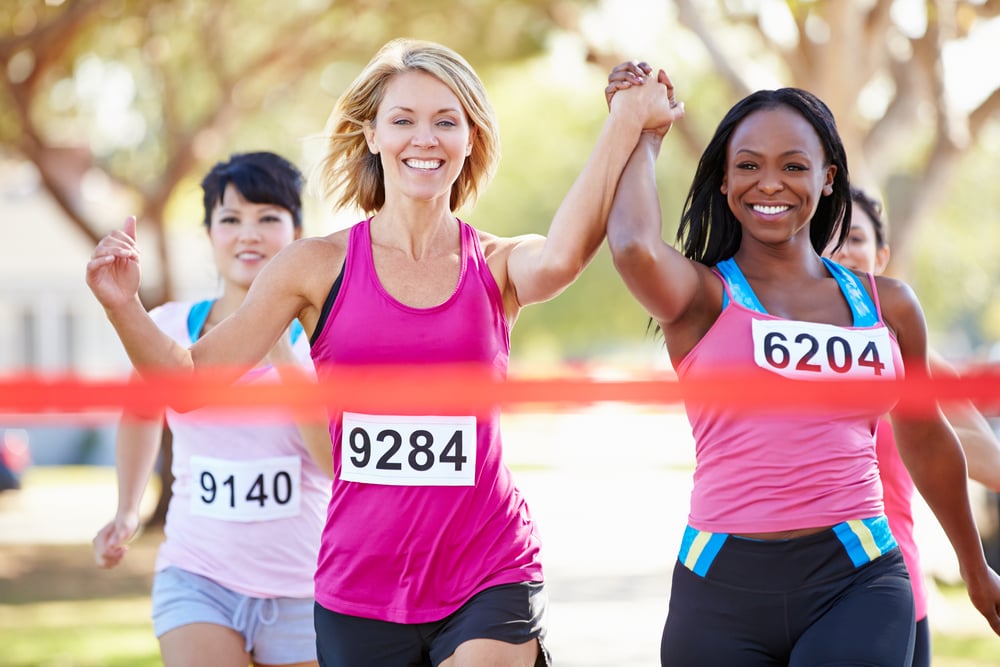 Whether a race has always been on your bucket list or you're looking to shake up your workout routine, your first 5K is an experience you'll always remember. If you're a little overwhelmed at the idea of a race, these tips will help you feel like a pro from the registration process through race day.
Planning For Your 5K
Sign up with friends: Getting a group of friends on board for a team can be a great way to stick with the game plan and make sure you see through your goal. Whether it's a fun Color Run or a cause that's close to your heart, find a race that everyone is excited about and is a few months away in order to safely train. It's also important to pick a race that makes the most sense for your schedule and location.
Train right: If you are new to running, it's important to gradually build up strength, stamina, and speed with time. If you can already run 20 to 30 minutes continuously without pain, then our 5K training schedule is the resource for you. If you're brand-new to running, we're fans of this C25K app that can get you safely prepped and confident for race day.
Invest in quality gear: You might be wary of spending money on a whole new workout wardrobe, but a few key pieces can make a big difference in your new routine. Running-specific sneakers and moisture-wicking gear will keep you feeling supported, dry, and ready to run all Summer long.
Set up your soundtrack: Everyone has their personal preference, but if you love to run with music, plugging in for your 5K should be part of the plan. Check out these 5K playlists that are designed to suit your speed. There's a mix for everyone here!
Cross-train: If you're a true beginner, you'll have to run a few days a week to train, but it's important to make time to cross-train in order to prevent injury and muscle imbalances and to ensure that your body is safe and healthy leading up to your race. Yoga can increase strength and flexibility in runners, so try moving through this postrun yoga sequence to stretch areas that require special attention.
Rest up: It's totally normal to experience some prerace jitters, but sleep is essential for the best 5K possible. Make a point to relax, unwind, get to bed early for the nights leading up to the race so you wake up energized and ready to run.
Don't be nervous: Don't let your emotions or negative self-talk get in the way of you making it to your race. Whenever you feel your nerves getting the best of you, take moment to breathe and check in. As long as you've been sticking with your schedule and resting when necessary, you're more than capable of running this race.
On Race Day
Stick to what you know: Don't wear brand-new gear or eat something new the day of your 5K. Rock the shoes you've trained in, wear your most-trusted running clothes, and eat your favorite prerun meal. You'll be glad that you did.
Get there early: Leave plenty of time to head to the event before the race starts. The last thing you want to feel is rushed or anxious before you start to run. You'll also have enough time for a light five-minute warmup to build some heat, which can help prevent injury and effectively prep your body for the race.
Pace yourself: You might feel energized by the excitement and energy of the crowd, but don't start off running too fast. Feeling burned out or exhausted too early will make the rest of your run feel tough. When you start, make sure to leave at least five minutes to warm up before picking up the pace.
Keep moving: If you're feeling tired, there's no shame in taking a few moments to walk and catch your breath before hitting the ground running again. Listen to your body, and do whatever feels supportive on your race day. But if you're just tempted to keep walking, think about how incredibly accomplished you'll feel at the end if you kept running. No regrets!
Celebrate! Your first race is a huge milestone. Regardless of your time or speed, feel proud of sticking to your goal and seeing it through. Whether this race will be your first and last or you can't wait to sign up for your first 10K, there's a lot to celebrate.