Some people have struggled with their weight for what seems like their entire lives. Courtney Ball (@intotheforest_i_go [1] on Instagram), 34, told POPSUGAR, "My journey with health and fitness has been a lifetime battle." She's lost and gained weight throughout her entire life, and it wasn't until 2016 she made the decision to take care of herself and become healthier and stronger. Now "I am proud to say, I am one fit mama," she said. Keep reading to hear her incredible story.
Courtney's History With Food and Weight Loss
"Growing up, I was heavy, and in high school I tried diet pills as well as not eating," Courtney shared. Her relationship with food has always been her hardest battle. "I didn't know how to eat for fuel. I ate because it was what tasted good," and she thought healthy foods couldn't also be delicious.
"I was always looking for the quick fix, the magical 'lose-30-pounds-in-five-days' fairy," Courtney said. Throughout her entire life, she's lost and gained weight, and until 2016, she didn't know she could lose weight and keep it off without surgery.
She just had to retrain her mind from everything she had been raised to know about healthy eating. "I've had to learn that my relationship with food is a direct connection to how I feel and how I perform in life and in my workouts," Courtney explained.
Courtney's Light-Bulb Moment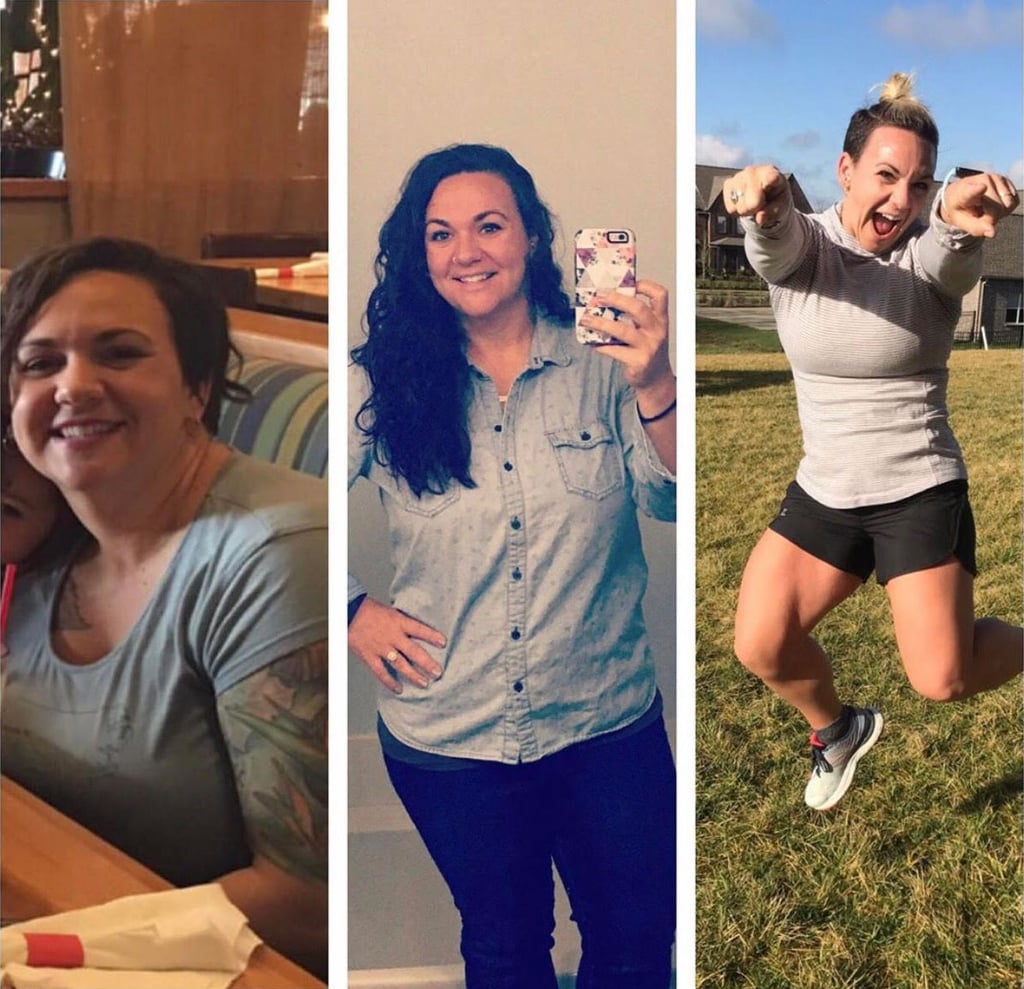 It took Courtney having her two kids and moving to another state, where she was totally isolated, to realize she had a choice: "I can be sad, depressed, anxious, and alone, even in my house with two kids (my spouse travels); or I can help myself and become the person I have always wanted to be and knew I could be," Courtney said. It may have taken her longer to come to that realization, but in 2016, it clicked — and she hasn't looked back since.
"I was tired of clothes not fitting the way I knew they could, and I felt like wearing jeans was a punishment," Courtney said. She wanted to chase her kids and not be out of breath. She knew it was time to change. "I wanted my kids to have active parents, not sideline-watching parents. I wanted to look on the outside how I felt on the inside," Courtney said.
Courtney's Journey Begins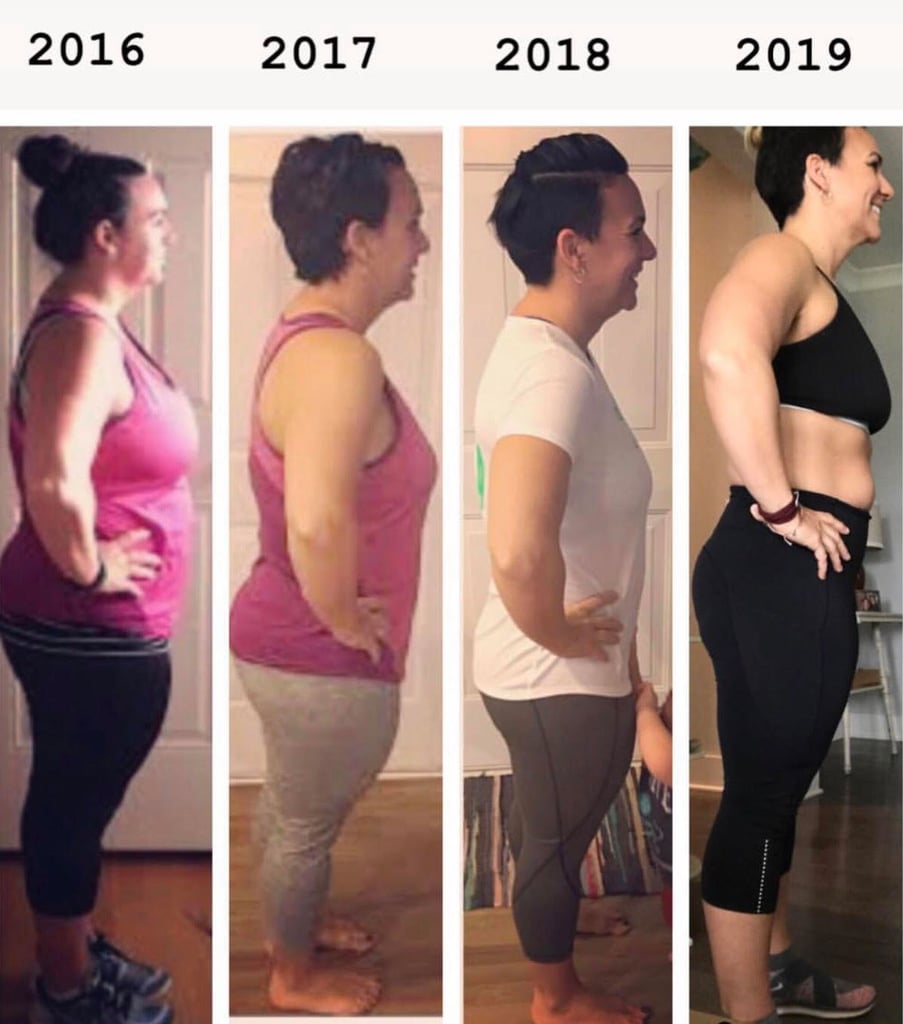 At 5'2", Courtney's heaviest weight was 240 pounds, and her weight when she started her weight-loss journey was around 230. She started off with simple changes, like going to Zumba [3] classes at her local YMCA and walking on the track. Then she found CrossFit [4]. She listened to podcasts and read anything she could get her hands on about wellness.
"I knew this time was going to be different. So after I lost about 15 pounds, I took my very first 'before' pictures." Then with the encouragement of one of her best friends, Courtney signed up for a half marathon even though she couldn't even run a mile.
Courtney's Progress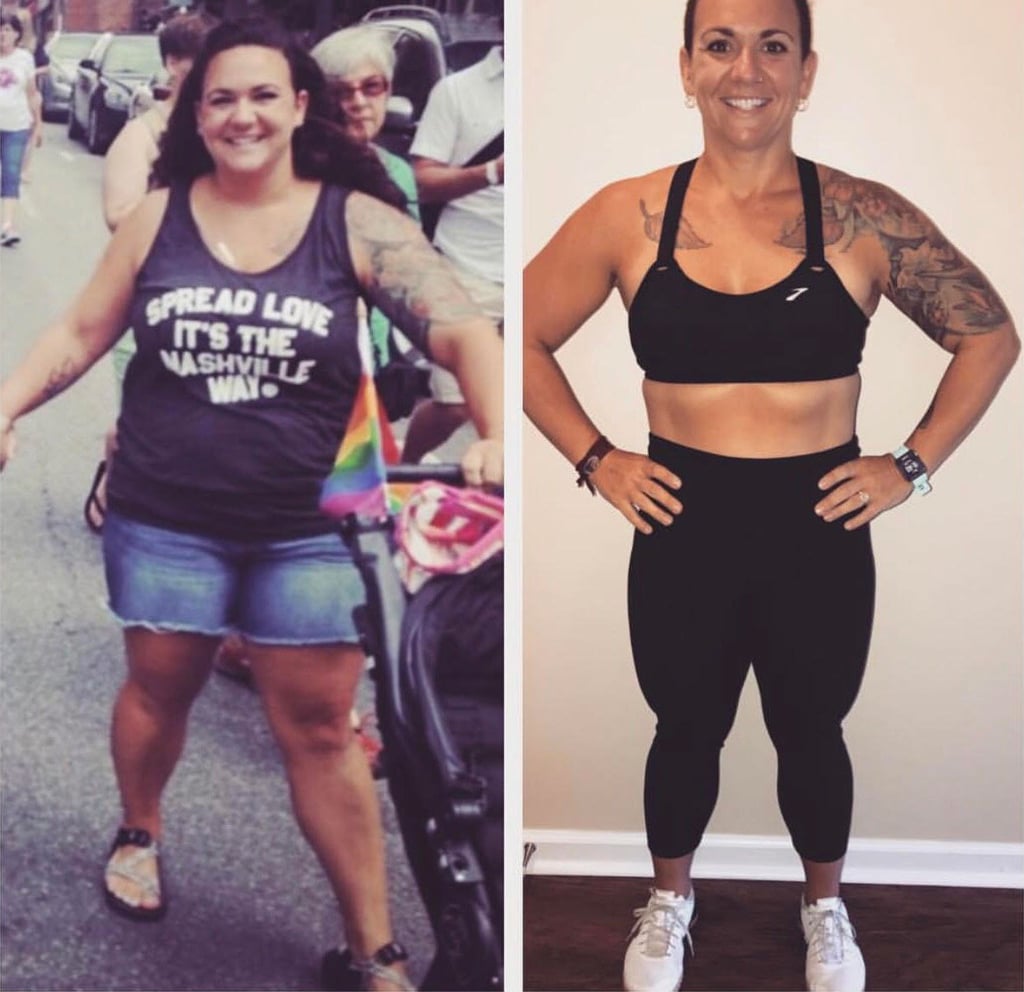 Courtney began her weight-loss journey in 2016, and after a year and a half, she lost 62 pounds. She went from a size 18 to a size 10. "Now almost three years later, I have finished many half marathons, a marathon, and a 50K. I do CrossFit four days a week, and I am proud to say, I am one fit mama."
Courtney's Diet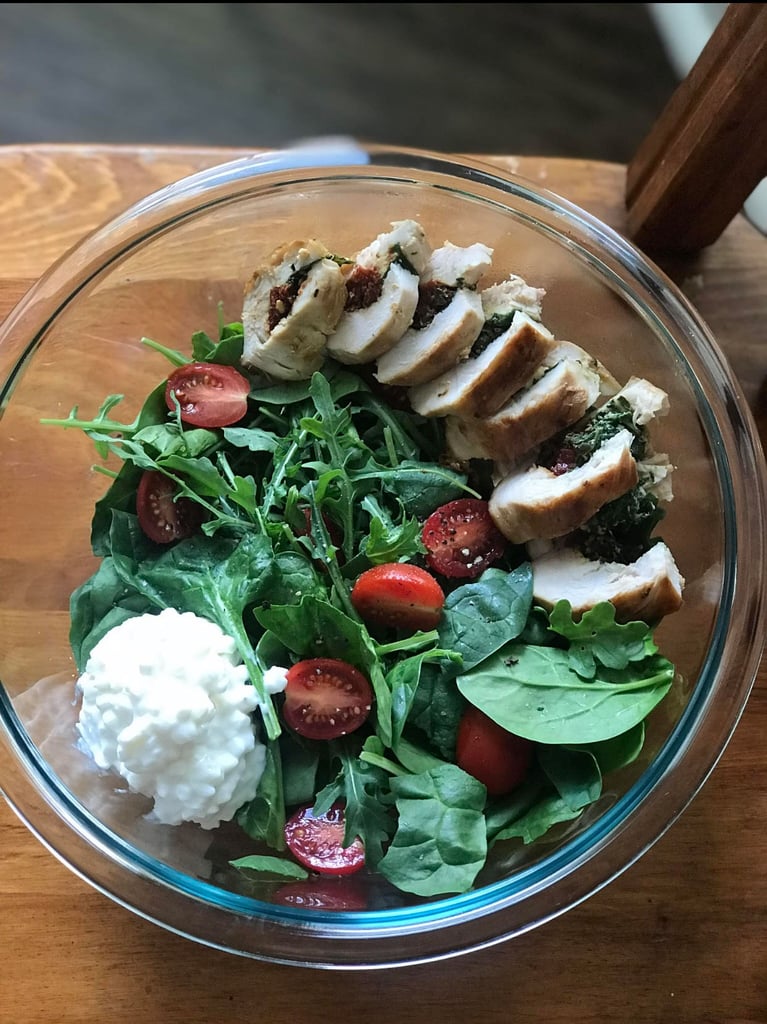 Courtney started following the Paleo diet [5] after listening to the podcast Fat-Burning Man [6]. It made sense to her because it involved eating all the foods she liked to eat, and it was a lifestyle change, not a crash diet.
Courtney started 16:8 intermittent fasting [7] where she eats from around 11:30 a.m. to 7 p.m. Her diet consists of whole, clean foods, meat, and veggies, and she loved everything she was eating. Courtney also drinks a gallon of water a day [8].
"I couldn't believe my energy change. My mood changed, and the weight just started coming off," Courtney said. For the first year and a half, she never tracked or weighed her food. "Food is still a struggle at times, but overall I now know how to fuel to perform."
What Courtney Eats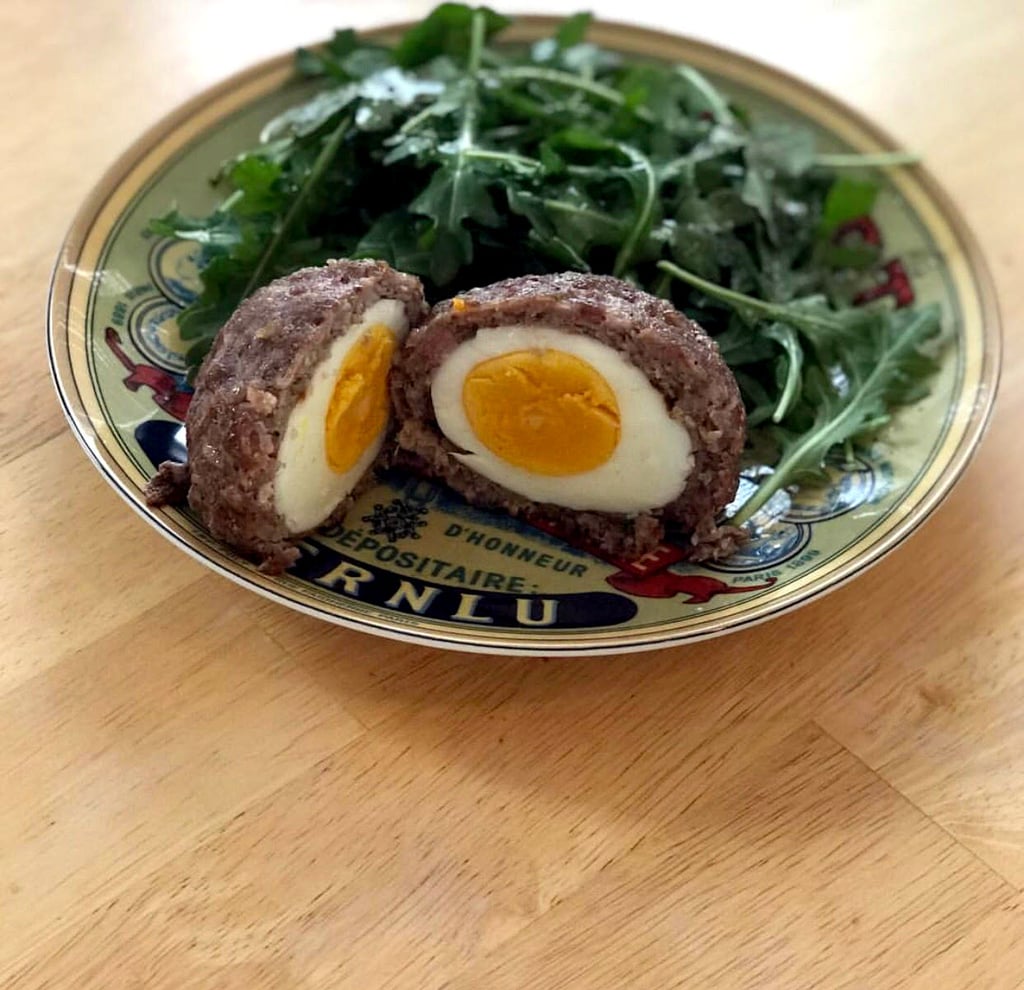 Courtney usually starts her day with coffee with Vital Protein Collagen Powder and Nut Pods French vanilla creamer. Then she fasts until about 11:30 a.m. Her food varies from week to week, but here are some examples of her favorite go-to meals:
Egg-stuffed pork sausage with greens
Breakfast frittata: eggs, egg whites, peppers, sausage, spinach, squash
Sweet potato sliders with grass-fed beef and side salad
Sweet potato sandwich with organic pulled chicken and arugula
Mexican-inspired stuffed peppers
Spinach and egg with side of banana and almond butter
Spinach and arugula salad: green apple, grapes, avocado, and grilled chicken
Banana pancake: one banana, two eggs, mashed with a dash of cinnamon
Courtney's Workouts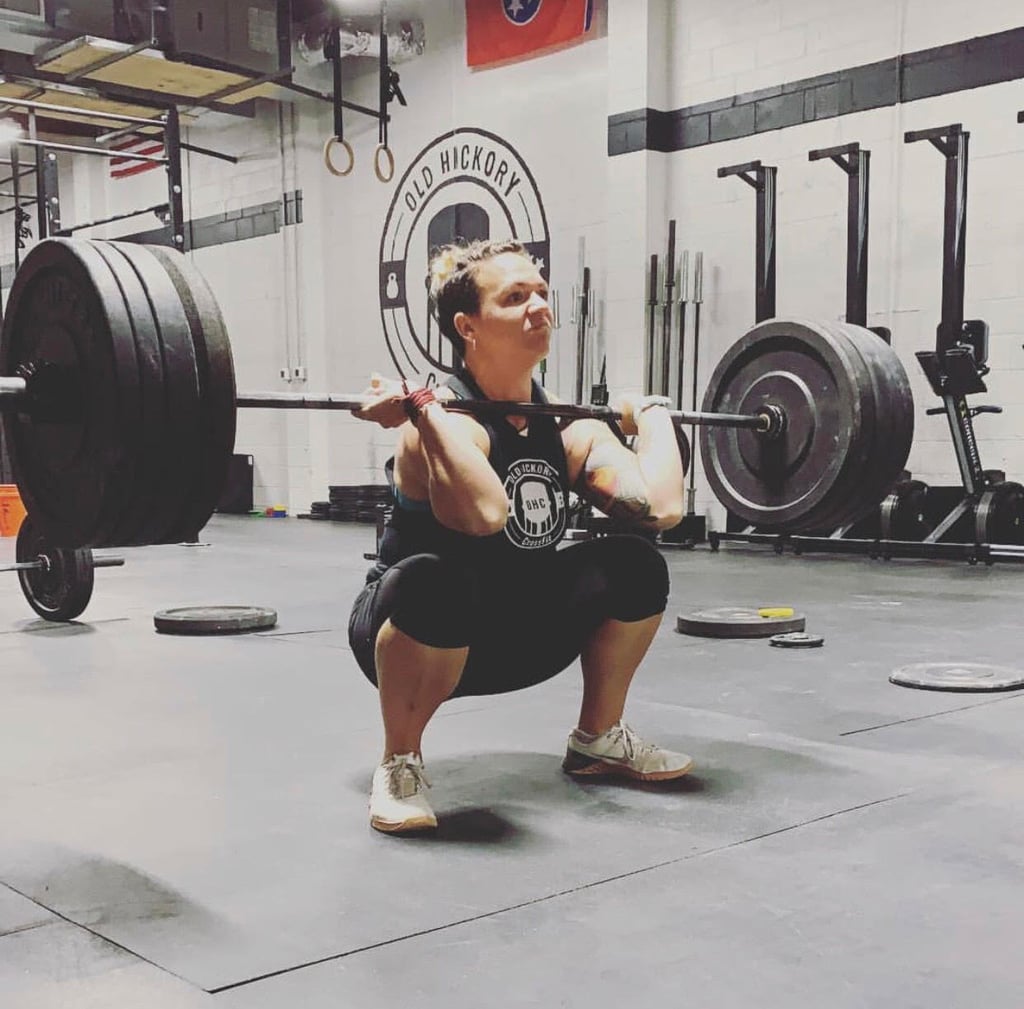 As she mentioned, Courtney started with Zumba classes, walking on a track, and then started doing CrossFit three times a week.
How does she fit in workouts? "With two kids, you have to plan ahead or your workout will be the first thing to go, so I plan ahead," Courtney said. This was her weekly workout schedule:
Monday: CrossFit (1.5 hours)
Tuesday: short run (usually two to four miles) plus weights at her neighborhood gym. "Or I just do some burpees in my backyard after my run . . . y'all, it doesn't have to be fancy!" she said.
Wednesday: CrossFit
Thursday: rest
Friday: CrossFit
Saturday: long trail run (usually six to 10 miles)
Sunday: rest
Now, Courtney stays fit with CrossFit four days a week.
How Courtney Stays Motivated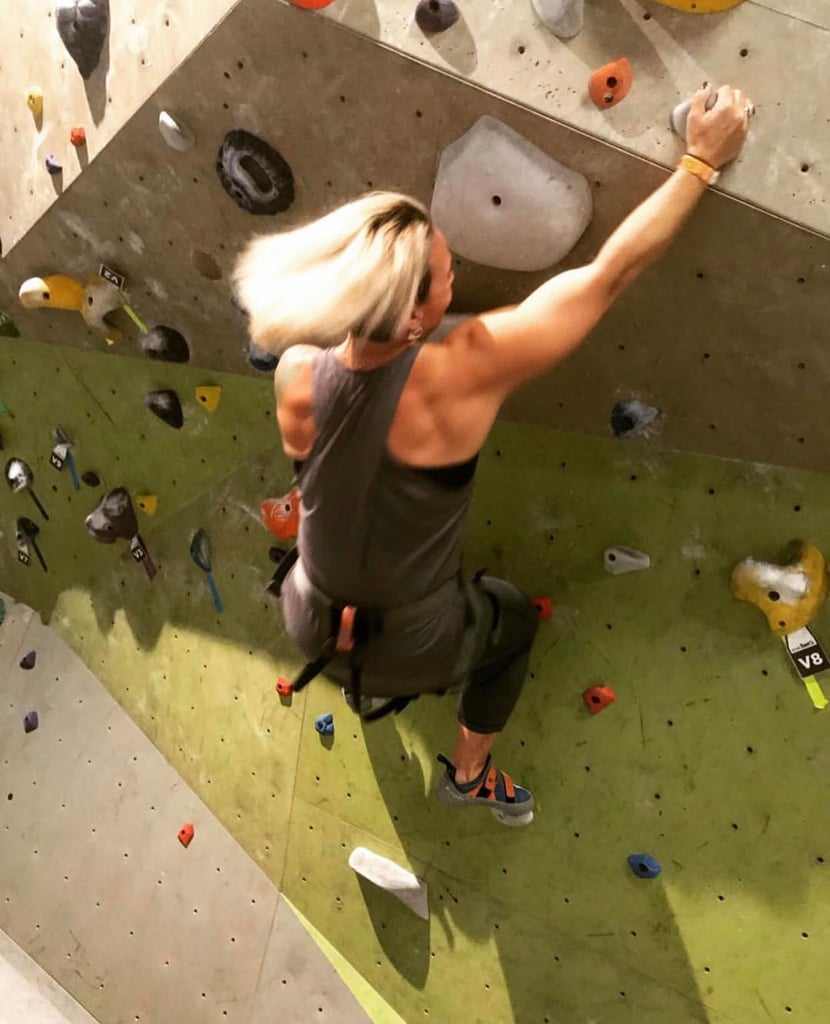 Courtney said her motivation is simple: "My two brown-eyed loves. My children motivate me. They are always watching. They mimic what they see; children know what we show them. My motivation comes from knowing when I train hard, they are always at the finish line," Courtney said. "Motivation has to be driven by something greater than ourselves sometimes."
She also stays inspired by varying her workouts. She rock climbs and likes to try out new climbing gyms. She also loves hiking, and she just paddleboarded for the first time last year and loved it. Her advice? "Just keep moving."
Courtney's Major Nonscale Victory
A huge victory Courtney had this year was during the CrossFit Open Workout 19.3 [9]. Part of the workout was to do 50 strict handstand push-ups.
Courtney had been working on her handstand [10] for a few months, but doing a strict handstand push-up was taking it to the next level. She'd never been able to do it, and her goal was to get just one. When she did the workout in the morning, she couldn't get her head off the ground.
"I was so upset and left that day feeling less than satisfied. This is the day I learned the true meaning behind finding a coach or trainer that believes in you and knows what you are capable of. My coach texted me to come back that night. My first response was 'no,' then I thought the old me wouldn't ever try again, but the new Courtney — she shows up for more," Courtney said.
Courtney went back and waited for the last head to go. In the seconds before she went to do the move, she thought to herself: you can do this, you are strong, you are able. "My coach guided me and encouraged me and just kept telling me, 'Courtney, you got this.' When I got to the wall, I knew I had to believe or my head wasn't coming off the ground. You can see in the video I couldn't freaking believe it: I did it! I not only did one, I got two that night. It was a huge victory for me," Courtney said.
She said to find a coach that believes in you and that invests in you. "I am so lucky to have not one but two who push me to be better every day."
Courtney's Words of Wisdom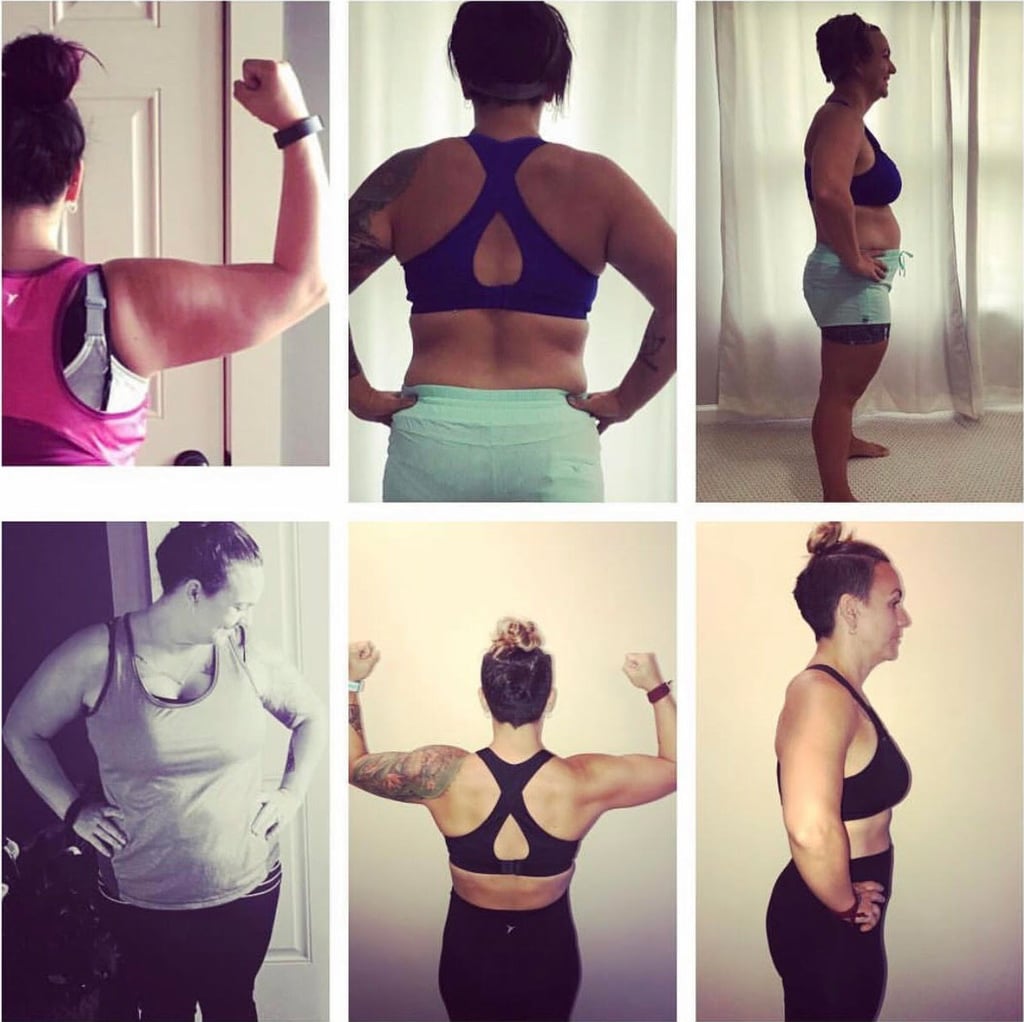 "I used to look at other people and think 'I'm different than them: I can't run. I can't CrossFit; CrossFit people won't like me.' I told myself so many lies for so many years! If only I had those years back. Listen when you read this: I am you," Courtney said. Everyone starts somewhere; the important thing is to start!
Courtney's Advice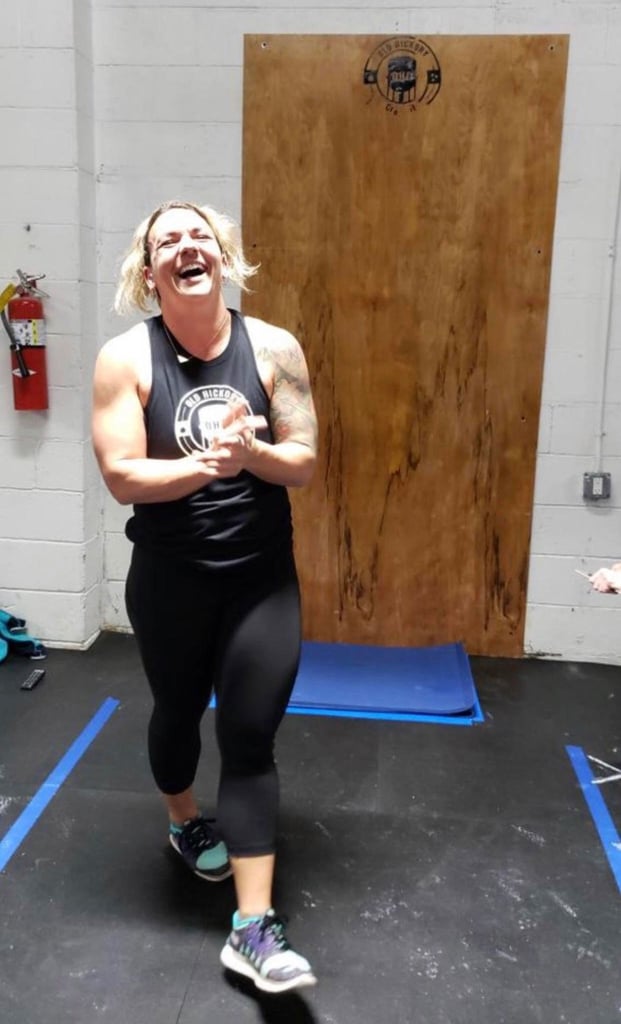 "Take a walk today — that's how I started," Courtney said. She added that you have to ask yourself: "What if I don't quit this time? What if when I lose my first 10 pounds, I don't reward myself with food and reward myself with new running shoes instead? What if I change what I have always done?"
Believe in yourself! "What if you loved yourself enough to say: 'I will change. I am changing. I'm going to email a CrossFit gym, and I'm going to go try!' You can — show up scared, all of us have had a first day. Even if you are the last person to cross the finish line, you are moving and that is what matters," Courtney said.
Courtney's Final Thoughts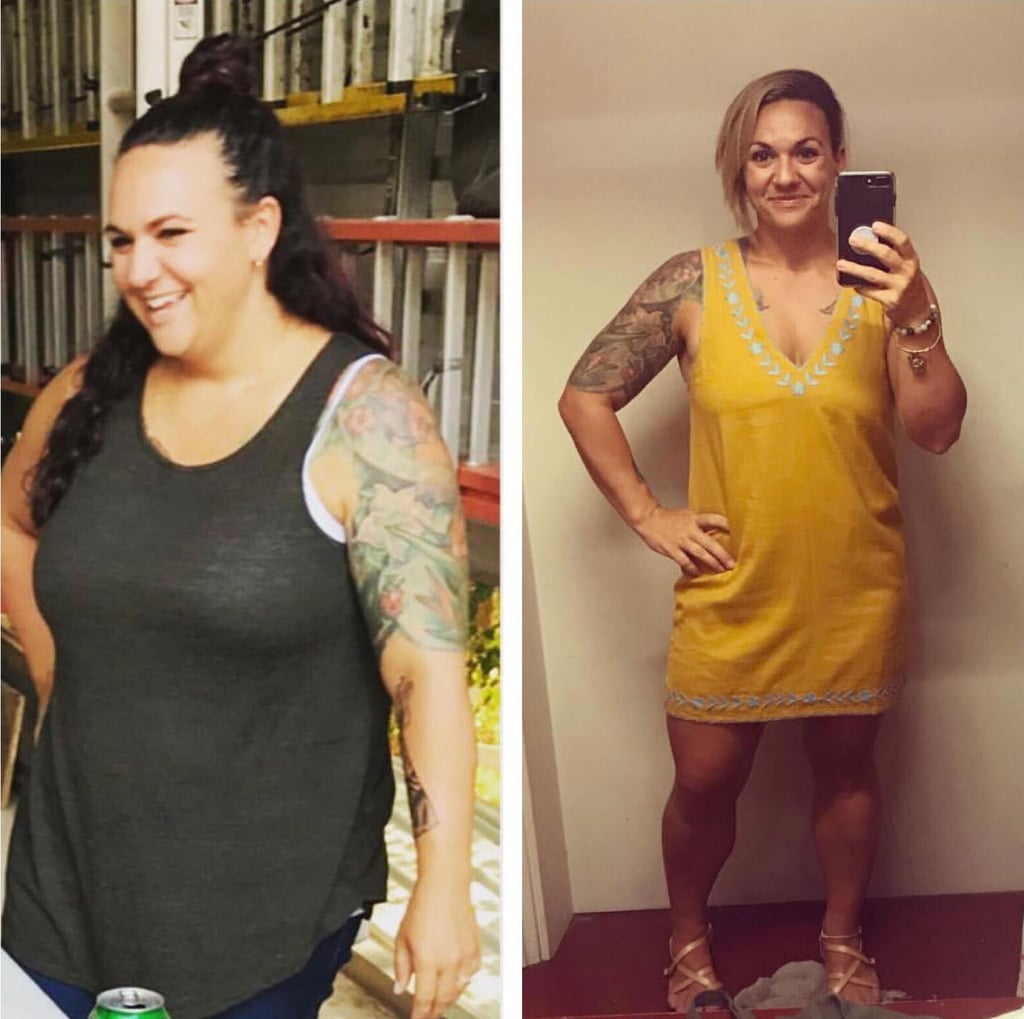 Courtney shared that it's so important to set goals. Write them down in a journal to keep you inspired and on track. Find something or someone that motivates you, whether it's a trainer or coach you connect with, a fitness buddy, or a workout that you love so much that you wake up excited to go.
Remember that "it's OK to fail; it's not OK to quit. It is going to be hard. It takes time," she said, and she wants to leave you with this quote that inspires her: "I always thought I wanted to look good, until I realized what it felt like to be strong."