62 Pound Weight-Loss Story
Before and After: 1 Woman's Tips to Losing the Last 10 Pounds
Whether you've lost 20 pounds or 200, the journey to your smaller self takes a lot of dedication and time. Gloria Sullivan is almost there — she's lost over 60 pounds in a little over a year and is sticking with her new weight-loss strategies in order to get to her goal weight. Read about Gloria's transformation and how she's losing those last 10 pounds below!
Gloria: Before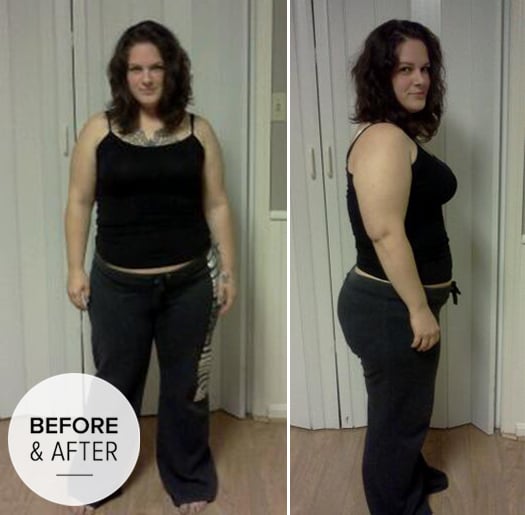 POPSUGAR Fitness: What made you decide to start?
Gloria Sullivan: I simply decided one day that I no longer wanted to feel uncomfortable in my own skin. I realized that my weight was under my control, so I decided to finally take control of it.
PS: What's your favorite way to work out?
GS: I absolutely love the elliptical! Although I had tried a few forms of cardio, I feel I get the perfect total-body workout I like with the elliptical. I also use free weights and try to find monthly challenges that target my upper and lower body.
PS: What's your weekly exercise schedule?
GS: I like to stick with my work schedule. Monday-Friday and rest on the weekends. I spend about an hour at the gym doing cardio and then come home and do some strength training before work.
PS: How do you keep workouts exciting?
GS: Mixing up my music is what really keeps me going. Especially if I find some new tracks, I get really excited to put them to use! I also try to find workouts On Demand on days I don't feel like hitting the gym. I've grown to love ballet routines and hula hooping!
See Gloria's transformation below!
PS: How much weight have you lost?
GS: As of today, I have lost 62 pounds and counting. I am about five to 10 pounds away from the ultimate goal weight I set for myself a little over a year ago.
Gloria: After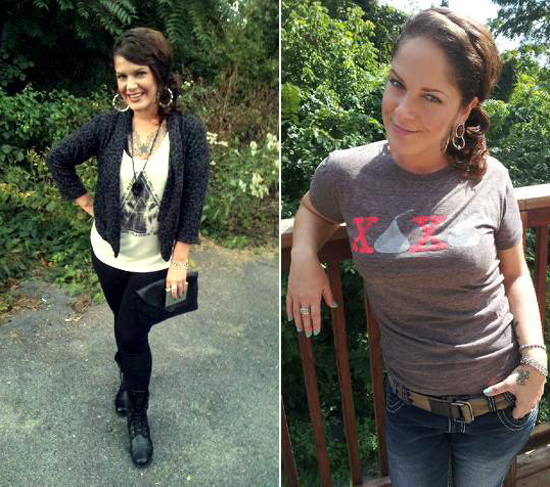 PS: What was the first big difference other than the number on the scale that really made you feel proud and excited?
GS: People started noticing! Not only that, but all of my clothes started to fit better . . . and eventually not at all!
PS: How do you track your weight loss?
GS: I'm a very organized person and an avid list maker. I knew that writing everything down would help this whole process along. I keep a food journal and track each workout (how long and calories burned) on the notepad app on my phone. I try not to go crazy counting calories, and even if I cheat here and there, I still jot it down. You've got to be honest with yourself! As far as tracking my weight, I like to weigh myself at the beginning of each month, and looking back at the numbers is really gratifying!
PS: What's a typical day of meals and snacks?
GS: I always eat breakfast! I love eggs with multigrain toast, oatmeal, and cereal with skim milk. For snacks I usually eat Greek yogurt, almonds, pickles, veggies with hummus or salsa, fruit, peanut butter and celery, raisins, etc. I like to eat/snack every few hours to keep my metabolism going. I don't go heavy on my lunch and for dinner I stick with basics: grilled chicken and vegetables, salads, stir-fry, whole-grain pasta, fish, brown rice, etc.
PS: What's the range of calories you eat per day?
GS: Since I am still trying to lose weight, I like to keep it at around 1200-1500 calories a day.
PS: What are the healthy staples that are always in your fridge?
GS: Yogurt, hummus, avocados, and lots of fruits and vegetables!
PS: How do you strategize for meals out?
GS: I avoid anything fried, battered, savory, or cheesy, and opt for things that are grilled, broiled, or steamed. Occasionally I go for sandwiches without the bun. I also try to avoid thick dressings on salads and stick with lighter choices like oil and vinegar or vinaigrette dressings (on the side). I've learned to take my time while eating and that portion control is everything. I usually wind up taking at least half of anything I eat out home with me. I also allow myself about 15 to 20 minutes to feel full after eating to avoid overindulging.
Do you have an inspiring before-and-after story to share? Message us on Facebook and give us a few details of your journey. We might even profile you, like Gloria, on the site!