70-Pound Weight Loss Before-and-After | Ariana Hamidi
Ariana Followed This Relatable 4-Step Formula to Drop More Than 70 Pounds After Giving Birth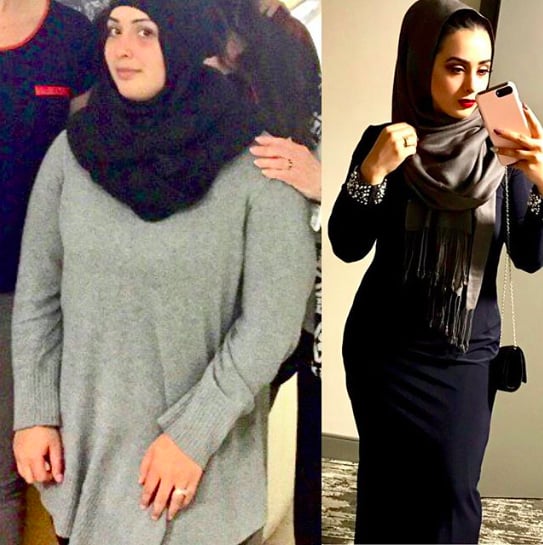 If you are eating healthy and working out at the gym with one end goal in mind — to lose weight — you may not get to where you want to be. You may just do your body more harm than good. This is the reason mother-of-one Ariana Hamidi says, "Fitness is a lifestyle, not a destination. The sooner you realize this, the easier it will be."
Ariana's realization came the day she gave birth to her daughter. Doctors told her she would be unable to have her daughter naturally and there would be an increased risk of having a C-section due to her weight. At 20 years old, she had high blood pressure and swollen ankles and weighed in at 225 pounds for her 5'2" frame. Her hospital experience haunted her so much that all she could feel was upset during her stay. The state of her health scared her.
But she walked out of the hospital after the doctors took her last vitals and weigh-in thinking one thing . . . "I couldn't live like that anymore."
The first step that Ariana took was tremendous. It wasn't signing up for a gym pass. It wasn't making some sort of a calorie plan. Instead, she shifted her mental thoughts. Since she had an emergency C-section and was breastfeeding, she couldn't start working out for at least another three months. "I took this time to prepare myself mentally for my journey. I would give myself pep talks every morning, and I started instilling healthy habits and kicking junk food to the curb."
Just by thinking more positively about her body and truly learning the value of nutrition, she dropped 15 pounds three months postpartum. Once the doctor gave her the OK, her journey progressed to the gym.
Ariana admits now, "It was such a scary step because it meant that I had actually admitted that I was truly unhealthy and obese." Yet she still viewed it as a blessing. "I could now tackle my problem." And to this day, she's still learning more and more about working out in the gym. At the start, she would stay in the cardio section, as she felt intimidated having never trained before and having not seen any other hijabis in the weight section at her gym. After some time, her courage kicked in more and she began inching her way toward the weight section.
Now, she's hitting the gym five or six times a week. One day is dedicated to steady-state cardio, and the other days are dedicated to weight training with some cardio. Her determination to lose weight didn't stop at the gym. In the kitchen, she is following the 80-20 rule. This means 80 percent of the time she is eating clean meals, and the other 20 percent is her living it up, trying different food and desserts. This balance has kept her really sane. "If I really want to have a hamburger, fries, and a milkshake for my cheat meal, I'll make sure that I work out hard that day and the rest of my meals are clean."

All her hard work allows her to say today that she has lost 73 pounds and brought her weight down from 225 pounds to 152 pounds by 19 months postpartum. This may make you wonder how someone stays motivated for that long. It's simple. Ariana didn't stay motivated. She was disciplined. That is what kept her going.
If you're on a similar journey as Ariana, the four-prong formula she used may work for you as well.
Step 1: Eat healthy.
Step 2: Maintain a calorie deficit.
Step 3: Move your body!
Step 4: Drink lots and lots and lots of water.
And at the end of the day, just remember, "Weight loss is a mental thing just as much as it is a physical thing." Be patient, don't overthink, feed yourself positive thoughts, and be honest with yourself. Lastly, don't give up. Ever. That's how Ariana made it this far, and that's how she's going to lose the last 15 pounds she set as a goal for herself.