71-Pound Weight-Loss Story
Before and After: What Motivated This Woman to Lose 70 Pounds
We're loving the weight-loss stories you've been sharing with us, and next up is Staci Chambers, who's lost over 70 pounds since she started her journey. Now she's even motivating her friends to lose weight. "Putting my journey on my personal Facebook really helped me stay motivated," she told us. "It kept me in check because I didn't want to look bad and I really wanted to show my friends that I did it: I was and am losing weight by eating real food. No diet pills, no crazy diets, just portion control and moderation with Weight Watchers as a guideline and lifestyle. A lot of my friends even started their own weight-loss journey because of me. That helped me so much because I needed them as much as they needed me."
Let Staci inspire you as well — check out her success story below!
Staci: Before
What made you decide to start?
Staci: My kids. I was drying my hair one morning and I started crying because my hair was the only thing I liked about myself. I looked at my 1-year-old daughter and I thought, I can't let her grow up with me as a role model. I had an overweight mom and I remember getting made fun for it and I remember her not being able to do certain things with me. I have a 6-year-old son who is so active and I physically couldn't play outside with him: it was just too hard. I decided to use them as my motivation. I needed to be better, not just for me, but for them. Using them as my reason gave me so much more strength because where I can let myself down, I will fight so much harder to not let them down. They are the reason I wake up every morning and they are the reason why I can't and won't fail with this journey.
PS: What's your favorite way to work out?
SC: Running. I started in May and I'm addicted to it.
Staci: Before
PS: What's your weekly exercise schedule?
SC: I run four days a week and I usually do five miles. I like to dance on my days that I'm not running: I turn my living room into a nightclub and just go nuts. I probably look ridiculous, but I'm alone, so who cares? It's fun and it's a great way to have fun and burn calories. I also do between 100 and 150 crunches a day and I do around 50 to 100 squats on days that I'm not running.
See Staci's transformation here!
Staci: After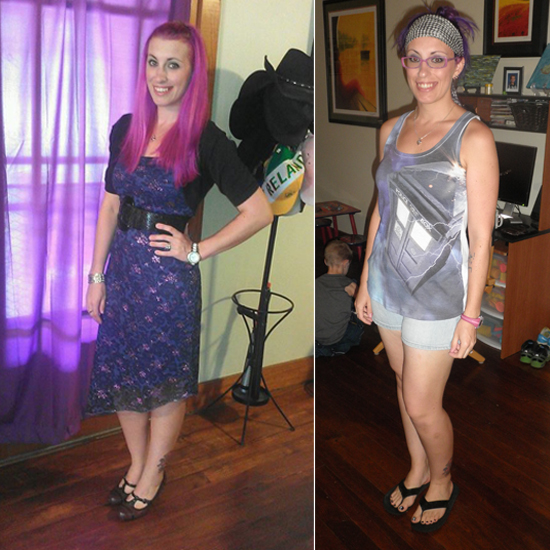 PS: How do you keep workouts exciting?
SC: With running, I like to change up my run routes and change out my playlist every couple of weeks so that I get to hear new music so it's not the same thing.
PS: How much weight have you lost?
SC: As of today, 71 pounds total — 53 pounds of it has been since January 2013 when I got serious. I'm only nine pounds away from my goal weight!
What was the first big difference, other than the number on the scale, that really made you feel proud and excited?
SC: I started to like myself again. It wasn't the weight coming off per se, but it was the fact that I was taking care of myself. I was saying no to the junk food and drinks. It wasn't always easy to say no, but it made me like myself again because I was stronger than the desire to eat. Weight loss is more mental than physical in my opinion, and overcoming and changing my thought process of "I've got to eat" to "I don't need that right now" was empowering, and it made each day a little easier because I was stronger and better than I was the day before.
Staci: After
PS: How do you track your weight loss?
SC: I keep a food journal. I don't use my phone to track my day. I have that option, but I find when I actually write it down and leave the notebook open in the kitchen, it helps me stay focused. "Out of sight, out of mind," so I keep it out as a reminder. It's more work, but it's worth it to stay on track. I also like to plan my day out the night before or the morning of — that way I know how many extra points I have for snacks during the day, so if I'm out and about and something comes up, I know just what is left and that helps me stay on track.
PS: What's a typical day of meals and snacks?
SC: My favorite breakfast is almond milk with either Special K with banana slices or Multi Grain Cheerios cereal. I try to change up my meals every day so I don't get bored. Lunch is usually soup, salad, or a wrap. I also like to do leftovers from the night before, or sometimes I'll grab a Smart Ones TV dinner and I like to add either a veggie or piece of fruit with it. Dinner is something from a Weight Watchers cookbook. Their recipes are so good, and it makes losing weight easier and fun because you are getting something new and yummy: it doesn't feel like a diet because it isn't — it's a lifestyle. I also love their recipes because I freeze the leftovers, and they can make a great lunch or even another dinner. My favorite snacks are Fiber One granola bars, popcorn, Greek yogurt, and frozen Greek yogurt when I want a sweet treat.
PS: What's the range of calories you eat per day?
SC: Weight Watchers is based off a points system vs. calorie counting. A rough estimate would be around 1,300 to 1,500 a day.
PS: What are the healthy staples that are always in your fridge?
SC Almond milk, lots of fresh fruits and veggies.
PS: How do you strategize for meals out?
SC: Preplanning is key. So many restaurants have their full nutritional info online, so I will take about 10 minutes, look at the menu, and pick a few entrées I'd like to have. I figure out the points based off their nutritional info and then, when I get there, I have a "cheat sheet" on what I can eat. I like giving myself options because you never know what might happen when we get there: I've picked one meal in the past and got to the restaurant and they didn't have it in stock, and then I had no idea what to do, so giving myself different meal ideas helps avoid the unexpected.
Follow Staci's journey on her Facebook page!.
Do you have an inspiring before-and-after story to share? Message us on Facebook and give us a few details of your journey. We might even profile you, like Staci, on the site!