85-Pound Weight-Loss Story
Before and After: After "Many Failures," Hilda Finally Found Weight-Loss Success
You won't believe what our next Before & After star, Hilda Lopez, has accomplished in just a year. Since starting her weight-loss journey in July 2013, she's lost 85 pounds, conquered the Stairmaster, and — best of all — gone on her dream European vacation that she'd been afraid to take because of her weight. If that's not inspiring, we don't know what is. Say bonjour to Hilda and learn about how she lost the weight below.
Hilda: Before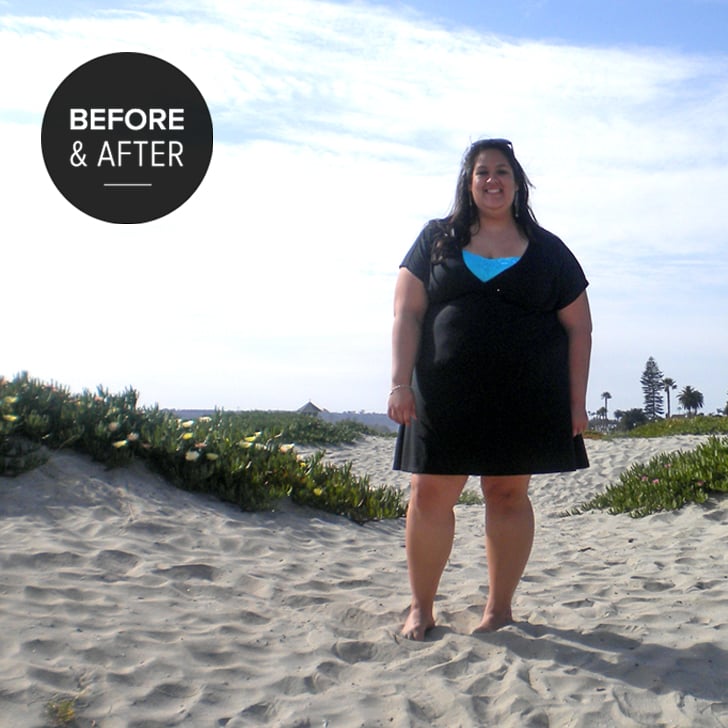 POPSUGAR Fitness: What made you decide to start?
Hilda Lopez: One day it just clicked. I looked in the mirror — like really looked — and I was so sad at how I much I let my weight get out of control. I have always dreamed of traveling the world, but the thought of taking this amazing vacation and not being able to walk around and explore a city for an entire day was discouraging.
Hilda: Before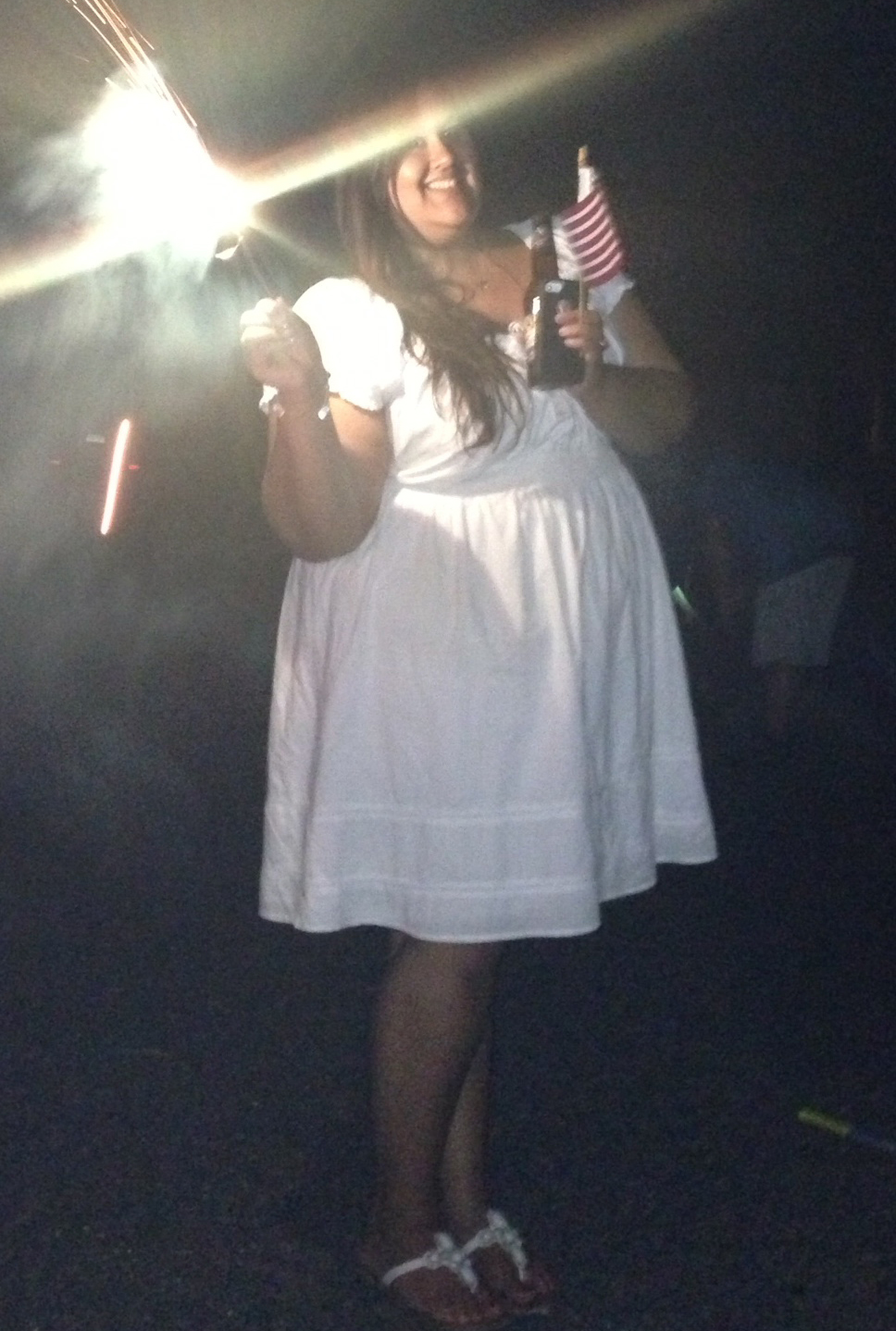 PS: What's your favorite way to work out?
HL: I like to keep it interesting, so I joined a gym that offers a wide variety of classes. One day, I will do the Stairmaster; one day, it's yoga; I have tried Pilates, swimming, cycling, cardio kickboxing, and I like to strength train with weights. I constantly challenge myself, and the more weight I lose, I find that I am more comfortable trying new workouts.
PS: What's your weekly exercise schedule?
HL: I hit the gym at least four to five days a week and do 30 minutes of cardio minimum each day. Three out of the five days, I also include weights or yoga to my cardio. For cardio, right now I am addicted to the Stairmaster. When I first began my weight-loss journey, I could only do the treadmill and would walk on it for 30 minutes at a steady pace. Then I worked up to an hour brisk walk, then to the elliptical, and now I have advanced myself to the stairs.
PS: How do you keep workouts exciting?
HL: My co-workers have been very supportive from the start, and a couple of them actually are members at the same gym I go to. It's fun to get in a workout with a buddy so occasionally we will plan to attend a class together or meet for some cardio/weights.
Hilda: After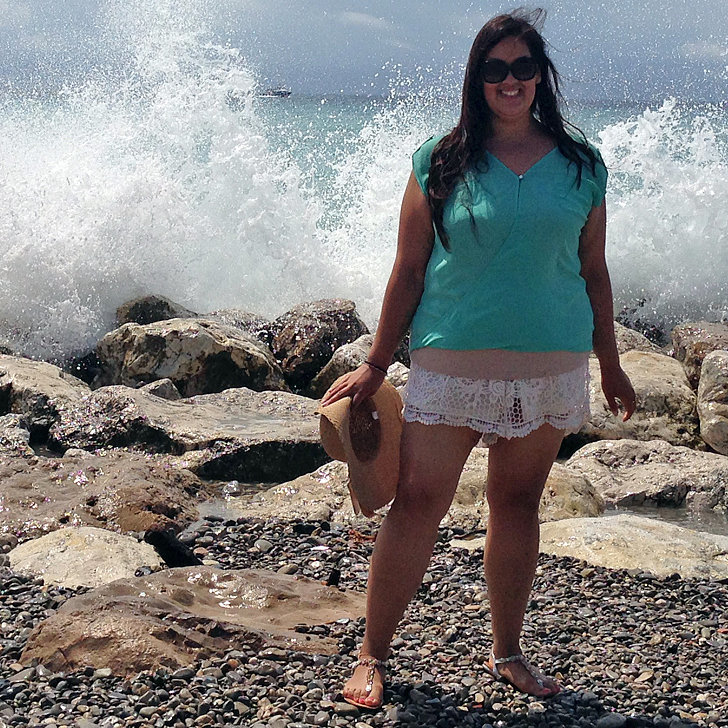 PS: How much weight have you lost?
HL: From July 2013 to July 2014 I have lost 85 pounds . . . and not done yet!
PS: What was the first big difference, other than the number on the scale, that really made you feel proud and excited?
HL: There was a moment when I visited my nieces (ages 7, 8, and 10) after not seeing them for several months. Their jaws dropped and they ran to hug me. One of my nieces said to me, "Aunt Hilda, I can put my arms around you!" I nearly started crying! I love my family so much, and my new lifestyle allows me to be more actively a part of their lives and do activities with them that I couldn't in the past.
PS: How do you track your weight loss?
HL: I rely not only on the scale, but also my dress size and especially pictures. Every time I feel like I am in a slump or that I have a long way to go before reaching my final goal, I take a look at my before pictures and recognize how far I have come. I use Facebook to post healthy recipes, Monday morning weigh-ins, etc. Facebook friends help encourage me and keep me on track. I have even created a Facebook page solely to my weight loss journey (Dress Me Skinny).
PS: What's a typical day of meals and snacks?
HL: Breakfast is usually plain Greek yogurt with fresh berries and a drizzle of honey or a protein shake if I am in a hurry.
Morning snack — usually an apple with a tablespoon of natural peanut butter.
Lunch — chicken breast, salmon, or ground turkey with grilled or steamed veggies; I make everything at home the night before and don't rely on any of the low-calorie microwave foods. If we are eating out as a group, I look for the healthier items on the menu. It doesn't always have to be a salad; most restaurants carry grilled chicken and you can ask for veggies or brown rice instead of the other sides they offer.
Afternoon snack — hummus with carrots or celery or some fruit with low-fat cheese.
Dinner — I like to visit the health and fitness boards on Pinterest to find healthy alternative recipes using spaghetti squash or zucchini instead of pasta with chicken or turkey. There are so many ways to make any recipe healthy, using plain Greek yogurt instead of sour cream, etc.
Hilda: After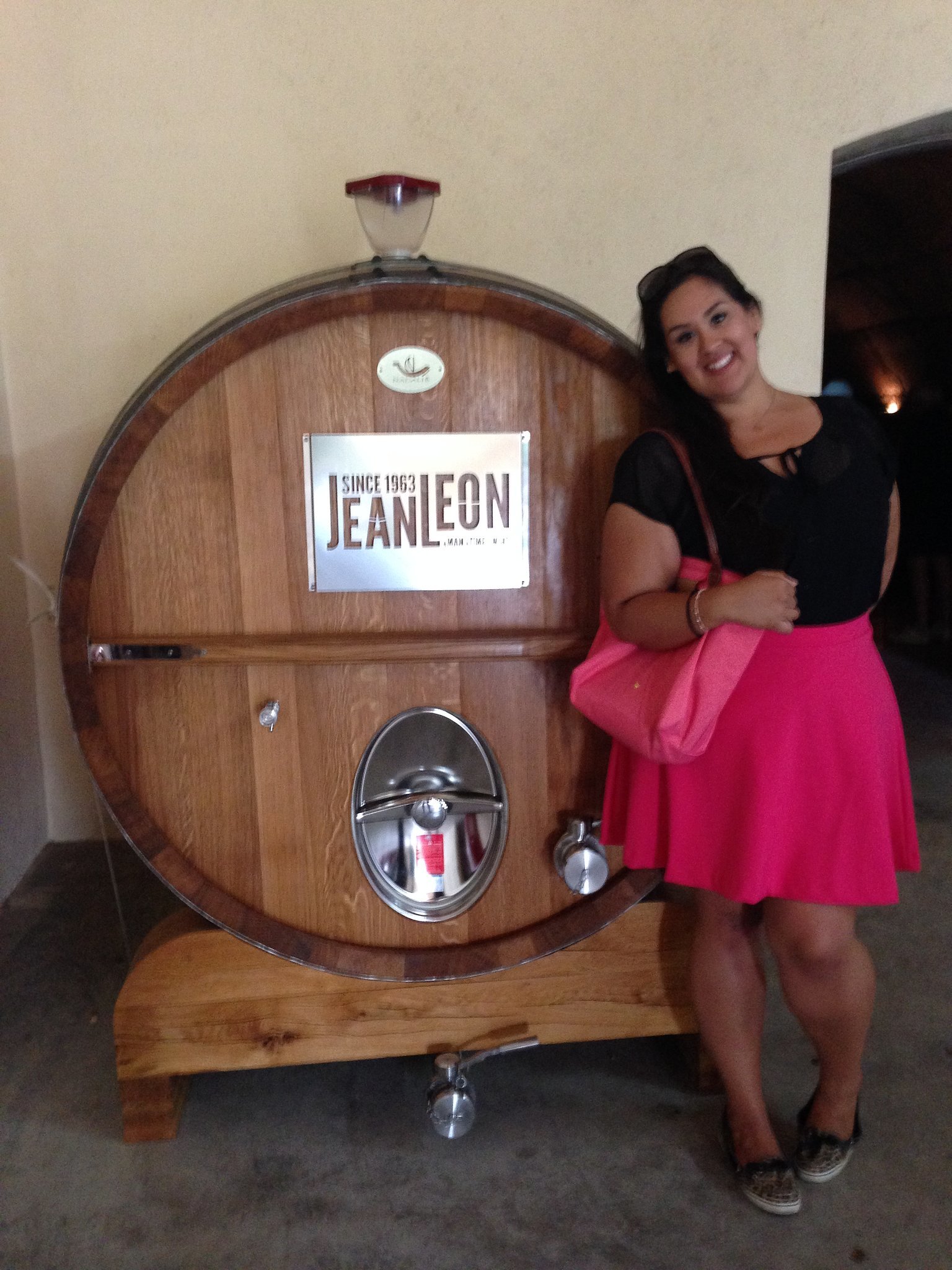 PS: What's the range of calories you eat per day?
HL: I don't like to count calories; I usually just eat my set three meals and two snacks and make myself aware of what I am consuming. I stay away from sugar, sodium, and carbs as much as I can and try to eat high-protein foods.
PS: What are the healthy staples that are always in your fridge?
HL: Low-sodium cottage cheese, fresh veggies and fruits (spaghetti squash, zucchini, asparagus, broccoli, avocado, lemon, apples, bananas, blueberries), hummus, chicken breast, and lots of water!
PS: How do you strategize for meals out?
HL: Even eating out, I try to find the healthy options on the menu. I do allow myself cheat days but even on cheat days, I don't overeat. If I am craving something like pizza, I will have a slice of pizza and a Caesar salad to fill me up. When ordering salads at restaurants or making my own at home, I substitute the salad dressing for fresh lemon juice — try it! You won't even miss the dressing. I've also noticed that in the past, I would read a menu and order my meal by the thought of "how much food can I get for my money?" Now, I order according to what actually sounds good to me.
Hilda: After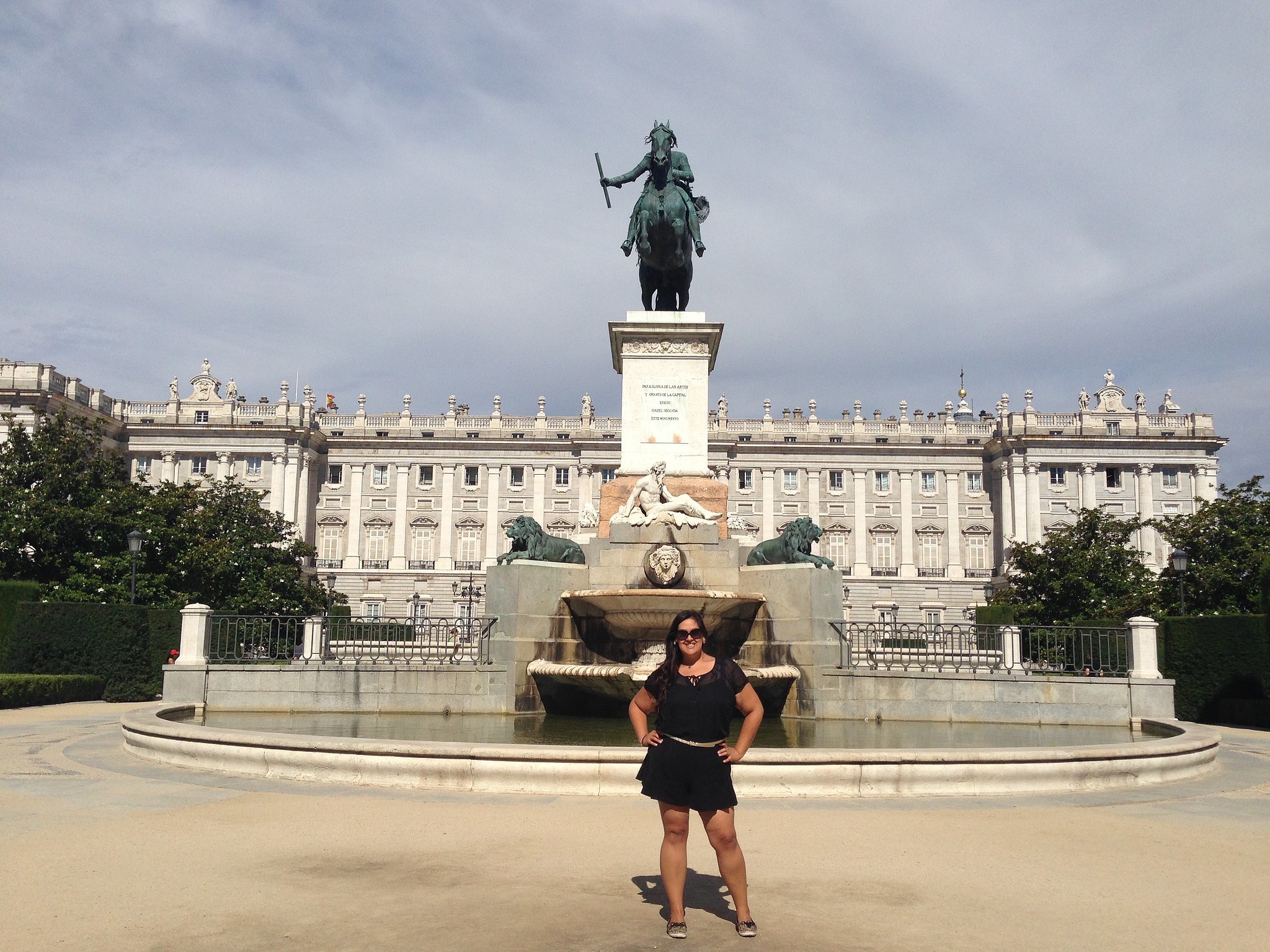 PS: What advice do you have for anyone starting out on a weight-loss journey?
HL: Be patient, dedicated, and educate yourself. I have tried to lose weight in the past with many failures because I didn't know how to eat properly. Losing weight is 80 percent diet and 20 percent exercise. I use Pinterest a lot to find recipes and helpful advice from bloggers on what to eat to help give your body what it needs when trying to lose weight. Do not starve yourself, you need to eat — just make sure it's the right foods!
Do you have an inspiring Before & After story to share? Message us on Facebook, and give us a few details of your journey. We might even profile you on the site, like Hilda!