98-Pound Weight-Loss Story
Before and After: One Inspiring Woman's 98-Pound Weight Loss
There are thousands of real women with weight-loss stories that serve as serious motivation and offer a wealth of knowledge from their experience. We recently chatted with one Michigander, Lulu, who was compelled to start her healthy journey after she was hospitalized for a weight-related health issue. Learn Lulu's tried-and-true tips for sustainable success — and check out her amazing before and after shots!
Lulu: Before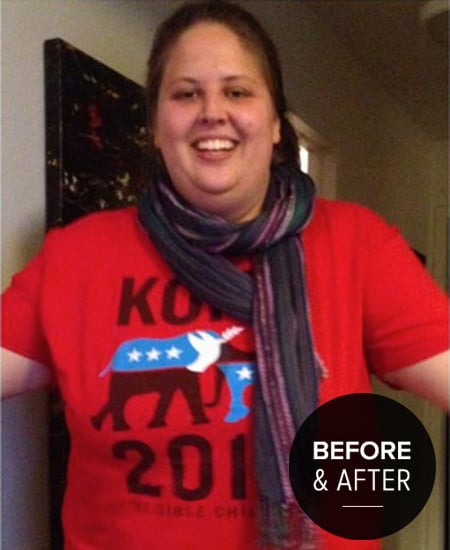 POPSUGAR: What made you decide to start?
Lulu Rubens: It wasn't one thing, it was the culmination of many. I grew up an active and healthy kid, but with the passing of time came a lot of unforeseen obstacles. After a long and painful climb to my heaviest, I finally decided I couldn't take it anymore. Walking, breathing, standing up — really just moving in general — it all became laborious. My health began to deteriorate, I spent time in the hospital with elevated liver enzymes due to my weight, and never feeling OK. I finally woke up and thought to myself, "Where did you go? Who is this person?" When I couldn't take it anymore and when I couldn't go any deeper down, that was when I knew I needed to make a change.
PS: What's your favorite way to work out?
LR: I love cycling. I love going fast and being outside, so it never gets old for me. I ran a ton at the beginning of my weight-loss journey, reaching five miles as my longest, sustained running period. It's funny saying this now, but I find workouts that challenge me the most are the kinds that keep me coming back for more.
PS: What's your weekly exercise schedule?
LR: I have found that it is really hard to find time to work out when working full-time, but I always find time to walk — no matter how long or short the distance may be. I'm passionate about cycling, and I try to ride for an hour at least four times a week. When I began the process of losing weight, I made it a point (with the help and motivation of my friend and health coach, Ricki) to work out four to six times a week, not including my daily walks. I heard somewhere that sitting is the new smoking, so I make sure to avoid too much of that.
PS: How do you keep workouts exciting?
LR: When I first dedicated myself to getting healthy, I would exercise at a place called Real Ryder Revolution, which is basically supercharged indoor cycling. I try to translate exercise into activities that keep me interested like biking, hiking, and tennis. I find that creating a really good playlist and changing my environment frequently keeps exercise in the "activity" category rather than a necessity or a "task."
Lulu: After
PS: How much weight have you lost?
LR: A total of 98 pounds.
PS: What was the first big difference, other than the number on the scale, that really made you feel proud and excited?
LR: For me, there were a lot of things. Being able to wear old clothes, going to the store and fitting into something as opposed to nothing, going up the stairs and walking without losing my breath, exercising and not feeling embarrassed by the way I looked — those were the changes that made me not only feel proud and excited, but motivated to keep going.
PS: How do you track your weight loss?
LR: I used to blog about it to hold myself accountable at Break The Weight, an online resource I created with my friend and health coach, Ricki Friedman. I chronicled my entire journey with her support, and it was a major source of inspiration and support for me. I stopped blogging to focus on completing undergrad and keeping up my healthy habits definitely became more difficult. Now, with a new career and long, unpredictable work hours, I find that keeping track of my food and weight with the Weight Watchers iPhone app, along with daily writing (weight-related or not) are the most beneficial tools I can use to maintain the lifestyle I worked so hard to call my own.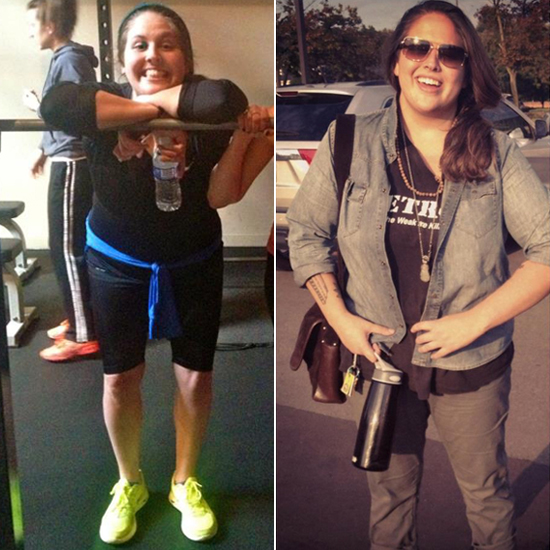 PS: What's a typical day of meals and snacks?
LR: I like to fill myself up in the morning so I go without reaching the point where I'm starving by 10 a.m.! Eggs are my favorite morning meal; I'll make two eggs (any style I prefer), a piece of toast, or I'll make oatmeal and an apple or some kind of fruit. For lunch, I'll typically have a salad, dressing on the side, some kind of fish or chicken, and I always go easy on the cheese. For a midday snack, I keep unsalted nuts (almonds and cashews are my faves) on my desk and make sure to have a handful before leaving work. For dinner, I go the smallest. My dinners don't have to be so "dinnery," if that makes sense. Sometimes peanut butter and an apple after four to five ounces of chicken breast will do it! Other times, especially if I go out to dinner, I try for salmon or sashimi.
PS: What's the range of calories you eat per day?
LR: I don't count calories because Weight Watchers does it for me, but I'd have anywhere from 1,600 to 2,000. I'm not a fan of starvation. It doesn't work, and I'd rather make up for extra caloric intake by working out.
PS: What are the healthy staples that are always in your fridge?
LR: Apples, peanut butter, berries, eggs, and almond milk.
PS: How do you strategize for meals out?
LR: Order everything on the side! Ricki taught me that, and it's so important. Also, never be afraid to be annoying — being healthy is more important than satisfying an impatient server. Typically, a lot of eating out is not conducive to successful weight loss, but everyone has to do it now and again, so I say have zero shame in being picky.
Do you have an inspiring before and after story to share? Message us on Facebook and give us a few details of your journey. We might even profile you, like Lulu, on the site!