Acacia Fitness DVD Review: Fit in 5 Total Body Tone
DVD Review: Fit in 5 Total Body Tone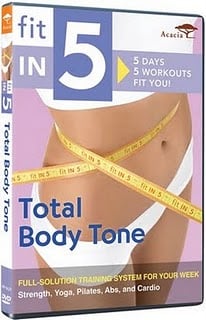 Some athletes or sports gurus like to bulk up their muscles and flex to impress. Me? I'm a toning kind of gal and the quicker the workout, the better. While some people take hours a day to work their body into tip-top shape, sometimes all you need is a 20-minute stint. Created for folks who can't always carve a heavy-duty gym routine into their hectic schedules (or those who simply don't want to!), Acacia has compiled five 20-minute workouts that are quick and easy enough to do in the own comfort of your home in Fit in 5 Total Body Tone ($15). Taken from formerly released DVDs, these 20-minute sections are picked out to represent the best in toning. To make sure they offered a little something for everyone, they included a series on each of the following: strength training, yoga, Pilates, abs, and cardio.
Curious to see what I thought of the DVD? Just
.
A compilation of previously released full DVD workouts, I thought I may be a bit bored with some of the routines. Surprisingly, I wasn't. Also surprising, I was certain I would enjoy the Pilates and yoga the most, but found the strength training and cardio sessions won me over. Below is a breakdown of each section.
Strength: Led by fitness instructor Desi Bartlett and accompanied by sidekicks Ashley and Kristen, it's easy to get into the groove of this squatting, kicking, arm raising workout. Between the three of them, you can see easy ways to modify the exercises that require nothing more than a mat and some light weights.
Yoga: If you're ready to bend and stretch, yoga guru Shiva Rea is the person to guide you there. Slim and trim with cat like flexibility, she glides through vinyasas in a setting that will have you dreaming of Balinese beaches. Her calm voice and fluid motions will have you moving through the 20 minutes of downward dogs and warrior poses in what seems like five minutes.
Pilates: In a clean, modern, simple setting, Pilates instructor Kristin McGee goes through the basics of the Pilates method with beginners and advanced pupils in mind. She talks viewers through the standard scissor kicks, roll-ups, and glute lifting exercises that will leave tushes, arms, and abs feeling tightened and refreshed.
Abs: If the core is what you have in store, the abs workout by Fred DeVito and Elisabeth (Liz) Halfpapp will surely meet your needs. The core fusion workouts (there are two separate 10-minute routines) require nothing more than a mat and a wall. You will push your way through 45-degree sit-up positions, participate in roll downs (similar to Pilates) and crunch the 20 minutes away.
Cardio: Get ready to sweat with the best when you tune into Violet Zaki's 20-minute cardio routine. I never got into the whole kickboxing phenomenon, but this video made me wish I had. Fun and energetic, I hardly noticed when the 20 minutes were up, but for the sweat beading my forehead.