Acorn Squash Soup With Greek Yogurt
Healthy Thanksgiving: Acorn Squash Soup
Soup is good food! Perfect for a light lunch, soup will keep the hunger pains a bay before your evening Thanksgiving feast. For a seasonal soup recipe, we turned to Richard Blais, the winner of Bravo's Top Chef All-Stars, for a recipe featuring acorn squash. Blais lightened up the traditional recipe by using Greek yogurt instead of heavy cream. Serve the soup without garnish for an easy-to-prepare lunch, or deck it out with pomegranate seeds, a little chorizo, cilantro, and a bit of lime.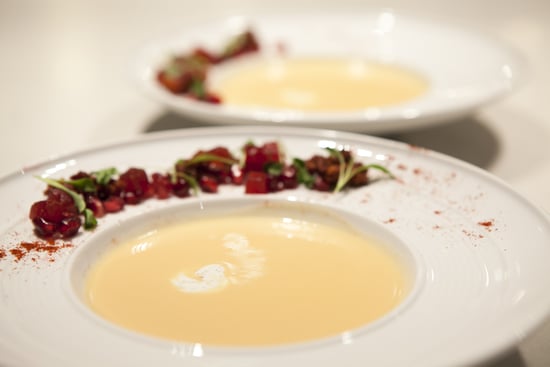 See the recipe when you read more.
Acorn Squash Soup With Dannon Oikos Greek Yogurt
From Richard Blais
Ingredients
1⁄4 white onion, chopped
1 bay leaf
4 cloves garlic
Olive oil
2 tbsp celery, chopped
1 whole acorn squash, chopped
1 1⁄2 quart chicken stock
1/2 cup Dannon Oikos plain Greek nonfat yogurt, plus more for garnish
Optional:
1⁄4 cup chorizo, crumbled
2 tbsp canned cranberry jelly
3 leaves cilantro
1 tsp smoked paprika
Pomegranate seeds for garnish
Lime for garnish
Directions
In a stockpot, cook the onion, bay leaf, garlic, and celery in some olive oil until the garlic releases aroma.
Add the chopped acorn squash and then the chicken stock and simmer. When the acorn squash is cooked, swirl in Dannon Oikos plain Greek nonfat yogurt and remove from the heat.
Puree the acorn squash mixture and pass through a sieve so it is smooth. Set aside.
In a separate pan, cook the chorizo and paprika.
Garnish the soup with the crumbled chorizo, cilantro, pomegranate seeds, and a squeeze of lime. Add a dollop of Dannon Oikos plain Greek nonfat yogurt.
Makes four to six servings.
Information
Category

Soups/Stews, Cream

Cuisine

Mexican