Add Flaxseed Oil to Everyday Foods
Add Flaxseed Oil to Everyday Food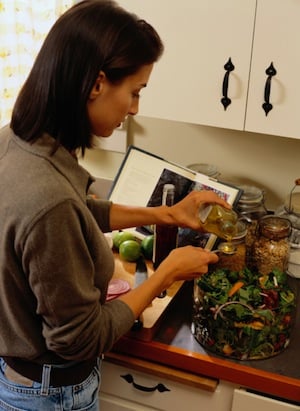 Flaxseed oil is a great way to get your daily dose of omega-3 fatty acids. These fatty acids are beneficial for us because they are good for our hearts and our mood, they may lower blood pressure and cholesterol, and can help with menstrual cramps. Flaxseed is high in alpha linolenic acid (ALA), a type of plant-derived omega-3 fatty acid, similar to those found in fish such as salmon.
It's key to have a good balance of both omega-3 and omega-6 fatty acids in your daily diet. Unfortunately, the typical American diet tends to contains more omega-6 fatty acids than omega-3 fatty acids, and researchers believe that this may be a significant factor in the rising rates of inflammatory diseases in the United States.
Flaxseed oil can be added to everyday dishes and snacks like salad dressing, steamed vegetables, potatoes, and rice. Since you can't really taste it, you can also use it in the morning in fruit smoothies or oatmeal — just don't go overboard!  Also, never use flaxseed oil while cooking and store it in the fridge since heat destroys its nutritional goodness.