Add Whole Wheat Flour, Wheat Germ, and Other Grains to All-Purpose Flour
Make Baked Goods Healthier With Whole Grains
This weekend was all about baking. My stand mixer was in constant rotation as I made pizza dough, bread, cookies, and pie crust. And while I can't get enough of baked goods made with whole grains, the mister is not a fan. To avoid a showdown in the kitchen, I've been mixing whole grain flour into everyday all-purpose flour. It's a win-win: I get the added nutrition, and the mister won't complain that his pizza dough tastes too grainy or nutty.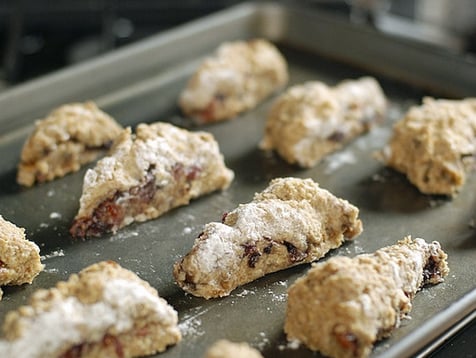 The next time you're baking, try substituting some of your all-purpose flour with one of these healthy alternatives. By doing so, you'll build up your body's levels of fiber, vitamin E, iron, manganese, and zinc. Or, even better, swap out white flour and only use whole grain flour. It definitely gives baked goods a much more complex and nutty flavor.
To see which whole grain flours I like best, read more.
Whole wheat flour: I probably mix in whole wheat more than any other whole grain flour when adjusting recipes. It's one of the easiest to work with, and I find it tends to go over well with people not accustomed to whole grains. And when using a ratio of 1:1 (whole wheat flour to all-purpose flour), it's hard to even taste the difference. Works especially well in bread, pizza dough, pancake recipes, and even cookies.
Buckwheat flour: Because I have a lot of vegetarian and vegan friends, I always try to bake with buckwheat flour. Besides being a great source of fiber, it is also a great source of protein. I love using buckwheat when making pancakes or fresh pasta.
Quinoa flour: Another healthy flour that also adds protein is quinoa flour — it's also a good source of iron and calcium too. Because quinoa tends to make baked goods moist, use it when making cookies, cakes, and muffins.
Wheat germ: Wheat germ is an easy way to boost the nutritional content of a recipe. Besides fiber and protein, wheat germ is high in iron, potassium and vitamins B1 and B3. Because of its distinct flavor and texture, I usually only substitute 1/3 of a recipe's flour with wheat germ. It tastes good in pancakes, waffles, and especially in chocolate chip cookies. If it's too hot to bake you can experiment with wheat germ by making peanut butter balls without having to turn on your oven.
Source: Flickr User anjuli_ayer