Adidas Adizero Rush Women's Shoe Review
Gear Review: Adidas Adizero Rush Shoe
If you're in the market for a minimalist running shoe, you may want to check out the new Adizero Rush running shoe from Adidas ($100). Each shoe clocks in at only 6.2 ounces but doesn't skimp on support. I recently tested a pair during my three-to-four-mile runs; here's what I thought of the line.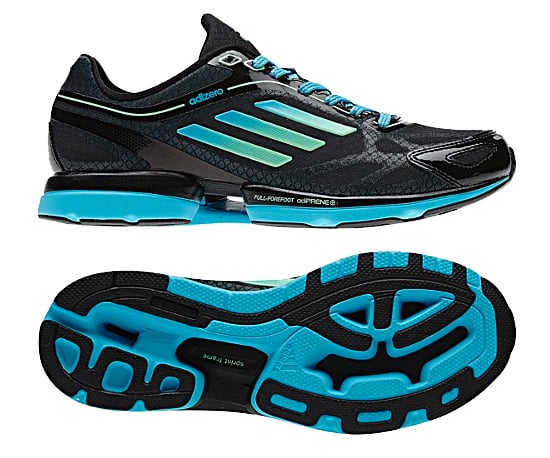 I'm a sucker for a minimalist shoe, but even I was surprised at just how lightweight the Adizero Rush felt. The largely mesh construction makes these shoes extra breathable, while the thinner soles and insoles make for a running-on-air feel. I felt connected with the road or treadmill with every step but without feeling like I was running without any support. The "sprint frame" construction of the soles supposedly offers support without the bulk, and I have to agree — as an overpronator, I always felt like I was getting the stability I needed while I ran. The shape of the shoe front also felt comfortable during my runs — having enough room to move my toes when I run has been key.
Read on to find out more about what I thought of the Adizero Rush after the break.
There were a few unique problems I experienced with these shoes. The rise of the insole underneath my arch made my inner foot rub against the mesh wall of the shoe, which caused hot spots for my first couple of test runs, but the problem went away after the initial runs. This may be something to watch out for if your arches are low. Also, I liked that the thinner, flatter shoelaces are less heavy and allow for a better grip, but many times, if I wasn't careful, they'd unlace during my run, even if I double-laced them (maybe I need a primer on how to tie my shoes correctly!). Pulling my double knots extra tightly, however, fixed the problem.
Of course, I'm also a sucker for aesthetics, and the Adizero Rush doesn't disappoint. The women's shoes are available in four attention-getting color combos, including teal/black, red/grey, pink/yellow, and purple/grey. Just a note, if you don't like the Rush series, you may want to try Adidas's brand-new line of lightweight shoes that are perfect for the Summer heat — the Climacool Seduction ($100).