Adidas Springblade Women's Shoe Review
Spring Forward: Adidas Springblade Shoe Review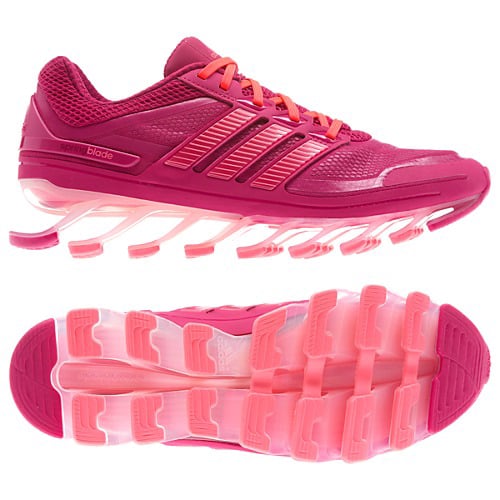 On the heels of the Energy Boost (made with a new technology bouncy foam sole that I'm a fan of), Adidas has released yet another shoe designed to put a spring in your step — the futuristic Adidas Springblade ($180), available today. After testing the shoes for the last few weeks, here's what I think of them.
Once on, I noticed that the Springblade run bigger than other Adidas shoes I have, especially in the toe box. It's not enough to size down, however — there just seemed to be a lot of room in the front. And while I like the design and color of the shoe, there's no escaping the fact that all those blades make a fashion statement, whether you like it or not! Expect comments from fellow runners.
There's a definite bouncy feeling of this shoe, and while it may look like they would weigh you down, the polymer blades do just as advertised: they make you feel lighter on your feet. Each shoe features 16 of these blades, which are each individually tuned and angled to help propel you forward and encourage you to land on your forefoot. I was skeptical at first run but pleasantly surprised at how natural they felt once I started, although I am not a heel striker so I am not sure how much differently the blades would change my stride if I were. And while the shoe felt a bit more hefty than usual when I first picked them up, once on, I was actually surprised at how free my feet felt — the lightweight and breathable Techfit mesh upper surely contributed. Even with the shoe's lightness, however, the blades offer great cushioning from impact; I have occasional knee pain when I run, but when wearing the Springblades I felt like the shoes did not aggravate my runner's knee as much as other shoes have.
Read more pros and cons of the Adidas Springblade shoe.
While the Springblade does a good job of providing enough cushioning to absorb shock while I ran, however, sometimes I felt a little too unconnected from the ground. While sprinting feels great in this shoe, as do regular three- to four-mile runs, walking to pick up a coffee after a run felt a bit unnatural, like I was balancing above the ground. In general, I'd probably stick to a more supportive shoe with a greater feeling of connection to the road for my next long-distance race (a half marathon), although I will see if I change my mind once I take these out for a few longer training runs.
Another problem I had with the blades — after a dewy morning run in the park — was how much caked-in mud the shoes had collected, making it necessary for me to take them off before I went back into my apartment. You'll want to stick to roads or the track in these if you don't want to be constantly cleaning your shoes.
My verdict? The somewhat pricey Springblades are a great option for the nonminimalist shoe fan looking for a lightweight shoe that encourages forefoot running, but the bouncy feel is probably not for everyone. I'd recommend giving these a try in the store before you, ahem, spring for them. Adidas Springblade are available now in Metallic Silver/Blast Blue and Blast Pink/Red Zest in women's.