Adidas TechFit Sports Bra Review
Stay Dry With the Adidas TechFit Sports Bra
Daily workouts mean I can never have too many sports bras. And while I'm not blessed with the type of goods that need to be supported and bounce-free during a high-impact workout, a structured sports bra is essential for keeping me comfortable while I exercise. So when Adidas sent me their new TechFit sports bra from their Fall line to review, I happily added it to my workout wardrobe rotation and went running.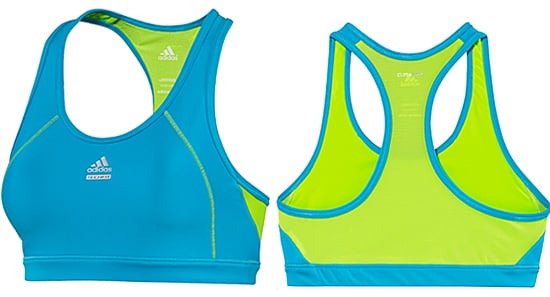 The Adidas TechFit Bra ($30) promises to contour to your body shape while keeping you cool and comes in basic black as well as a a few bright color combinations. It's a compression-style (read: uniboob) bra and is made of a stretchy interlocking fabric that promises to move with you while wicking away sweat and heat.
Read on for my thoughts on the TechFit bra!
I received the black version to test, and while I was drawn to the cheery colors of the bras' other bright offerings, it was the perfect basic to throw on under any color shirt. And I loved the design; the scoopneck at the front complements a variety of workout shirt necklines, and the top of the bra doesn't hit too high on your chest.
But as much as I love a cute workout outfit, it's all about performance. The TechFit sports bra doesn't disappoint — it's made of thin material with just the right amount of stretch, and as promised fit snugly so it stayed exactly where I wanted it to, whether I was sprinting on the treadmill or doing jumping jacks in class. I would, however, recommend you size up — the size chart listed on the site put me in between sizes, and I know I wouldn't have been able to squeeze into the smaller one (also, I'm not so sure how larger-chested women would fare; the sizing doesn't take into account your cup size).
The mesh panels on back and side make this bra one of the most ventilating sports bras I own — my back stays sweat free, and best of all the band at the bottom of the bra dries quickly instead of collecting sweat. Also, I wore the bra for a few intense workout days in a row without washing to see how it would hold up (don't tell), and I was surprised by how fast it dried as well as by the lack of odor.
All in all, the TechFit is a great basic supportive sports bra for the smaller-chested women. It's available in six solid colors as well as three patterned versions.