Adidas Women's Energy Boost Running Shoe Review
Shoe Review: Adidas Energy Boost
The latest offering from Adidas, the Energy Boost ($150), has been out for less than a month, but it's already generating buzz. Dubbed Best Debut in Runner's World Spring Shoe Guide, the shoe was engineered to give runs an extra bounce, courtesy of Adidas's new styrofoam-looking Boost foam, which the company claims provides "more energy return" than conventional running shoe foam. After attending the unveiling of the Energy Boost last month, I've had a few weeks to test out my pair on short and long, indoor and outdoor runs. Here's what I thought about the Adidas Energy Boost.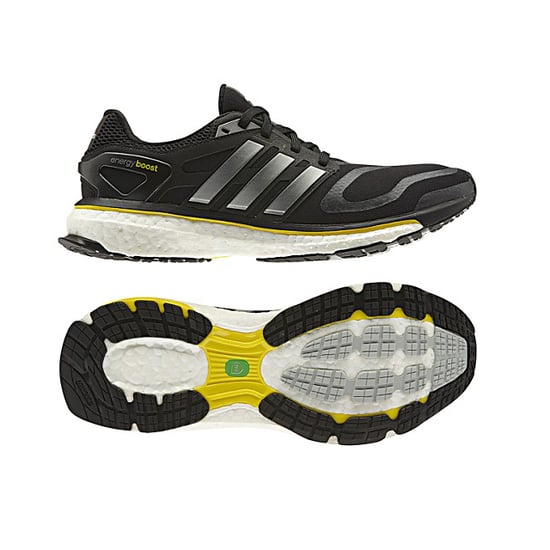 The shoes aren't minimalist, but they sure do feel like it. I was amazed at how light they felt — the women's size 7s weigh in at 8.5 ounces — even though the thick sole looks like it would be much heavier. When running, I liked that the shoe offered extra cushioning and correction, especially on long runs. Since I'm training for a marathon, I've been testing out a few shoes during my long runs, and these are definitely at the top when it comes to comfort. I wore the Energy Boosts on a 13-mile run a week after a similarly long run where I wore a conventional minimalist shoe, and I noticed that the Energy Boosts cushioning helped save my knees from pain. And while I can't quantify any energy boost from wearing these shoes, my runs did feel noticeably bouncier and more comfortable, both on a treadmill and outdoors. The soft but structured feel of the foam sole ensured that I never felt weighed down or inhibited by the extra cushioning.
Besides the new foam, the Energy Boost shoes have other nice design touches to make it a comfortable running shoe. For one, the flexible mesh toe box encases your toes while still allowing room for them to move while you run. Also, the shoes' midsection acts like a girdle so the shoes stay snug even when the laces are untied.
While I did like the snug fit, it's important to note that the shoes run small; I ended up testing out a pair a half-size larger than my normal shoe size and the fit was perfect. But the narrow fit of the shoe and the amount of foam means that my feet feel a tad too overheated when I wear thicker running socks, so I've been sticking to thinner, non-cotton socks to make sure my feet don't feel hot and uncomfortable. All in all, I love the extra lightweight cushioning and bounce the Energy Boost gives me — especially during longer runs — and I'll be wearing these shoes for many miles to come!