Adidas miCoach Audio Trainer Now Available For iPhone and Blackberries
Adidas miCoach Goes Mobile!
When you're pounding the pavement, accumulating mileage, you don't have to go it alone. You can put a coach in your pocket and run with the Adidas miCoach. And Adidas wants to make sure you get out there and work out with a little real-time audio coaching, so the company developed an easy-to-use smart phone app. To ensure no excuse interferes with you lacing up your sneakers, Adidas is offering the miCoach mobile app at a good price: free! It's available on iTunes for both iPhone and BlackBerry mobile devices (and an Android version is in the works, too).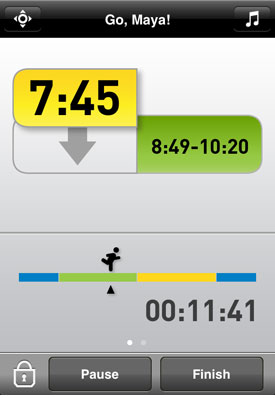 Using the GPS capabilities of these smartphones, the mobile program monitors your pace rather than heart rate, which means no need to wear a constricting strap. Start the app, pick a playlist, and start running. You can be coached through a variety of training programs for running, whether you're just beginning, only have 30 minutes a day, or are training for a marathon. Adidas has also created sport specific conditioning programs for tennis, soccer, football, and basketball to get you ready to compete.
I have yet to use the app myself, but this new app is just the kind of technology that inspires me to get up, get out, and move. I did see a demo of the miCoach mobile and it looks really easy to use with a clean simple interface. The app tracks your mileage and elevation, plus charts out the data at the end of your run. It even maps your route. Plus, the app tracks the mileage you put on your shoes and then reminds you to buy a new pair after 300 miles.
I am going to try it. Are you?
Here are a few more screens from miCoach mobile.