Adriana Lima Sneaks Chocolate Into Her Victoria's Secret Diet
Even Victoria's Secret Angel Adriana Lima Sneaks Candy Into Her Diet!
Adriana Lima was in NYC last Wednesday to do final fittings for her costumes ahead of this week's Victoria's Secret fashion show. The model will show off three different looks on the catwalk this year, including the athletic-inspired ensemble below. After giving birth to daughter Valentina a year ago, she admits it took a huge effort to get back into Angel shape. Adriana gave us the lowdown on her strict diet and exercise routine, which is centered on jumping rope and continuing to box. Proving that everyone needs to treat herself or himself, Adriana earned my lifelong esteem when she sat down for our interview with a cup of candy in hand!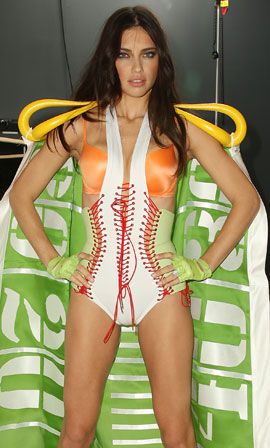 FitSugar: Do you prep for the Victoria's Secret show like any other modeling job, or is this one different?
Adriana Lima: I always change my diet constantly every year I do something different, and this year it had to be exceptional because I just had a baby. So I had extra weight that I put on, and also my body was completely different — I felt like my bone structure just changed completely. I really had to work in a different way, so I did a few different things.
FS: How about with food?
AL: I started with a liquid detox and then, after I did only protein . . . I went to a nutritionist — everything is followed by a doctor. It's not that I just decide on my own, 'I'm doing this! I'm doing that!' No. I have a nutritionist, and he does a series of exams, breathing, blood and everything else. And from there he sees how my metabolism works. If my digestion is fast, what type of food makes me bloated and not — all of these types of things . . . Food-wise I eat like anything green, any green vegetables grilled or any type of meats grilled, like four ounces of anything, for lunch and dinner. Between that I have either a shake or cereal bar — and sometimes I cheat, as you can see!
Learn what Adriana has to say about candy.
FS: Of course! It's reassuring to see the candy!
AL: I need the energy. I work out a lot, I work out every day. I do jumping rope and boxing. Per day, I use 1000 calories. So I do need to eat a lot and have all that protein, all the shakes, in my system. And I need a little candy! Now it's gonna get more intense. I go there every day for an hour and a half!
FS: What is your gym routine?
AL: I do jumping rope, I do shadowboxing. I do boxing. I do a little abs, and little squats. I don't use any weights at all. Everything I do is with the body, your own weight. The only thing I may use is a jumping rope.
Do you exercise with your husband, athlete Marko Jaric?
AL: We don't exercise together, but sometimes we do yoga! I think jumping rope helped me to do yoga. It's amazing. I used to do it many years ago, and then I stopped. I started jumping rope, and then one day I decided to go to the Bikram, the hot, I was so surprised how easy it was. Amazing!