After-Work Yoga Poses
Make Happy Hour Count: Must-Do Yoga Poses For Desk Dwellers
Any aches and pains you feel daily may be related to your professional place behind a desk. If your body is folded up or feeling cramped while sitting down, then getting a serious stretch is integral for your future mobility and overall health. Some of these poses may be cringe-worthy for those who work a 9-to-5 gig, but that's even more reason to hold them for a few sweet moments longer! The poses you hate the most are sometimes the most necessary.
Dandasana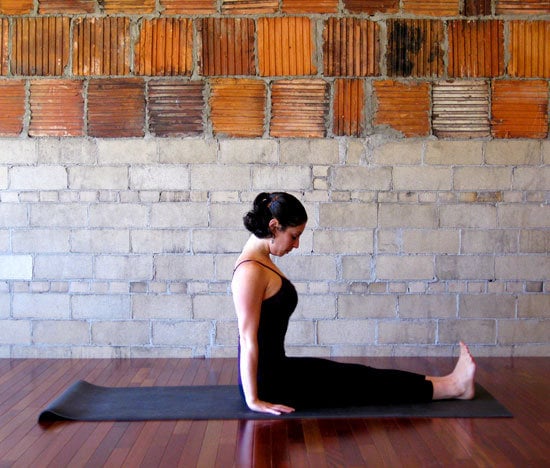 Dandasana (Staff Pose) may look like you're taking a comfortable seat, but it's a sneakily active pose. It's also my go-to move if my back or neck is needing some love; when you ever-so-slightly drop your chin in toward your chest, there's a huge release in the back of your body. If you don't really feel much from Dandasana, then be sure to flex your feet so your heels lift off your mat.
Utkatasana

Utkatasana (Chair Pose) brings much-needed circulation to your calves and quads that have been stagnant in your seat all day. Utkatasana looks relatively easy, but trust me: you will feel a serious burn in proper alignment.
Keep reading for two more yoga poses for 9-to-5 folks!
Purvottanasana

Purvottanasana (Eastern Intense Stretch Pose) is another energizing shape, ideal for shoulder and chest opening, but it also strengthens and stretches our neglected wrists. If you're typing away at a computer screen all day long, then giving a little attention to your wrists will go a long way. They work hard!
Padangusthasana

Padangusthasana (Standing Forward Bend) is an amazing pose for stress relief. When you take your big toes and release your head, you can feel your spine let go. It's also great for people — like myself — who are battling against tight hamstrings.
Photos: Jenny Sugar