Alanis Morissette on the Cover of Yoga Journal
Alanis Morissette Does Camel on the Cover of Yoga Journal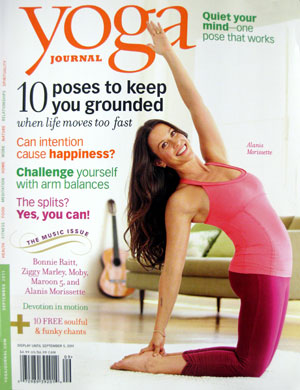 Rock stars aren't typically the picture of health, but then again, Alanis Morissette isn't like most rockers. At age 37, she's made a lot of choices toward a more healthy lifestyle. The Canadian star has followed a vegan diet to help prevent cancer, completed a marathon to raise awareness about eating disorders, and now she's using yoga to rejuvenate and re-energize.
Way back in 1995, a young 21-year-old Alanis was thrown in the fire of stardom when she released her first album, Jagged Little Pill. Her busy and stressful schedule with traveling between shows and interviews was somewhat grueling, and she tells Yoga Journal, "I wanted to find a practice that was both physical and spiritual. Yoga was perfect for that. I felt like I was born to do yoga."
Keep reading to find out Alanis's favorite type of yoga.
Alanis has tried all styles of yoga from Bikram to ashtanga to Iyengar, but she loves vinyasa flow. And if you didn't know, Alanis has a twin brother who's a yoga instructor and kirtan artist, and he's one of her favorite instructors. She's been committed to practicing for over 15 years now and says that yoga gives her a glimpse into her needs. "If I push myself on the mat, it's likely I'm pushing myself off the mat as well — a cue to be gentle." Her time doing yoga is a way to continuously tune in with what's going on inside and make sure she's giving herself enough time and attention.
Yoga has helped to nourish the qualities she finds most important like creativity, "curiosity, nonjudgementalness, and noticing," all of which are necessary for her song writing and in nurturing her relationships. When she first started practicing, like most of us, she went "soldier style," really pushing her limits and trying to do poses perfectly. At 31, a wife and a new mom, she still finds those moments, but lately works on harnessing her quiet power instead.
Alanis says yoga really helped during her pregnancy, and as a mom myself, I find it reassuring to hear that her practice is usually interrupted. She'll hit the mat for 35 minutes, take a break to breastfeed her son, Ever, and then she gets back on her mat when she can. "The mat just stays there, and I just keep coming back to it."