Alcoholic Beverages Can Worsen Allergy Symptoms
Alcohol Makes Allergies Worse
The other day on the bus, I overheard a group of young women talking. "Every time I drink, no matter if it's wine, beer, or liquor, I get a runny nose and start sneezing," one of them said. "Do you think I could be allergic to alcohol?"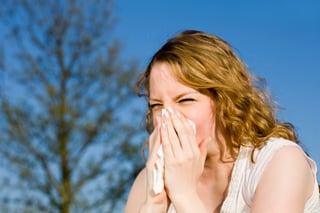 A recent article in the New York Times may help clear things up for her — literally! The article reports that consuming alcohol can actually worsen the effects of allergies. Citing two different studies, the piece explains that it's not the alcohol itself that makes symptoms worse; it's a by-product of the beverages' fermentation processes. During fermentation of beer, wine, and liquor, yeast and bacteria produce histamine, which can cause or enhance allergy symptoms. Plus, sulfites found in wine and beer can also cause similar reactions.
In one study, Swedish researchers found that those with hay fever or other respiratory conditions were more likely to experience allergy symptoms after having a drink, with women twice as likely. And another study of several thousand women found more than two glasses of wine a day nearly doubled the risk of allergy symptoms. Some foods can also trigger similar reactions; cider, grapes, pickled foods, and yeast-containing foods like bread also contain a small amount of histamine. While these foods and drinks alone don't seem to cause a reaction in most, when consumed while you're already experiencing allergy symptoms it could make the sniffling, sneezing, and itching a lot worse.