Alison Sweeney Talks About The Biggest Loser in Working Mother Magazine
Ali Sweeney Talks Weight Loss and The Biggest Loser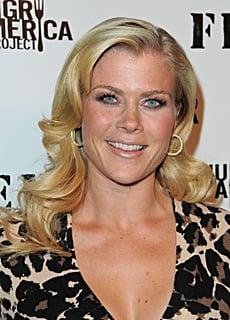 I think having two TV gigs definitely qualifies actress Alison Sweeney as a working mother. Besides her longstanding gig on the soap opera Days of Our Lives, she's also the host of The Biggest Loser. Alison recently sat down with Working Mother magazine to discuss balancing home and a demanding career, her lifelong struggle with weight, and the controversy surrounding The Biggest Loser. Here are the highlights:
On going from struggling with her weight to getting fit and healthy: "From the time I was 12 I was overweight, and as a teen I definitely struggled with my weight. I tried very extreme diets, like the papaya diet. It was about me feeling insecure and lacking confidence. Overcoming that was a long process. It involved changing my mindset from wanting to be skinny to wanting to be healthy — and that allowed me to reach my goal."
On staying in shape: I eat healthy meals — my husband is a great griller. I schedule going to the gym into my days. I do a lot of cardio, especially spin classes. I also run, hike and do circuit training and yoga. I typically work out four or five days a week. Of course, sometimes it's three days, sometimes it's seven days. In my new book, The Mommy Diet [available in October], I encourage moms to take care of themselves."
To find out what Alison has to say about the rapid weight loss of Biggest Loser contestants, and what's in store for the finale,
.
On The Biggest Loser's popularity: "It strikes a chord with people in the country dealing with similar issues. [. . .] The stakes are high. They're dealing with a health crisis. The journey is emotional. And we're part of the solution. I enjoy helping them along the way with their trainers and America cheering them on as they open up about themselves. It's very real."
On The Biggest Loser's upcoming season finale: "Our season finale is amazing. You'll see some spectacular emotional and physical transformations."
On concerns that The Biggest Loser's contestants lose weight too fast: "That's something discussed with the doctors and with trainers Bob Harper and Jillian Michaels. Medical experts monitor the contestants closely . . . I can see where that concern comes from. But the contestants are endangering their own lives at home. We're providing them with tools to get healthy, with better choices. We're aware that it's a slow process. Our trainers are experts. They're very careful. We do see contestants getting larger, and they're handling that. We treat the contestants like athletes in terms of wrapping them, making sure they get physical therapy before and after workouts. And they do become athletes."