Allyson Felix's Diet and Exercise Tips
Olympian Allyson Felix's Healthy Living Tips
When you're a four-time Olympic gold medalist and a lightning-fast member of the US women's track team like Allyson Felix is, you're sure to take a diet-and-exercise regimen seriously. Allyson, who won gold in the 200m, 4x100m, and 4x400m in the 2012 Olympics (and gold in the 4x400m in Beijing), has worked hard to maintain her elite-athlete-level fitness and now wants to inspire other young women to do the same.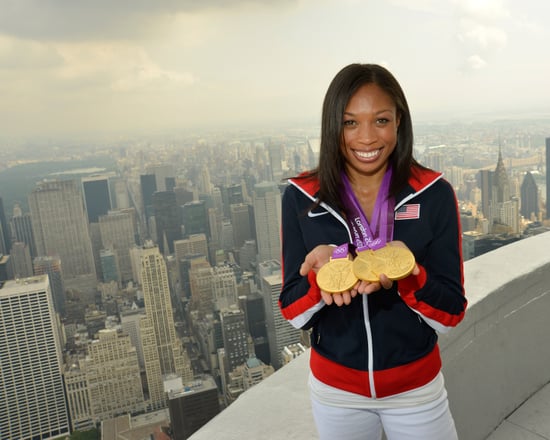 "The Olympics was really cool because so many female athletes were successful. I heard that tons of young girls were tuning in and just feeling inspired and wanted to get out and try new sports," Allyson recently told me. As part of her mission, Allyson lent her time to Acuvue's 1-Day project, where she surprised a young teen to get fit. Get inspired yourself with Allyson's healthy living tips below.
Have fun: "Work out with friends, really get a social frame and not view it as negative or some type of punishment, but make it very fun and active," Allyson advises. "You're more likely to be consistent if you have a certain time set up with your friends and you're chatting throughout."
Snack often: Allyson recommends keeping healthy snack options with you all day so you're "not just snacking on junk." Her favorites? Frozen grapes and other fruits, cashews, and pistachios.
Stay motivated: "I always go back to my goals, always think about what I'm trying to accomplish, what's the next thing on the agenda," she says. "When I'm having those days where I'm just not feeling like getting out of bed, that's always my go-to."
Indulge smart: "I have a treat bag; I splurge there," says Allyson, whose favorite indulgence is Ben and Jerry's Oatmeal Cookie Chunk. Strategic indulging can help keep you on track the rest of the time, Allyson says. "I think what's really important, especially for the type of person that I am; I definitely need that to break it up a little bit."