Alyson Hannigan Wrongfully Accused of Being Pregnant
After Much Speculation, Alyson Hannigan's Pregnancy Turns Out to Be Too Much Chili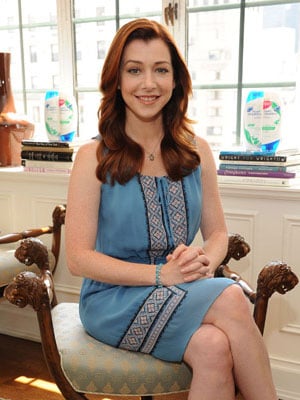 How I Met Your Mother actress Alyson Hannigan is not going to be a mother again — at least not yet. Hannigan was photographed hitting the Malibu Chili Cook Off and carnival with husband Alexis Denisof and Satyana, their 2-year-old daughter, and her loose-fitting top made it appear like she was showing off a little baby bump (see photo here on UsWeekly.com). It prompted some pregnancy speculation over the weekend to which Alyson tweeted in response,
"NO, I'm not pregnant! I just ate too much carnival food, that time of the month, hurt my back & couldn't suck my gut in, & need 2 do cardio!"
Alyson was a great sport about it, saying, "I do look pregnant in that photo!" But it seems the media was quick to point a finger at her belly. Sometimes we indulge a little, take time off from exercise, and we end up with a little weight gain. It happens to the best of us, even celebs. Why Us Weekly might not call out your belly, I am curious . . .