America's Best Bike Cities
And the Best Place to Ride Your Bike Is . . .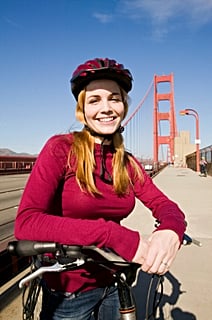 Ever since the sun made an appearance, I feel like I'm centering my life around my bike. I spent the entire weekend biking, even refusing to go anywhere that wasn't bike-friendly or accessible by pedal power. Luckily I live in San Francisco, which Bicycling magazine ranks as the sixth bike-friendliest city in America. I have to agree that the abundance of bike lanes and the bike racks on public transportation make it a pretty sweet city to live in. Sitting on top of the list is Minneapolis, cited for its "120 miles of on- and off-street bicycle facilities, plus indoor bike parking."
To come up with its ranking, the editors of Bicycling looked at things like segregated bike lanes, municipal bike racks, bike boulevards, great bike shops, and having a supportive community. They also only considered cities that had populations of 100,000 or more, and strove for geographical diversity.
Here's the top 10; check out Bicycling to see if your city made it somewhere onto the top 50.
Minneapolis, MN
Portland, OR
Boulder, CO
Seattle, WA
Eugene, OR
San Francisco, CA
Madison, WI
New York, NY
Tucson, AZ
Chicago, IL