Amgen Tour of California Stage Three Start in San Francisco
Tour of California Rolls Through San Francisco
One of the US's biggest cycling races, the Tour of California, rolled through San Francisco this morning. Today's stage, the third of the race, began out by the beach, and many fans rode their bikes to the event — just another great way to celebrate National Bike Month and Bike to Work Week. In my opinion, though, many of those cyclists were playing hooky from work and riding for the rest of the afternoon, and what a great day for it.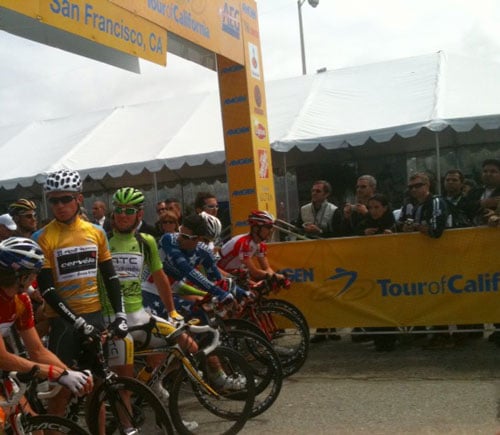 Only in its fifth year, the eight-day Tour de of California covers more than 800 miles of California roads, including the scenic coastal highway between San Francisco and beach town Santa Cruz, which is the course for today. Nor Cal native Levi Leipheimer, Radio Shack teammate of Lance Armstrong, is the defending champion, having won the race the previous three years, and the crowd fave (he seems like such a nice guy, soft spoken but focused). Previously the race was held in February, the rainy season here in California, which helped our local racer. But race organizers pushed the race back to May, directly competing with renowned Italian race Tour de Giro. Even overlapping with a large European race, the Tour of Cali attracted big names in cycling this year, like superstar sprinter Mark Cavendish of HTC-Columbia and second-place finisher of last year's Tour de France, Andy Schleck. Unfortunately, my fave American sprinter, Garmin-Transitions' Tyler Farrar, is racing in Italy — and doing well, too! Racing teams have a deep bench and can send solid teams to two simultaneous races — who knew?
I'm still new to watching bike races, but for the last two years my entire family has been watching bike races on Versus TV, and unlike other sports, cycling is more exciting on TV. For example, the cyclists pedaled out of sight in about 30 seconds this morning, and that was that.
To learn more about the race, continue reading.
Although who crosses the finish line first is ultimately what matters the most, there are sprint and climbing (King of the Mountain) stages within each day's race. Riders can win these mini-stages for a color-coded jersey, or win one day of the race for the stage win. The competitor with the fastest accumulated time after all eight days is the champion, and watching on TV you can also see how teams strategize with eight to 12 riders working together to get their man to the front of the pack.
Saturday brings the 128 cyclists to LA for a seventh stage — a 21-mile individual time trial. Sunday, May 23, brings the final stage of the race, a circuit race, with riders completing a 21-mile loop through Thousand Oaks, Westlake Village, and Agoura Hills four times. Exciting stuff to me! Best of all, watching bike races makes me want to get up and ride. What about you?